Betting the Cleveland Browns once Johnny Manziel Starts
by Robert Ferringo - 7/28/2014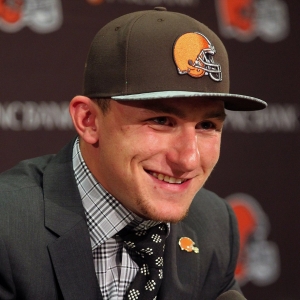 On a personal level, I don't have much to add to the Johnny Manziel discussion that hasn't already been said: The Cleveland Browns rookie quarterback is a jerk.
Manziel is a spoiled brat, an arrogant shit, and an unrepentant troll. But we already knew this. The question now is how will markets respond to Manziel when he becomes the Browns starting quarterback and how should we bet Cleveland once he takes the reins?
For me the answer is pretty simple: we bet against him. Hard. Not because he is a villain or because we want him to fail. Too many bettors lose their shirt because they place wagers based on what they want to happen rather than where the value lays. But I will play against Manziel simply because I don't think he's very good.
Manziel has become the new Tebow. The media infatuation with him since his selection in May's draft has been incessant and incestuous. Rampant speculation about how quickly he can turn this moribund franchise around has given way to nonsensical ramblings about his off-field behavior, including allegations of cocaine use, and how it may impact his team and his status as one of the league's most popular players.
I don't care about any of that. I don't like many of the human beings that I bet on or against on a day-to-day basis. Manziel is no exception. But I just want to make money betting on football. So my interest in this ass clown is strictly business, and my analysis of him and his prospects wouldn't be clouded for my distaste for his brand of scumbag.
With all that made clear, I want to echo exactly what I said when grading the NFL draft: I think Manziel is woefully overrated, and I would never want him as my quarterback. So I hope Cleveland anoints him the starting quarterback over Brian Hoyer, who is absurdly more qualified to lead this team, simply because a Manziel-led Browns team should be a catastrophe. And that should mean some easy money.
There are a lot of things not to like about Manziel's game that I think will be exposed in the NFL. His lack of size and his weak arm strengthare two of them. I know, I know: Drew Brees and Russell Wilson are capable little sprites of similar build. But comparingManziel's maturity and decision making to Brees and Wilson is like comparing the intelligence level of Mike Tyson to Neil DeGrasse Tyson.
Besides physical and mental deficiencies, I just don't think Manziel is that good of a player. Yes, I know: he won a Heisman. Tell that to Chris Weinke, Eric Crouch, Jason White, Matt Leinart, Troy Smith and Tebow. None of them were any good in the pros. So why should we expect Manziel to be any different?
Manziel has lived a charmed life. But I feel like the general public is conflating any talent he has with the numerous instances of good fortune that have aligned for him.
Former A&M head Mike Sherman actually recruited Manziel but never coached him. That was fortunate because Sherman was a terrible college coach, and Manziel would've been a poor fit in Sherman's pro style offense. Had Sherman stayed - or if the Aggies had promoted Tim DeRuyter to full-time coach after his interim stint -we may never have seen Johnny Football's 2012 Heisman campaign.
Instead, A&M hired offensive mastermind Kevin Sumlin to take the helm. Sumlin was a former Oklahoma Sooners coordinator and runs a brilliant spread attack. It is a variation of the spread that his predecessor at Houston, Art Briles, employed. Manziel put up monster college numbers in that proven offense. But then again so did Kevin Kolb and Case Keenum - in essentially the same system - before him.
Manziel had the good fortune of doing it at A&M instead of at Houston. He was able to ride the ridiculous SEC Hype Machine to his Heisman campaign in 2012. A&M was in the Big 12 when he signed with the Aggies. And had Manziel put up those passing stats in the high-scoring Big 12 instead of the overrated SEC then he likely would've been nothing more than a sideshow.
Further, the flamboyant quarterback benefitted from having three other Top 10 draft picks (Luke Joekel, Jake Matthews and Mike Evans) on the field with him the past two years. And if college football wasn't a corrupt cesspool then Manziel likely would've been forced to sit out most of last season and his draft stock would've plummeted. He wasn't. And it didn't.
Manziel's comically good fortune seems to have carried over into the NFL. Yes, he was drafted by the Browns, which is the cosmic equivalent of a toilet swirly. But Cleveland hired Kyle Shanahan as offensive coordinator, and that is a good fit, schematically, for Manziel.
Shanahan runs his father's system, and it has been one of the most quarterback-friendly offenses in the NFL over the past 20 years. The Shanahan System relies on a lot of rollouts, dump offs and very simple reads. Turnover-prone quarterbacks like Jake Plummer, Matt Schaub and Rex Grossman have run this offense successfully, and it is a proven commodity in the NFL.
So - just like falling into Sumlin's super spread attack -Manziel wound up in one of the few systems that fit his limited skill set. It wouldn't surprise me if Manziel put up some OK numbers in Shanahan's offense. But that doesn't mean that Manziel has an NFL ceiling higher than that of a career third string guy. And right now I don't think Manziel is better than Hoyer or Cleveland backup Tyler Thigpen.
The pressure on Manziel is immense. He is being packaged and sold as the savior of Browns football and the key piece to restoring this franchise's credibility after 25 ugly years. I don't think he will hold up. He was a system quarterback in college, and there isn't much about his game or his attitude that impresses me.
Also, it is clear that the media is actively pushing for Manziel to be named the starter. He is great for ratings and creates a spectacle. But history has shown that it is idiotic to start rookie quarterbacks. And those green starters usually flame out or limp their way through mediocre careers. If Manziel starts at all this year it would actually be a negative indicator for his long-term future under center.
I think that Brian Hoyer will (and should) beat out Manziel for the starting quarterback gig out of training camp. But if Cleveland is foolish enough to make a move to Manziel later in the year I will be looking to bet against him. I don't think I will be the only one holding that opinion. But I also think the general betting public will be more apt to continue buying into the Manziel hype and may pump some money into the Browns if he is named the starter.
But eventually he will be exposed, and I think that his rush of good luck is going to run out some time.
And I plan on being there to cash in when it does.
Want free NFL picks? Doc's has you covered. New clients can take advantage of this great offer of $60 in free Doc's Sports members' picks for any handicapper on Doc's Advisory Board. Just check out these guys' pages and see what great work they have done making money for themselves and their clients over the years. Click here for this exclusive $60 picks offer.
Read more articles by Robert Ferringo