2014 Cincinnati Bengals Opponents and Schedule Highlights
by George Monroy - 4/4/2014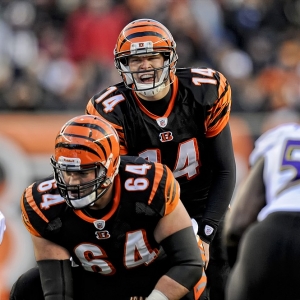 The Cincinnati Bengals suffered their third consecutive first-round playoff loss last season, and they may be destined to be one of those teams that are very good but not a legitimate threat to ever win a Super Bowl or even go deep into the playoffs. That idea is why Cincinnati's decision to essentially sit on its mountain of salary cap space this offseason was so disappointing for fans of the team.
The Bengals let a few of their key free agents go and are working on signing a contract extension for quarterback Andy Dalton, which is a smart move, but it will hardly be enough to push Cincinnati past the first round of the playoffs and into actual Super Bowl contention. The NFL schedule hasn't been released, but we do know who each team will play, so let's take a closer look at the Bengals 2014 opponents and schedule highlights with predictions and analysis.
2014 Cincinnati Bengals Opponents: Home Schedule
Baltimore Ravens: Cincinnati did not the host the Ravens until the very last game of the season in 2013 and ended up eliminating the team from playoff contention with a 17-point win. Dalton threw for 281 yards and locked up a perfect home record with the win. The Ravens are expected to be back in the playoff picture this season-they have salary cap space and a few draft picks-so this matchup could go along way in deciding the division winner.
Cleveland Browns: The Bengals ripped through their home matchup with Cleveland and put up 41 points in the process. Cincinnati went into the Week 11 matchup as a 4.5-point favorite and managed to cover the spread in spite of a 93-yard passing performance from Dalton. It remains to be seen if the Bengals can go undefeated at home for a second straight year, but a win over the Browns is definitely within reach.
Pittsburgh Steelers: These two squads met during the second game of the season, and the Bengals walked away with a 10-point victory. Prior to the matchup, Pittsburgh had won three of the last four regular-season meetings between the teams. The jury is still out on how much the Steelers will improve next year, but home games against division rivals are almost must-win situations for teams looking to make the playoffs.
Jacksonville Jaguars: Last season Jacksonville had a 2-8 record against non-division opponents and lost those games by an average of 16 points per matchup. Cincinnati let a few of its own free agents test the market, but the squad promises to be a similar team to last year as it managed the best home ATS team in the league with an 8-1 mark. This game might see one of those big, double-digit spreads that Jacksonville became famous for last season (remember, they were 27.5-point underdogs against Denver last year).
Tennessee Titans: From Week 5 to Week 15 Tennessee went 2-8 and even lost a home game to the Jaguars. Chris Johnson has been released, and the team is probably looking at bottom-of-the-barrel season. If Tennessee is unlikely to win this game, they might still cover the spread, though, since the squad ended last season with a 5-2-1 road ATS record. Expect the Titans to be significantly worse than last year.
Denver Broncos: This matchup will be a measuring stick to see just how good the Bengals really are. The Broncos got stronger during the offseason, and Peyton Manning always seems to win at least 10 games during the regular season. The teams played in 2012-Manning's first year with Denver-and the Bengal lost by eight points. Denver ended 2013 with a 5-3 road ATS record and was an underdog only once last season, during a Week 12 matchup against New England.
Atlanta Falcons: These two teams met last year during the preseason, and Atlanta was able to get a 34-10 victory. That win, however, will have little to do with how things play out in 2014. The Falcons were 1-7 on the road last year, and even if they do improve next season, a win against the Bengals is probably too farfetched of a reality for it to actually happen.
Carolina Panthers: This is another huge, must-see matchup. Both squads are expected to be playoff contenders yet again and will probably meet in a game-of-the-week capacity. The teams have not met in the Cam Newton and Dalton eras, so the game will feature two of the brightest young quarterbacks squaring off for the first time. Carolina was not a great road ATS team and only produced a 3-5 mark, so expect the Bengals to be a favorite in this matchup barring major injuries.
2014 Cincinnati Bengals Opponents: Road Schedule
At Baltimore Ravens: The Bengals lost a close Week 10 matchup to the Ravens after scoring 14 points in the fourth quarter to send the game into overtime. Cincinnati was a one-point underdog in the game and ended up splitting the SU and ATS series 1-1. This is probably a matchup that Cincinnati will lose unless the Ravens come into the season worse than most peopled expect.
At Cleveland Browns: Cincinnati lost its Week 4 road matchup against the Browns and uncharacteristically gave up a game it should have probably won. The Bengals were a 3.5-point favorite and managed to score only six points during the game. Losing to a bad Cleveland team is something the team may not be able to afford next season, especially since it ended last year with a 3-5 road record and 2-5-1 road ATS mark.
At Pittsburgh Steelers: These two teams did not meet again during 2013 until a Week 15 matchup that the Steelers dominated to the tune of a 30-20 victory. The Bengals surprisingly had one of the best defenses in the league last season, ranking fifth in both defensive passing and rushing yards. The game, however, ended up going "over" its posted total of 44.5 points. Cincinnati had a 10-6 totals record and may continue to be a good over bet heading into next season.
At Houston Texans: Houston might improve greatly next year because of its No. 1 draft pick-whoever that may be. Last season the team was 1-7 ATS at home and lost those games by an average of eight points. There is talk that the Texans may draft two quarterbacks in May, and they are seriously looking at Johnny Manziel after the former Texas A&M star had a terrific pro day workout. However, this is still a matchup that the Bengals should expect to win. The AFC is always loaded with talent, and an 11-5 record simply isn't good enough to get Cincinnati a top playoff seed.
At Indianapolis Colts: On paper, winning in Indianapolis might be all but impossible for the Bengals. The Colts had a 6-2 home SU record and 6-3 ATS mark (including the playoffs) last season. However, Cincinnati was able to beat Andrew Luck and company during a Week 14 home game by two touchdowns. This game will be another huge matchup for both teams and could even be an AFC Championship preview.
At New England Patriots: New England was perfect at home last season and is probably on pace for another 12- to 13-win season. The Patriots also covered seven of eight home games during the regular season. Cincinnati still has the entire offseason to add players via free agency and the draft, but expecting a win at New England may not be the most realistic of scenarios.
At New Orleans Saints: Next season Cincinnati will face the only two other teams (besides themselves) to go undefeated at home during the 2013 season. At this point in the Drew Brees and Sean Payton era everyone knows that the Saints are a monster inside the Superdome. The Bengals have a very capable offense, and these games could be very fun matchups, but don't expect Cincinnati to get a win here.
At Tampa Bay Buccaneers: If the Bengals are looking at another 3-5 road record next season, then visiting Tampa Bay is a must-win situation. The team has five difficult road games and cannot afford to give away any easy victories. Last season Tampa Bay was 3-5 SU and 4-4 ATS at home. The AFC North promises to be far more competitive than last season, with both the Ravens and Steelers looking to improve on 8-8 records.
Get free picks from any Doc's Sports handicapper - there is no obligation for this offer and no credit card required. Just sign up for an account, and you can use the $60 in free picks for any Doc's Sports Advisory Board handicapper and any sport. Click here to get started now.
Read more articles by George Monroy