Free NFL Totals Picks for Sunday for Over and Under Betting
by CarbonSports - 10/9/2014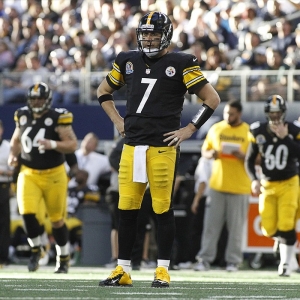 Pick #1: Pittsburgh/Cleveland Under 47 (-110)
This is the first time we've got a division rematch this season after the Steelers held on for a 30-27 win over Cleveland in Week 1. Pittsburgh jumped out to a 27-3 lead at halftime and then rested on that lead while the Browns ran the ball up and down the field in the 2nd half to eventually tie it up. Pittsburgh needed a FG on the last play of the game to secure the win and there is no way that the Steelers have forgotten about that.
Pittsburgh's defense has had its ups and downs since then with the high point coming last week in Jacksonville as they only allowed 9 points. It was only the second time all season that they've held an opponent to under 20 points and ironically those games have come in the Steelers last two contests away from home. Pittsburgh has watched the Browns offense continue put up points this year (4-0 O/U) and are determined to not let them dominate their defense again like the 2nd half of the first meeting.
Revenge games are special in that you've got relevant data specifically related to these two teams on the same field and the novice bettor will tend to look at it and expect a similar result. However, in the case of division rematches in this league, often times we see a high-scoring game in the 2 nd contest after a low-scoring 1st and vice-versa. It's not like the Browns and Steelers are used to playing shootouts as five of their last seven meetings have cashed 'under' tickets and I think that trend reverts back to form this week.
Pittsburgh always plays division rivals tough and their 5-12 O/U record in their last 17 division games proves that. The Steelers are also 0-9 O/U before they head under the bright lights of MNF and they've got a MNF game with Houston on tap next week.
Cleveland's offense won't be running wild forever and with the Steelers having a better idea of what to expect from the Browns attack after already seeing it once this year, this game shouldn't come near the 47 points.
Pick #2: Dallas/Seattle Under 47.5 (-110)
The Cowboys have started the year 4-1 SU thanks to a phenomenal start from RB DeMarco Murray. Murray leads the league in rushing with 670 yards on the ground , more than 200 clear of 2nd best in the league (Pittsburgh's LeVeon Bell with 460). Behind that physical offensive line, the Cowboys RB has seen some huge holes to run through and that O-line's great play has also kept QB Tony Romo upright in the pocket. The play by all those I've mentioned is a big reason Dallas is 4-1 SU, but they'll all be in for their toughest test to date against the defending champs.
Seattle held Washington to 17 points last week and with their talented pass-rushers I envision a similar result against the Cowboys this week. Eight of the Seahawks last nine games against NFC opponents have cashed 'under' tickets and they've got all the right pieces on defense to frustrate Dallas the entire time. Five of the last six meetings between these two have stayed low and that includes part of a 1-4 O/U run the last five times they've met in Seattle. Overall, Seattle is 1-6 O/U in their last seven at home vs any opponent and this defense will be out to send a message to the Cowboys that the NFC still runs through Seattle.
Dallas knows and understands that and to get to that next level and prove to fans that this 4-1 start isn't a mirage, they'll have to step it up on defense as well. Dallas is 0-4 O/U after failing to cover a spread and has played some solid defense the entire year except for their 1st halves vs. SF and St Louis. This game has all the feel of one where the winner will be the only one to reach 20 points and that's why I'm staying low.
CarbonSports sponsors Free Daily, Weekly and Season Long Wagering Contests and an up to $100 FreeBet to new players. Take advantage use promo code: FREE100 Click Here
(Make a deposit of $25 or more and enter code: FREE100 and get a 50% freebet bonus, no rollover up to $100) Click Here