Handicapping Bovada's NFL Player Props with Picks and Predictions
by Trevor Whenham - 8/22/2014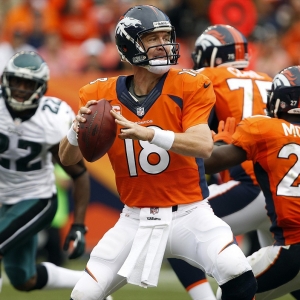 In the never-ending pursuit of prop bets that people will spend money on, sportsbooks are getting more and more creative every year. It used to be that a side and a total was all that was needed for books to draw more business, but the Internet has changed all of that. Each year books come up with new ways to tempt us - or really not tempt the smart ones amongst us in a lot of cases. One of the interesting things to look at this year at Bovada are the special NFL player props on offer. They are essentially parlays of two or three individual or team accomplishments. They certainly aren't packed with value, but at least they are interesting to consider:
Will Peyton Manning lead the league in passing yards, win the MVP award, and lead the Broncos to a Super Bowl win?
The only side you can bet here is the "yes," and it will pay off at +2500 if he pulls off this impressive trifecta. Manning has won the MVP five times, led the league in passing yards three times (a surprisingly low number), and won a Super Bowl, so we know he is individually capable of each thing. He has twice had a double - winning the MVP while leading the league in passing in both 2003 and last year. He also fell just a game short of the trifecta last year - though he really, really, really fell short with that horror show of a Super Bowl performance. So, can he put it all together and win all three this year?
Well, he's favored in all three categories. He's 7/2 to win the MVP, the 11/4 co-favorite with Drew Brees to win the passing title, and the Broncos are 13/2 to win the Super Bowl. The first thing that stands out when you look at these prices is what a horrible price Bovada is offering on the prop. The true parlay price would be just over 125/1 based on the odds for each bet, so they are paying about a fifth of what risk is involved - if you assumed that each of the three odds involved were fair. In short, then, the book would be thrilled for you to make this bet at any time regardless of how it ultimately turns out. So often this is the case with parlays, so it's key to do the math yourself to be sure of what you are really looking at.
If we put aside the dismal math for a second, we can look at each category in turn. In each category the biggest risk is the same - Manning isn't young, he isn't mobile, and he is fragile in both the knees and the neck - at least. If he were to get hurt and miss any real time then he likely wouldn't win MVP or the passing title, and with Brock Osweiler as the backup the Broncos likely wouldn't win the Super Bowl, either. To consider betting on Manning here means you are betting on his health. That makes me uneasy. That aside, he has the talent around him to shine, his defense should be better this year so he should get more opportunities, and voters absolutely love him, so he will come out on top in a close race. There also isn't anyone better positioned than him to win the passing title -- though Brees is competitive, and I have a soft spot for Matthew Stafford this year. I can't convincingly argue against any one of these categories, but I am very confident that he won't win all three.
Will Calvin Johnson lead the league in receiving yards and the Lions win the NFC North?
Johnson has been the receiving leader twice in the last three years, and he would have won it again last year if he hadn't missed two games. He is a freak at the top of his game, and the Lions should be much-improved offensively this year. He's the heavy 13/5 favorite to come out on top, and he's close to a bargain at that price. The question, then, is whether the Lions can win the NFC North. They are the third choice to do so at +400, behind the Bears at +275 and the Packers at -125. I think there is a lot of value in the Lions at that price. It's a brutally-tough division, but the gap between Detroit and the other two isn't as big as the odds suggest, and I don't see Green Bay as nearly as dominant as the price suggests.
The yes side here pays +1500. That's actually only slightly less than it should pay off. I probably wouldn't tie my money up in this for a whole season, but it is infinitely more attractive than the previous option.
Will Johnny Manziel win the rookie of the year and the Browns make the playoffs?
Simple answer - no. Manziel isn't even going to be the starter to begin the season, and he has very little to work with, so it is very hard to imagine him getting it together enough to win the award in what should be a pretty loaded field. Then there is the matter of whether the Browns will make the playoffs. They won't. Not even close.
The prop only pays +2000. Manziel is the 11/2 favorite to win the OROY - proof of just how lacking in objectivity the public is when it comes to their new crush. The odds are at +400 that the Browns will make the playoffs. The prop pays almost half of what it should, and that's ignoring the fact that both of the odds involved are way lower than they should be. I can't think of many bets I would be less interesting in making than this one.
New to Doc's Sports? We'd like to offer you $60 of free, no obligation picks. Try us out. See why experience matters, and why we have been around for so long while others have come and gone. Click here to sign up today. Also, get three handicappers for the price of one when you sign up for a full-season football package! Click Here for details.
Read more articles by Trevor Whenham