2014 Minnesota Vikings Opponents and Schedule Highlights
by Aaron Smith - 4/9/2014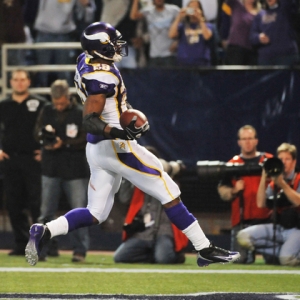 Minnesota has the best running back in the NFL in Adrian Peterson, but that hasn't been enough for this team to be consistently competitive in the last few years. The Vikings defense has turned into one of the worst in the NFL, and they badly needed a change at the top.
I really like the Vikings hire of Mike Zimmer. Zimmer is a defensive mastermind who has been excellent everywhere he has been in the NFL. He should instantly make this Vikings defense much better. If they can field a decent defense and team that with a strong running game, the Vikings may be closer to contention than most believe.
The NFL will release schedule dates and games times later in April, but we do know who the Vikings will have to play. We'll start with the team's eight road games and finish with their eight home games.
2014 Minnesota Vikings Opponents: Road Schedule
At Chicago: The Minnesota Vikings are just 39-50-3 against the spread in their last 92 games away from home, so they haven't been very good on the road against anyone. They have been particularly bad at Soldier Field, where they haven't won since 2007. Last year's 31-30 loss at Chicago was a heartbreaker. The Vikings led until the Bears scored the game winner with 10n seconds left.
At Detroit: Detroit has been a big disappointment in the last few seasons. Not surprisingly, the Lions are just 7-11 ATS in their last 18 home games as a favorite. The Vikings will be an underdog here, but it might be a good chance to back the Vikings if they are getting enough points.
At Green Bay: The Green Bay Packers are a really tough team to beat at Lambeau Field. Green Bay is 24-13-1 ATS in their last 38 games as a home favorite. The Packers will be a sizable favorite in this one. Rodgers is healthy again, and this team will be the team to beat in the NFC North.
At New Orleans: While some of the other teams in the NFC North were fortunate enough to get the Saints at home, the Vikings must travel to the Superdome. This is definitely a tough break for Minnesota. The Saints are an amazing 23-8 ATS in their last 31 games as a favorite at the Superdome. It's hard to imagine Minnesota winning this game.
At Tampa Bay: Tampa Bay doesn't have much of a home-field advantage. The Bucs are 11-26 ATS in their last 37 home games. The Bucs will have a new coaching staff this year, but this team is still going to be short on talent.
At Buffalo: Buffalo is just 1-4 ATS in their last five games playing as the home team in Canada. The Vikings will hope to get fortunate enough to be their opponent when the Bills host a game in Canada this year. Buffalo is 26-14 ATS in their last 40 home games during the month of November.
At Miami: Miami is just 5-15 ATS in their last 20 games following a bye week. The Dolphins are just 2-13 ATS in their last 15 games laying 3.5 points or more. If the Vikings are a big underdog here, considering grabbing the points. The underdog is 51-22 in Miami's last 73 games overall.
At St. Louis: Jeff Fisher has this St. Louis team playing hard. They are much tougher to beat in St. Louis. This game looks like one where the offense that can consistently run the football should come out on top.
2014 Minnesota Vikings Opponents: Home Schedule
Chicago: Jay Cutler is just 31-57 ATS in his last 88 games that weren't on "Monday Night Football". The Vikings hope to avoid a "Monday Night Football" matchup here. Minnesota edged out a 14-13 win at home over Chicago in 2013 thanks to a strong defensive effort.
Detroit: Detroit will come into the season with higher expectations than Minnesota, and they might be favored in this game. The Lions are just 12-18-2 ATS in their last 32 games as a favorite, though. Minnesota needs to win this game if they are going to turn things around in 2014.
Green Bay: No matter where they play the Packers, it's hard to see the Vikings matching up well against them when Rodgers is healthy. The Packers can spread out this Vikings secondary and pick them apart. Look for Minnesota to try to control the ball and keep it out of Rodgers' hands.
Atlanta: Was last season a sign of things to come for Atlanta or simply a down year due to key injuries? It will be interesting to see what the Falcons look like this season. Minnesota has to be glad to be hosting this game instead of traveling to the Georgia Dome.
Carolina: Carolina's defense made a mark on the league last year, and Cam Newton keeps getting better. The Panthers are a team on the rise. Minnesota will have to win a defensive battle if they are going to take down the Panthers.
New England: No one has been better on the road than the New England Patriots in the past ten years. The Patriots are 55-34-3 ATS on the road since the start of the 2003 season. New England is 37-22-1 ATS in their last 60 games as a road favorite. Tom Brady and company are going to be a tough matchup for the Vikings.
New York Jets: The Jets have a quality run defense, which means Minnesota might have to throw the ball a little bit to be successful, but the Jets offense isn't very good, either. This should be a very competitive game between two teams that have plenty of flaws, but they both seem to always play hard until the final whistle.
Washington: Washington had a disastrous 2013 season, but you have to assume this team will bounce back in 2014. There is too much talent here to go 3-13 again. Jay Gruden is the new head coach here, and I expect that to help the Redskins offense find some more consistency. This is a matchup of two teams that should have very different looks in 2014.
Doc's Sports has established ourselves as the best in the business for well over 40 years. We want you to see why! That is why new clients can get $60 worth of member's picks free by clicking this link for a no-hassle signup.
Read more articles by Aaron Smith