New England Patriots Odds to Win the Super Bowl and Betting Futures
by Alan Matthews - 7/24/2014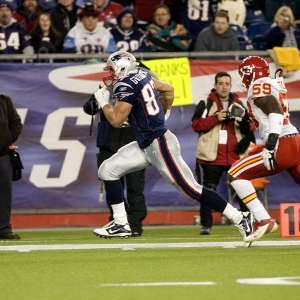 You can't count on much in sports these days, but one thing you can is the Patriots winning at least 10 games. They have every season since 2003, even in 2008 when Tom Brady was lost for the season in Week 1. The only time a Brady-led team has missed the playoffs was in 2002, and that club was a solid 9-7. It's still a minor miracle the Patriots haven't won a Super Bowl since repeating in the 2004 season.
Last year was unusual, especially late in the year, because New England really became more of a running team than passing. Part of it was a mediocre receiving corps once Rob Gronkowski was lost to yet another season-ending injury. In New England's final two regular-season games, Brady didn't throw for more than 172 yards in either. Instead, LeGarrette Blount and Steven Ridley were pummeling the Ravens and Bills on the ground. As the No. 2 seed behind Denver, the Patriots had little trouble in the divisional round in beating the visiting Colts, 26-16. Once again, that was thanks to the ground game. Brady threw for only 185 yards while the Pats rushed for 234.In the AFC title game, Denver was clearly the better team in a 26-16 victory. It was the second straight year New England came up a win short of the Super Bowl.
Offense
This will certainly be the first team preview I start with the tight end on offense, but Gronkowski has proven just how incredibly valuable he is to the team -- statistically, Brady has been way better the past two years with Gronk on the field than not. He is Brady's security blanket, especially after Wes Welker left before last season. The Pats got great news on Wednesday in that Gronk was cleared for camp and won't have to open the season on the PUP list. He underwent surgery on his right ACL on Jan. 9, so that would seem to be the low end of the recovery frame. I highly doubt he plays any exhibition games. But he should now be in there Week 1. Gronk was limited to seven games last year, but if you go simply on a per-game basis, he, and not the Saints' Jimmy Graham, led all NFL tight ends by averaging 9.4 targets, 5.6 catches and 85 yards per game. New England's only two losses in games Gronk played were in overtime at the Jets and by four at Carolina. So the Patriots easily could have won them all.
Brady has regressed a bit the past few years, but it could simply because Gronk has played just 18 of a possible 32. Brady had no big targets in 2013 when Gronk was hurt as Julian Edelman and Danny Amendola are good players but not big guys. The Patriots added Brady another red-zone weapon in Carolina receiver Brandon LaFell, who is 6-foot-3. He caught 49 balls for 627 yards and five scores in 2013. New England never really got a chance to bring back Blount as he jumped on Pittsburgh's first offer, and that's a shame. The team still should be fine there with Shane Vereen behind Ridley. Vereen hasn't proven able to stay healthy, however. I did like the fourth-round selection of Wisconsin running back James White. He's a burner.
Defense
It's almost hard to remember that Bill Belichick is a defensive guy because you only think of Brady and the offense when it comes to this team. The Pats were not good on defense last year, ranking No. 26 in total yards allowed and 30th against the rush. That said, three key guys on that side of the ball, linebacker Jerod Mayo and tackles Vince Wilfork and Tommy Kelly, missed big chunks of the year due to injury. New England lost its top cornerback in Aqib Talib to rival Denver, but the Patriots more than made up for that by signing Darrelle Revis to a deal that was more team-friendly than what Talib got from the Broncos. I think Revis is line for a huge year after embarrassingly being waived by Tampa.
New England wasn't done there, signing big, physical cornerback Brandon Browner from Seattle; he's suspended the first four games. The Pats also lost the former heart and soul of their defense in linebacker Brandon Spikes, but they added James Anderson at the position. He's no Spikes but was the Bears' second-leading tackler last year. Up front, the Pats took a chance on former Saints end Will Smith, who missed all of last year, and took Florida tackle Dominique Easley with their first-round pick.
2014 New England Patriots Schedule Analysis
The Patriots have the 10th-toughest schedule in the NFL as their opponents went a combined 131-123-2 last year, a winning percentage of .516. It's the second toughest among AFC East teams behind the Jets (.520). New England's home schedule (.523) appears slightly more challenging than on the road (.508). The Pats are 4-point favorites for Week 1 at Miami with a total of 47. New England had beaten the Fins seven straight times before losing there Week 15 of last season. Brady threw for 364 yards, but it took him a whopping 55 attempts. His last of the game was picked off by Michael Thomas on fourth down in the end zone. It was one of those moments when the Patriots desperately missed Gronkowski. Edelman had 13 catches for 139 yards and Amendola had 10 for 131. That loss would prove incredibly big. New England didn't lose another regular-season game and finished 12-4, a game behind Denver for the top seed in the AFC. So had the Patriots beaten the Fins, they would have hosted the AFC title game, not the Broncos, because New England had the head-to-head tiebreaker.
If the Patriots win the opener, I could see them getting to 8-0 when the Broncos visit in Week 9. Here's what follows the Dolphins: at Vikings, vs. Raiders, at Chiefs, vs. Bengals, at Bills, vs. Jets (Thursday night short turnaround), vs. Bears. New England should be favored in all those. Of course, the NFL world will stop to watch Brady against Peyton Manning for the 16th time -- and you never know, at their age it could be the last. Brady leads 10-5 (including playoffs). The Pats' bye is after that game, and it's at a good time because the post-bye part of the schedules looks tougher: at Colts, vs. Lions, at Packers (first time Brady and Aaron Rodgers have started against one another), at Chargers, vs. Dolphins, at Jets, vs. Bills.
2014 New England Patriots Odds to Win the Super Bowl and Betting Futures
Odds courtesy of Sportsbook.ag . The Patriots are +1000 to win the Super Bowl, +300 to win the AFC Championship and -320 favorites to win the AFC East again. New England has a wins total of 10.5, with the "over" a -195 favorite. It is -400 to make the playoffs and +300 to miss out. Brady is +800 to win the NFL MVP Award while Gronkowski is +10000. Brady is +1000 to lead the league in passing yards, Ridley is +4000 to lead the league in rushing, while Gronk is +10000 to lead in receiving yards. So is Edelman. Easley is +4000 to win Defensive Rookie of the Year.
2014 New England Patriots Picks and Predictions
I do think the championship window might shut on this team after this season -- if it hasn't already. I realize Brady didn't have a great group of receivers last season when Gronk was out, but Brady's numbers weren't that great, at least by his recent standards. His rating has gone down every year since 2010 and so have his completion percentage and TD passes. That said, it's a pretty manageable schedule. The only road game between Oct. 5 and Nov. 16 is an Buffalo, just a short trip. New England should get to at least 11 wins again and it will win the division as usual. I don't think it will win the AFC, however. Nor would I recommend any individual props.
Get free picks from any of Doc's Sports Advisory Board of expert handicappers - and with no obligation or credit card. You can use these free picks for any sport, and you will never deal with a salesman. Click here for your free Doc's Sports picks.
Read more articles by Alan Matthews