NFL Futures Betting: NFC South Season Win Totals Odds and Picks
by CarbonSports - 7/31/2014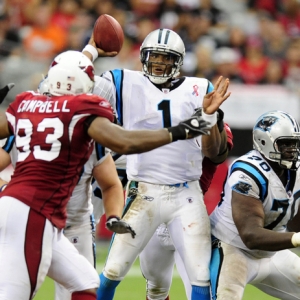 The NFC South has always been a highly competitive division that typically sees a new winner every year. There hasn't been a team to repeat as champs of this division since realignment happened back in 1992. That's bad news for the Carolina Panthers who won this division with a 12-4 SU record thanks to a strong defense and a 3rd year QB in Cam Newton finally maturing into a superstar and taking care of the ball. That 1st place schedule is waiting for the Panthers though and that won't be easy. Three other teams are looking to get back on top and we will seen the Panthers fall.
Play #1: Carolina Panthers Under 8 wins (-130)
Carolina finally put it all together last year and made the playoffs for the first time in the Cam Newton era. Results like that put heavy expectations on the Panthers this year and I don't believe they be able to live up to them. They are a team that relies too much on momentum in my opinion as Newton can hang his head often and he's usually the barometer for this squad. A rough start early on while the schedule can be had because things get really tough during the middle for Carolina.
A first place team has to deal with a first place schedule and that means dealing with three division winners from last year all in a row. Carolina has games @ Cincinnati, @ Green Bay, and vs. Seattle in Weeks 6 through 8 and going winless there is a real possibility. Add in the rest of the AFC North and NFC North like all teams in this NFC South division must face and the wins are going to be hard to come by for the Panthers.
Carolina is still looking for a #1 WR to step up and emerge as a leader now that Steve Smith is gone and their running game is still a question mark. A strong defense can only take you so far if you consistently can't score and with Cam Newton always exposed to taking shots and trying to do it all, the losses will start to pile up for the Panthers again this year.
Play #2: Atlanta Falcons Over 8.5 wins (-105)
With Carolina dropping, another team in this division will step up to the challenge and be a playoff contender again and that's the Falcons. Like Houston in the AFC, Atlanta is hoping that their disastrous 2013 season was nothing more than a one-off of bad breaks and poor play.
Atlanta had won this division back in 2010 and 2012 and made the playoffs back in 2011. They are a team that's deep offensively and arguably possess the best WR duo in the game. Roddy White and Julio Jones can expose holes in opposing defenses like the best in the game and QB Matt Ryan has proven he's one of the better ones in the league. Injuries and early season struggles cost them 2013 but it's a fresh slate this year and the Falcons should be able to take advantage. They've got no division winners (other than AFC and NFC North) to deal with like the Panthers have and could really get going on a roll should they win in Week's 1 and 2 against New Orleans and Cincinnati. There is a real opportunity for Atlanta to rack up some wins before their Bye Week (Week 9) and Atlanta has the personnel to make it happen.
Down the stretch things tighten up for Atlanta, but with the chance to get back into the playoffs going on at the time I'm expecting the Falcons to peak when they need too. Defensively they showed some positive signs of improvement last year and if that can keep improving this season, Atlanta will be a double-digit winner once again.
$100 FreeBet up for grabs on your next deposit at CarbonSports if you use this promo code: FREE100
(You must Make a deposit of $25 or more and enter the promotion code: FREE100 in the promotion code field, 50% bonus value of your deposit up to $100). Click here to take advantage of this offer!