NFL Futures: Pre-Schedule & Draft Super Bowl Odds Update
by Alan Matthews - 4/16/2014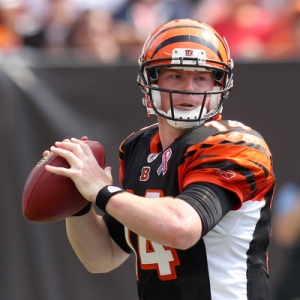 We are about to enter probably the three most exciting weeks of the NFL offseason: the release of the schedule and the draft, so it's a good time to take an updated look at some 2014 NFL futures odds as they could change a bit after those two events ( certainly win totals can be affected).
Normally the schedule likely would have been out by now, but the draft was pushed back to a May 8 start this season because Radio City Music Hall in New York wasn't available on the NFL's normal weekend. Since 2007, the schedule has been released sometime between April 11 and April 20. Reportedly it will be announced next Tuesday via some TV extravaganza, but for sure no later than Thursday.
We know every team's opponents -- that's determined by how clubs finish in a previous season and which opposite divisions face off in intra- and inter-conference play. Next season the opposite conference matchups will be AFC East vs. NFC North, AFC North vs. NFC South, AFC South vs. NFC East and AFC West vs. NFC West.
We also know some games, or nearly so. Defending Super Bowl champion Seattle will host a marquee opponent Thursday, Sept. 4, to kickoff the season. No Mariners game that night to cause traffic issues or anything as happened in Baltimore last year with the Orioles. That forced the Ravens to open on the road. My projection for the Seahawks' opponent is Green Bay, with other realistic possibilities being the Broncos (doubt the league wants a Super Bowl rematch that early), 49ers (Fox is tired of losing 49ers-Seahawks to other networks), Cowboys or Giants (neither a playoff team last year).
Also known are three games in London: Miami at Oakland on Sept. 28, Detroit at Atlanta on Oct. 6 (an awesome 9:30 a.m. ET start!) and Dallas at Jacksonville on Nov. 9. As usual, Detroit will host the Thanksgiving Day opener and Dallas the second game. The Buffalo Bills apparently leaked that they will be the Lions' opponent. It has to be an AFC opponent for TV reasons, and the only two AFC teams the Lions host are Miami and Buffalo next season. The Cowboys will be playing one of these six: Redskins, Giants, Eagles, Cardinals, 49ers or Saints.
Two other things we know due to stadium reasons. The 49ers are expected to open on the road and then host a Sunday night game in Week 2 to christen Levi's Stadium. San Francisco will not host any Monday or Thursday night games, however, because area officials in Santa Clara aren't sure how traffic will play out during rush hour around the stadium. In addition, the Minnesota Vikings aren't likely to have a Monday or Thursday night home game this season because of an agreement they have with the University of Minnesota, where the Vikings will play the next two seasons. The Vikes can only host one weeknight game per season and only when classes aren't in session at the school. Thus, the only two possibilities are Thanksgiving night or the MNF finale in Week 16, but the Vikings aren't expected to be any good, so it's highly unlikely they are scheduled for a Monday night game that late in the season (if at all).
If you believe in strength of schedule, the Indianapolis Colts could have the best record in the NFL this upcoming season and the Oakland Raiders the worst. Indy's 2014 opponents have a 2013 winning percentage of .430, while Oakland's foes combined for a .578 mark. The Colts get six games against the sad AFC South, although Houston should be way better. The Raiders have six games against the AFC West, where the other three teams made the playoffs last year.
Seattle and Denver are co-+600 favorites at Sportsbook.ag to win the Super Bowl . The Broncos have moved up a bit after bulking up their defense with the likes of DeMarcus Ware, Aqib Talib and T.J. Ward. Seattle kept defensive end Michael Bennett but lost cornerbacks Brandon Browner and Walter Thurmond as well as receiver Golden Tate. The Broncos have the second-toughest strength of schedule in 2014 with Seattle at No. 6. I don't think there can be an argument that the Seahawks' NFC West is the best overall division in football.
San Francisco and New England are +800 on Sportsbook.ag. A few key Niners have been in the news recently for not-good reasons. It looks like Colin Kaepernick will be in the clear, but the team might have to cut loose stud pass-rusher Aldon Smith, who might face a long suspension regardless. The Patriots improved their secondary with Browner and Darrelle Revis but lost Talib, Brandon Spikes and LeGarrette Blount.
The Washington Redskins are +6000 to win the Super Bowl and didn't get a bump from signing DeSean Jackson. There really was no odds-altering free agent available this year because good quarterbacks rarely hit the market. The best one signed was probably former Bear Josh McCown by Tampa Bay. The Bucs are +8000 Super Bowl long shots. The best value right now? It might be the Jets at +7500 after adding Michael Vick, RB Chris Johnson and WR Eric Decker. It wouldn't shock me if they unseated New England in the AFC East.
Here are the site's full Super Bowl odds list in alphabetical order. We will be starting 2014 NFL previews soon at Doc's.
Arizona Cardinals +4500
Atlanta Falcons +5000
Baltimore Ravens +4000
Buffalo Bills +8000
Carolina Panthers +5000
Chicago Bears +3000
Cincinnati Bengals +4200
Cleveland Browns +7500
Dallas Cowboys +6000
Denver Broncos +600
Detroit Lions +6000
Green Bay Packers +1500
Houston Texans +4000
Indianapolis Colts +3500
Jacksonville Jaguars +22500
Kansas City Chiefs +3500
Miami Dolphins +6000
Minnesota Vikings +10000
New England Patriots +800
New Orleans Saints +2200
New York Giants +4300
New York Jets +7500
Oakland Raiders +22500
Philadelphia Eagles +2500
Pittsburgh Steelers +3500
San Diego Chargers +4000
San Francisco 49ers +800
Seattle Seahawks +600
St Louis Rams +7500
Tampa Bay Buccaneers +8000
Tennessee Titans +7500
Washington Redskins +6000
Doc's Sports has established ourselves as the best in the business for well over 40 years. We want you to see why! That is why new clients can get $60 worth of member's picks free by clicking this link for a no-hassle signup.
Read more articles by Alan Matthews