NFL Handicapping: Dealing with Eliminated Teams
by Trevor Whenham - 12/18/2014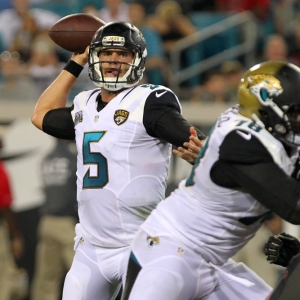 Heading into Week 16 of NFL action there are 11 teams that have been officially eliminated from playoff contention. The challenge for bettors is that not all eliminated teams act the same, and they can't all be treated the same in their last two games. It would be easy if we could just make a blanket statement about what can be expected and bet accordingly, but sports betting is never easy. What we can do, though - at least in general terms - is categorize teams that are out of the playoff picture into four general groups. Each group shares enough similarities that we can make some assumptions about their motivations and how to bet them as a result.
Here are those four groups and the teams that fit into each one:
Waiting for the axe to fall
These are the teams that are almost certainly going to be going through a coaching change - yet again in some cases. They know that it is going to happen, they have known it for a while, and they know there is no reason to listen to the current regime anymore. When a team has gotten to this point in their season things have obviously been going poorly for a while now, so frustration and apathy are both at a high level. These are extremely tough teams to trust.
New York Jets - Rex Ryan should have been fired at this time last year, but he somehow survived. He won't survive again. The circus hasn't left town all year, and this team is a mess. They won last week but only because they played a team just as messy.
Oakland Raiders - Oakland has to make a coaching change every three weeks or so, so they are obviously due now. Tony Sparano has been fine since taking over mid-season, but he isn't going to make Mark Davis happy - especially if the team needs to sell tickets in L.A. soon. Jim Harbaugh is the big prize, but I doubt they will land him. The consolation won't be Sparano.
Chicago Bears - Marc Trestman has had a brutal year this year, and it isn't getting any better. He has benched Jay Cutler this week - an obvious sign of desperation. I was sure he was going to have a strong second year. I was clearly wrong.
San Francisco 49ers - There is no good reason for the team to get rid of Jim Harbaugh. They aren't going to be able to do any better. The die is cast. Add in the off-field legal dramas that keep popping up with the team, and things are not bright right now.
Pride makes them dangerous
These are the teams that have many things working against them but which are still finding ways to play hard, be dangerous, and win more than they probably should. It has been happening for much of the year, and it should happen the rest of the way.
St. Louis Rams - The last three weeks have been one continuous defensive clinic from this team. Incredibly impressive. Injuries have meant that the offense has struggled to keep pace, but they still show up.
Minnesota Vikings - If the Adrian Peterson debacle can't kill this team, then being eliminated from the playoffs won't, either. This team is flawed but honest.
Just treading water
These are the teams in limbo - awaiting next season. They are not likely to make a coaching change, but they just aren't very good, and nothing but time and offseason roster changes can help. These are just plain bad teams.
Jacksonville Jaguars - Injuries have hit this team hard, and that stopped them from taking any steps forward from last year. Gus Bradley will likely get another year despite his struggles, they have their QB in place, and it's all about waiting for next year - and wishing that the suffering would end.
Tennessee Titans - Like Jacksonville, they have a coach who isn't going anywhere, a QB of the future likely in place, and too many issues to list. They got beaten solidly by the Jets. That's bad.
Tampa Bay Buccaneers - Stable coach. Quarterback issues - unlike the other two teams here. No reason to feel good about themselves right now.
WTF?
These are the teams you just can't decode - not right now anyway. For one reason or another there is incomplete information to assess where they are at or where they are going.
Washington Redskins - They hired the wrong Gruden brother. He motivates his players by abusing them publicly. Strangely, that's not working very well for him. His franchise quarterback is an absolutely mess. The ownership is a total mess - even compared to the rest of the Daniel Snyder era. Do they ditch the coach? The quarterback? Both? Neither? Does any of it matter?
New York Giants - This team is wildly inconsistent, and seriously underperforming. Eli Manning looks like a shell of himself. The team is going nowhere and is built to rebound in any hurry. They should be poised to fire both GM and coach and start over. The team is either really patient or really resistant to change, though, so the winds seem to be blowing toward the status quo for another year. Will that help the team? Or hurt them? Will they really stay the course, or will changes arrive?
Read more articles by Trevor Whenham