NFL Power Rankings Week 12
by Robert Ferringo - 11/18/2014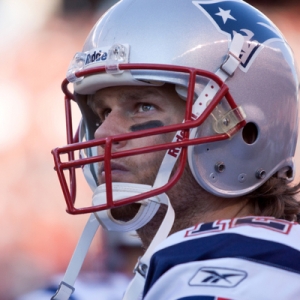 Old Man Winter is not screwing around this year.
We are facing record-low temperatures across the country this November, and that will be a significant X-Factor down the stretch. There are still roughly 22 teams jostling for 12 playoff spots, and now is the time that momentum and execution mean everything on the gridiron. But adverse weather conditions - whether the cold is slowing down the breakneck offenses of the league's top teams or whether a rain-soaked field results in a fluke turnover that costs a team a game - are looming as a critical handicapping factor over the final two months of the season.
Handicapping the weather is difficult. It generally doesn't impact games in the ways that seem obvious. And the books and the general public tend to overreact to a little snow or rain. Keep in mind that most of these cold-weather games feature cold-weather teams that are used to playing in these conditions. And know that wind speed is by far the No. 1 thing to factor into your handicapping.
Here is Doc's Sports NFL Power Rankings for Week 12:
1. New England Patriots (8-2) - At this point the Patriots are clearly an automatic play. And, frankly, I am surprised that they aren't a 9.5- or 10.0-point favorite against the Lions on Sunday. New England is 10-3 ATS in its last 13 home games and 5-1 ATS in its last six games overall. This is their fourth home game in the last five contests, and they won the first three by an average of 17.3 points per game. The Patriots are also 5-0 ATS in their last five games against above-.500 competition. It will also be interesting to see a Brandon Browner-Golden Tate matchup this week as both were teammates in Seattle.
2. Green Bay Packers (7-3) - The freakish thing about the Packers it that unlike most soft, pass-happy, offense-first teams, they actually play BETTER in the elements. Most of the highest-scoring teams of the last 15 years have come from domes or warm weather. But Green Bay's attack thrives in poor conditions because of Rodgers' accuracy and their receivers' experience. That should benefit them again this weekend in less-than-ideal outdoor conditions in Minneapolis. The Packers are 5-2 ATS in the last seven in this series, and I'm sure they will follow what Chicago did to the Vikes last week and take plenty of shots down the field.
3. Arizona Cardinals (9-1) - Larry Fitzgerald has a sprained MCL and could miss time. That's a crushing blow not just because he is their top target and a guy that opponents have to scheme for. But with Carson Palmer down, Fitz was the veteran influence in the huddle on a team that has a lot of young, inexperienced skill players. Only 24 percent of Arizona's offense is coming from the rushing game, so it is not as if Arizona can protect Stanton with a big running game. The Cards won their last trip to Seattle and have won three of the last four meetings with the Seahawks outright. Arizona is 20-7 ATS in its last 27 games, and they are 17-5 ATS in their last 22 conference games.
4. Denver Broncos (7-3) - I want to know how many Survivor Pool players were busted by Denver's shockingly bad effort in St. Louis last week. Look, that was their third straight road game, and they were facing The Underdog Whisperer, Jeff Fisher. So that loss to the Rams is a little bit more understandable than it seemed on Sunday. But only 21.8 percent of Denver's offensive yards are coming on the ground. They are still too soft to really be taken seriously as a potential Super Bowl champion despite being one of the most talented teams in the league overall.
5. Philadelphia Eagles (7-3) - I was one of the only football analysts in the country that said it last week: don't get swept up in Sanchez Mania! The guy is a total loser and showed why he is a backup quarterback with his performance in Green Bay. Sanchez is a mess, and if he plays that poorly at home this week it wouldn't stun me if Chip Kelly pulled the trigger and went with Matt Barkley. The Eagles are 4-0 ATS after a loss, but they have also played down to their level of competition all season long. Be wary.
6. Dallas Cowboys (7-3) - This is a huge five-day stretch for the Cowboys as they play the Giants on Sunday night before hosting Philadelphia on Thanksgiving. Having a bye week leading into that two-game combination is a major advantage compared to their opponents. Dallas has won three straight and four of five games against the Giants, and this week they have a chance to drive a stake through the heart of Tom Coughlin's career. The road team has won six of nine in this series, and Dallas should be able to pound the ball down New York's throat.
7. Kansas City Chiefs (7-3) - The Chiefs are off a grueling, hard-fought win last Sunday and now have to turn around and go on the road, on a short week, to face a desperate division rival. Making this an even worse situation is the fact that they host Denver is a mammoth AFC West showdown in Week 13. This would be an automatic "bet against" situation for 90 percent of the teams in the NFL. But weeks like this is when having reliable, experienced, proven leaders like Andy Reid and Alex Smith pay dividends. The Chiefs have won five straight games both SU and ATS, and you're betting against them at your own risk right now.
8. Seattle Seahawks (6-4) - I don't think that the Marshawn Lynch drama is that big of a deal in the Seahawks locker room. He's kind of a weirdo. He's always been kind of a weirdo. They're used to it. But losing center Max Unger for a month is a huge issue for this team. Center is the most underrated position in football, and he is an irreplaceable part on that offensive line. The home team is 11-5 ATS in the last 16 matchups in the Arizona series, and Seattle has revenge for a rare home loss last December. The Seahawks are just 1-5 ATS in their last six games, but they are 34-16 ATS in their last 50 home games.
9. San Francisco 49ers (6-4) - There is no way the 49ers should've left New York with a win last week, but they are suddenly 5-2 ATS in their last seven games. San Francisco hammered Washington 27-6 last November, and they are catching 90 percent of the betting action this Sunday against the Skins. However, the spread has actually dropped from an open of 9.0 to its current level of 8.0. If Colin Kaepernick can't light up this pathetic defense and this horrendous secondary then I don't know if there is a defense that he can produce against. San Fran is 7-3 ATS in its last 10 games against teams with a losing record.
10. Indianapolis Colts (6-4) - I've been saying it for two years: Andrew Luck and the Colts come up small against every good team they play. They are now just 7-11 SU in games against teams that finished the season with a winning record. Their defense may have been exposed on Sunday night when Some Dude Off The Street ran for four touchdowns against them. But the Colts 6.0 defensive yards per play is exactly the same as more maligned groups like Atlanta and Chicago.
11. Detroit Lions (7-3) - Penalty issues are starting to creep up again for the Lions, and they are averaging nine per game over their last three. They are coming off a tough, physical game at Arizona and now have to wander out into the elements to face red-hot New England. With a Thanksgiving home game against Chicago on deck, I would be worried that the Lions could get caught in a sandwich game this week against the Patriots. Detroit is just 10-23 ATS in its last 33 November games, and they are just 2-6 ATS in their last eight road games.
12. Pittsburgh Steelers (7-4) - Give the Steelers credit for their fourth quarter comeback on MNF. But if I were a Steelers fan I would be disturbed with how their front seven was blown off the line of scrimmage. That is a major problem that they'll need to address during the bye week.
13. Miami Dolphins (6-4) - I don't know if I've seen many starting quarterbacks worse at throwing the deep ball than Ryan Tannehill. The Dolphins have completed just 22 passes of over 20 yards, fifth-worst in the league, and it seems like every time I turn around Tannehill is airmailing Mike Wallace down the field. Miami's defense seems to improve every week. But Denver is the first offense ranked in the top half of the league that the Fins have faced on the road this season. They won't have Cortland Finnegan this week, and that mitigates a lot of Denver's injury issues at receiver.
14. Cincinnati Bengals (6-3-1) - A road win in New Orleans is always impressive. It just is. But that aside, I am not impressed with this team at all, and I think they have one of the most misleading records in football. The Bengals have won three of their last four games. But if you've watched this team play you've seen a team that is sloppy offensively, weak defensively, and one that's been unimpressive in all three phases of the game. This is the fourth straight year the Bengals have played the Texans, and they have lost the previous three meetings. In fact, the Bengals haven't beaten Houston in the last five meetings - dating back to October of 2008 - and they are 2-6 ATS in the history of this series.
15. San Diego Chargers (6-4) - Injuries or not, San Diego's 23.1 yards per point mark over the last three games is absurd. After averaging 29.4 points per game in their previous five games, the Chargers have mustered just 13.5 in their last four. Maybe it is Phil Rivers' ribs. Or maybe it is the fact that they are not getting any vertical production from their receivers.
16. Baltimore Ravens (6-4) - The Ravens are 4-1 ATS in their last five "Monday Night Football" games, and they are an outstanding 5-1 ATS after a bye week. But Baltimore is just 1-5 ATS on the road, and I think it is a red flag that they are an underdog in New Orleans despite bringing a better record into the game.
17. New Orleans Saints (4-6) - Rob Ryan is just a complete and total loser, and the Saints simply cannot stop anyone. They are what I refer to as an "accidental defense," which means that any stops that they get are purely accidental and usually the result of a mistake by the opponent rather than anything the Saints are doing defensively. Their schedule - which is one of the most difficult in football to this point - had not done this team any favors. But they are squandering one of the NFL's most efficient offenses because of defensive ineptitude. Could the Saints really lose three home games in a row? That would be the case if they fall to the Ravens on MNF.
18. Houston Texans (5-5) - I still can't figure out how this team is No. 30 in the NFL in total defense. Their 19.0 yards per point is a statistical anomaly, and I would expect some fireworks in their games down the stretch. That said, if you're looking for a sleeper team that can get hot and make a run in the AFC, this is it. Ryan Mallett has given the offense a jolt. They play four of their last six games at home, and they have three total games against the Titans and Jaguars. If they beat the Bengals this week then Houston has a real shot at getting to 10 wins.
19. Buffalo Bills (5-5) - Western New York is getting hit with anywhere between four and five feet of snow this week. It is supposed to warm slightly this weekend, but rain is in the forecast for Sunday. These could be some ugly, ugly conditions for Buffalo's must-win matchup with the Jets. Five of the last six meetings in this series have played 'over' the total, but the teams are just 3-3 against the total in games played in November or later.
20. Cleveland Browns (6-4) - That was a ridiculous interception by Joe Haden in the end zone last week, and I can't wait to see how he stacks up with Julio Jones this week. Do not overestimate the impact that Josh Gordon is going to make in his first game back with the Browns. I am not even expecting him to play more than half of Cleveland's offensive snaps.
21. Chicago Bears (4-6) - It should be an emotional Sunday in Soldier Field as Lovie Smith returns. This is a much different Bears roster than the one Smith assembled. But he still knows Jay Cutler and the rest of the offensive players well enough to exploit their weaknesses. I don't think "throw it up for grabs 40 yards downfield" is a consistently viable offensive approach. It worked for the Bears last week. But I don't know that it will against a Tampa Bay team that has allowed a league-low three passes of 40 yards or more this season. Chicago's defense has not had a sack in two weeks.
22. St. Louis Rams (4-6) - Maybe I was wrong about this team. When you think about it, they probably should've swept San Francisco, and they blew a huge lead against Dallas. St. Louis is that close to being 6-4 despite being forced to play scrub quarterbacks all season. That said, the Rams are just 3-5 ATS in their last eight games overall, and they have been outgained by an average of over 100 yards per game over the last six weeks. Here is an interesting stat, courtesy of WP: NFC West teams are a collective 27-15 ATS the past 43 times they have been posted as an underdog.
23. New York Giants (3-7) - The Giants rank last in the NFL in opponents' yards per play (6.2), and they have been outgained in six straight games. Somehow this team is still getting a lot of respect from the books as a home underdog even though they are 4-19 ATS in that role and are on an overall 0-5 ATS slide. This team looks like a group that is mailing it in, and everyone knows that Tom Coughlin is a lame duck. In one of the most unbelievable splits in NFL betting, the Giants are a horrific 20-46 ATS in their last 66 games in November.
24. Carolina Panthers (3-7-1) - I love it when I cash my 7-Unit NFL Futures Play before we even get to Thanksgiving! That is now four straight years where my top futures bet - this year it was Carolina 'under' 8.5 wins - was a no-doubter. Ron Rivera deserves all the criticism that he is getting for his ultra-conservative approach at the end of the Atlanta game. It is the Falcons! Atlanta has, statistically, the worst defense in football. That is not the team that you should put it in your pocket against and settle for a 45-yard field goal. They mercifully get a bye after a brutal two-month stretch.
25. Minnesota Vikings (4-6) - Minnesota's four best offensive players this preseason were Matt Cassel, Adrian Petersen, Kyle Rudolph and Cordarrelle Patterson. That quartet combined for exactly 24 total yards last Sunday, and that's the biggest reason the Vikings are No. 30 in the NFL in total offense. Rain and snow are in the forecast this Sunday, and for the second straight game both teams will face a kickoff temperature flirting with freezing. The Vikings are 6-2 ATS in their last eight home games, and they are 8-2 ATS after a loss. The home team is 6-2 ATS in the last eight in this series.
26. New York Jets (2-8) - Rex Ryan is just 1-4 ATS in his last five games after a bye week, so if you were expecting some kind of fresh game plan out of the Jets I wouldn't hold your breath. I am interested to see if they work Percy Harvin into the offense, though, and we'll see how they scheme Buffalo's nickel-and-dime offense. The road team has only won one of the last six meetings in this series, and the Jets have lost three of four to the Bills. Those defeats have come by an average of 20.8 points apiece. The Jets actually outgained the Bills in the first meeting but couldn't overcome turnovers. Whoever wins the TO battle on Sunday wins the game and takes the cash. It's that simple.
27. Tennessee Titans (2-8) - The Titans showed a lot of heart on Monday Night Football, but now they are in a killer letdown situation on the road at Philadelphia. Were it not for some excellent red zone defense, the Titans would've gotten hit for 40 points in that one. I don't know how they are going to slow down the Philadelphia attack. This week's game features two of the three worst teams in football in terms of time of possession. The Titans are No. 30, while the Eagles are No. 31. But the Titans are showing signs of an overpowering running game. Instead of worrying about their pathetic quarterback play, this team should be running the ball 40 times per game.
28. Atlanta Falcons (4-6) - As pathetic as this defense is - and it is No. 32 in the league - and as allegedly high-powered as this offense is - it is No. 6 in passing and No. 10 in total yardage - the Falcons have gone 'under' in six straight games. That's amazing. The Falcons are 0-6 against teams outside of their division, and over the past two years they have gone 1-5 SU and ATS against AFC opponents. This week is only the second time Atlanta will play in front of its home crowd dating back to Sept. 19 - that's two months with just one true home game.
29. Washington Redskins (3-7) - It's all-out mutiny in the Redskins locker room right now. From the front office to the coaches and players to the fans, this whole franchise is imploding. I credit Rodney Harrison for saying what I said weeks ago: Robert Griffin is awful. He simply is not an NFL quarterback, and Colt McCoy never should've lost his spot after guiding this puddle of a team to a road win over Dallas. Somehow the Redskins are No. 6 in football in Yards Per Play. They are one of just three teams in the Top 11 (Saints and Falcons) that don't have a winning record.
30. Tampa Bay Buccaneers (2-8) - Since getting pasted in Atlanta back in Week 3, the Bucs have been one of the best road bets in football. They are 4-0 ATS in their last four road games, with outright underdog wins at Pittsburgh and Washington. They nearly knocked off Cleveland and also lost in overtime at New Orleans. The Bucs have outgained their last three opponents (but are just 1-2 to show for it), and the Mike Evans-Vincent Jackson combination is going to be tough to stop this last month of the season.
31. Jacksonville Jaguars (1-9) - A bye this late in the season could be dangerous for a team like the Jaguars. All it does is remind these players - who are just waiting for this season to end - how close they are to a vacation. The Jaguars have lost four straight to the Colts by an average of 23.5 points per game. I do think that the Jaguars pass rush, which is No. 7 in the league with 28 sacks, has to have a big effort this Sunday if the Jaguars want to avoid another blowout loss.
32. Oakland Raiders (0-10) - The favorite has gone 3-0 ATS in the last three meetings with Kansas City. However, prior to that there had been a wild 11-game winning streak for the underdog when these two teams met. Unfortunately for Oakland, the home team is just 6-19 ATS in the last 25 meetings. The Raiders have lost 16 straight regular-season games. But I give them credit. This team isn't dysfunctional and it hasn't quit. They are just terrible. And I really don't understand why they haven't started to clean out the front office during the season.
Robert Ferringo is a lead writer for Doc's Sport and is coming off another brilliant football weekend that resulted in $1,800 in profit. Robert has raked in $8,400 in football profit over the last eight weeks and no other football handicapper in the country can match his $15,600 in football profit over the last two seasons. Robert has 10 of 12 winning football months and 18 of 26 winning NFL weeks and he is going to build on that sensational resume again this week.
Read more articles by Robert Ferringo