NFL Power Rankings Week 13
by Robert Ferringo - 11/25/2014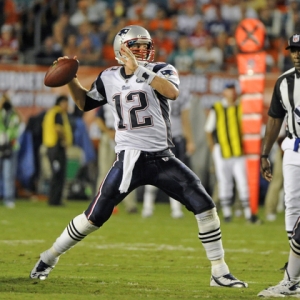 The Thanksgiving week is the most difficult week for any professional handicapper. Between the truncated turnaround time between NFL weeks, the gravitational pull of familial obligations, and the convergence of multiple sports into one jam-packed seven-day session, this week can be a bear trap or a treasure trove for bettors. As such, this week's Power Rankings are going to be a bit more free flowing and a little less meaty than normal.
I also want to take this time to say thank you on behalf of Doc's Sports and myself. Whether it is stopping by the site to read my ranting and raving or teaming up with myself or one of my fellow handicappers to make some money, just know that your patronage is appreciated, and I hope that you've been nothing but satisfied with our service.
Happy Thanksgiving and here is Doc's Sports NFL Power Rankings for Week 13:
1. New England Patriots (9-2) - Bill Belichick's illustrious resume has a lot of notable lines. Two of them should be: "Ruined fantasy football" and "Loved to run up the score". The Patriots are just 5-11 ATS in their last 16 road games and 0-8 ATS on natural grass. And did this Pats-Packers game fail to end up on either Sunday night or "Monday Night Football"?
2. Green Bay Packers (8-3) - Let's kick out Green Bay's peak performance against Mark Sanchez two weeks ago. Other than that, here is Green Bay's performance against teams with a winning record: last-second win at Miami, 12-point loss at Detroit and 20-point loss at Seattle. Granted, all three games were on the road. But could it be a red flag?
3. Denver Broncos (8-3) - I plan on writing an article about this in the offseason, but my prediction is that Peyton Manning will be working in Washington D.C. before 2022 and he will be in the White House (I say as a potential V.P.) before 2028. The Broncos are 8-3 ATS in their last 11 divisional games and 4-1 ATS in their last five trips to Arrowhead.
4. Philadelphia Eagles (8-3) - Remember the end of "The Natural" when Roy Hobbs faced a young fireballer who was supposed to be a mirror and represent his lost youth? I feel like we're watching the inverse this week with noted loser Mark Sanchez as a younger version of noted loser Tony Romo. The road team has won six of eight in the Cowboys series, and the underdog is 6-2 ATS in the last eight.
5. Dallas Cowboys (8-3) - Having 14 come-from-behind victories since 2011 isn't impressive when those come-from-behind wins are against 3-8 teams that you're favored against and expected to beat. You know why Brady and Rodgers don't have more fourth-quarter comebacks? Because their teams are up 30 against feeble opponents they are supposed to beat. A correlative stat would be that the Cowboys are just 3-9 ATS the past four seasons as a favorite of a touchdown or more, with two outright losses.
6. Kansas City Chiefs (7-3) - The loss of Eric Berry is a game changer for this defense. They did go 4-1 with Ron Parker filling in earlier in the season. But while Parker may be able to do a decent job replacing Berry's production, the rookie corner that will replace Parker (either Phil Gaines or Jamell Fleming) won't be able to replace his work on the outside.
7. Arizona Cardinals (9-2) - Two weeks ago I jotted down that this team looked like a 12-4 squad. That means they still have two more losses in them down the stretch, and I would be willing to bet they don't cover more than two spreads the rest of the season.
8. Indianapolis Colts (6-4) - Andrew Luck has built his reputation by beating the worst teams in football. He hasn't done anything against the league's best, but no one seems to call him on that fact as long as he keeps padding his numbers against the likes of the Jaguars. The Colts are a whopping 17-4 ATS in their last 21 games against a team with a losing record.
9. Seattle Seahawks (6-4) - It is pretty obvious that Marshawn Lynch has some form of Social Anxiety Disorder. I think it is grotesque that the NFL is slapping him with six-figure fines when it is clear the guy has a legitimate problem. Get a goddamn clue. Seattle is 16-6 ATS against teams with a winning record but just 16-33 ATS following a win by two touchdowns or more.
10. San Francisco 49ers (6-4) - Throw whatever numbers you want at me: Colin Kaepernick is not a "great" quarterback. When he can learn to put some touch on the ball - and lead a pass defense ranked higher than No. 24 in the league - and then call me. The 49ers are 0-5 ATS in their last five games against the Seahawks.
11. Cincinnati Bengals (7-3-1) - I had been selling stock on this crew the past few weeks. And I still don't think they are as good as their record suggests. But The Bengals have a chance to go 3-0 on their three-game road trip by beating the Bucs. They are 4-1 SU in their last five games, and they are getting healthy at the right time.
12. Pittsburgh Steelers (7-4) - There's a 70 percent chance of rain this Sunday, giving the Steelers yet another advantage over the visiting Saints. As if facing a team that's awful on the road, which is also coming off an emotionally draining Monday night loss, weren't enough in regards to advantages. The Steelers are 6-2 ATS in their last eight games after a bye week.
13. Miami Dolphins (6-5) - There are going to be plenty of contenders - Chicago, Houston, St. Louis, Pittsburgh - but the Dolphins are going to end up as the best team not to make the playoffs. They are 4-2 SU and 5-1 ATS in their last six games, and they probably should have wins over Green Bay and Denver on their resume this season.
14. Detroit Lions (7-4) - No one ever explained why these guys switched offensive coordinators to begin with. I understand that a new head coach wanted his own coordinators. But after three straight seasons with an offense finishing No. 6 or better in total yards, I think I would've found a way to keep Scott Linehan around. The Lions are just 2-8 ATS in their last 10 Thursday games and just 3-7 ATS against sub-.500 teams.
15. San Diego Chargers (7-4) - Is there a less interesting team in the playoff hunt? They backed their way into a win over a sloppy Rams team last week, and these guys are still trending downward with an 0-6 ATS skid. They have an early start on the East Coast this week, and their last time in that situation (a 37-0 loss at Miami) didn't go so well.
16. Baltimore Ravens (7-4) - There needs to be a series of commercials with Steve Smith fighting random people: a parent at a kids birthday party; the pizza delivery guy for taking more than 30 minutes; a cashier that didn't give him correct change; his kid's teacher for giving a poor progress report. The commercials shouldn't even be for a specific product. It should just be 30 seconds of Steve Smith beating the piss out of someone for no good reason.
17. New Orleans Saints (4-7) - Perfect line for New Orleans' season from the football handicapper for Strike Point Sports: "The Saints are doing a great job of doing everything wrong." The Saints have actually outscored their opponents by two points on the season. By comparison, the 7-4 Lions (+7), 7-4 Niners (+3), and 7-3-1 Bengals (+12) are all in that point differential neighborhood.
18. Houston Texans (5-6) - Which had a shorter shelf life in the Lone Star State: the Wendy Davis governor candidacy or Ryan Mallett's quarterback tenure? That's got to be pretty awkward going back to Ryan Fitzpatrick after unceremoniously benching him for the unproven Mallett.
19. Buffalo Bills (6-5) - Classic win for the Bills on Monday, and that's one that Buffalo fans will talk about for years. It is just a shame they'll be talking about a win from an 8-8 season. The Bills have revenge for a 13-point beating at the hands of the Browns last year on a Thursday night in October. They actually outgained the Browns by 50 yards and really outplayed them in that one.
20. Cleveland Browns (7-4) - Please, please, please make the switch to Johnny Manziel during this stretch run. I would gladly lay two touchdowns for his first start. And talk about the quarterback all you want: the loss of Tashaun Gipson is a huge one for this already shaky secondary. This is the seventh meeting with the Bills since 2007, and Cleveland is 4-2 SU and ATS in the previous six meetings.
21. Chicago Bears (5-6) - The Bears have been outplayed by the Vikings and Bucs - two pathetic teams - over the last two weeks. But they have fluked their way to back-to-back wins and doing just enough to convince people that their "plan" for this team isn't a complete debacle. Sometimes bottoming out is healthy. The Bears are 10-21 ATS in their last 31 games and 2-10 ATS in their last 12 divisional games. They are 0-4 ATS in their last four against the Lions.
22. St. Louis Rams (4-7) - The Dog Whisperer, Jeff Fisher, cashed yet another ticket last week in San Diego. The Rams are now 4-2 ATS in their last six games, and I would listen to anyone making the argument that this team should be 6-5 rather than 4-7. However, they have been outgained in seven straight games. This week marks the first time since Week 2 they will face a team with a losing record.
23. New York Giants (3-8) - All Giants fans have done over the last four years is piss and moan about Kevin Gilbride. I wonder how many would take him back now rather than watch Eli Manning fumble, bumble and flop his way through this season. Also, what does it say about the quality of play in the NFL right now that there are actually nine teams in the league that are actually worse than the Giants?
24. Carolina Panthers (3-7-1) - There are few things on the planet that I would wait in line for several hours for. A kidney. Maybe something for my children. That's about it. But I waited in line to score three bottles of Pappy Van Winkle - a 12-year and two 10-years - last weekend, and that sweet nectar was worth every wasted second.
25. Minnesota Vikings (4-7) - The Vikings, to their credit, have been battling. They are 4-1 ATS in their last five games and they probably should've gotten in the back door against the Bears for that fifth straight cover. I do not think Teddy Bridgewater is the best rookie quarterback, but it is starting to look like he's in the best position to compete immediately.
26. New York Jets (2-9) - Losers.
27. Tennessee Titans (2-9) - If I am the Titans and am going after Colt McCoy this offseason, pumping my free agency money into rebuilding the secondary, drafting a pass rusher, maybe making a move to get Adrian Peterson (you know child beatin' plays in The South) and otherwise upgrading the offensive backfield, and doing everything I can do retain Ray Horton.
28. Atlanta Falcons (4-7) - I'm a Mike Smith supporter. But c'mon Mike; you're sure as hell not making it easy to defend yourself against the mouth-breathing Falcons fans. Atlanta's crappy roster is definitely putting pressure on Smith, but he is not handling it well with his late-game mistakes. Although in both the Detroit and Cleveland games it should be noted that Atlanta's horror show of a defense failed to get a stop while allowing two game-winning field goal drives.
29. Washington Redskins (3-8) - It only took the Redskins three years to catch up to me. Robert Griffin is a loser. It really isn't any more complicated than that. Cut your losses and move on.
30. Tampa Bay Buccaneers (2-9) - Who has broken more bettors' hearts than the Bucs? They should be on a 5-0 ATS run. They lost on a defensive touchdown in overtime against the Vikings in Week 8. And in losses in Week 10 and Week 12 they turned the ball over inside the opponents' 20-yard line in the final minutes while driving for a backdoor score. They have had four golden opportunities at the end of their last two losses but have scored zero points.
31. Jacksonville Jaguars (1-10) - Are you kidding me that you could only score three points at Indianapolis last Sunday? Just when I think that this team might have some positive momentum, they do something to prove once again how disconnected from competitive football they really are. And now that teams have a little tape on Blake Bortles, his play has taken a dive; Bortles has completed over 60 percent of his passes in just one of his last five games.
32. Oakland Raiders (1-10) - If I were the Raiders I would be embarrassed by how far out of their way everyone has gone to celebrate this team winning a single game. That is pathetic. The Raiders have only been outscored by an average of 7.5 points per game on the road this year, and they have gone 3-1 ATS away from home.
Robert Ferringo is a lead writer for Doc's Sport and he has exploded for $9,800 in football profit over the last nine weeks. Robert has rung up $3,100 in winnings during back-to-back profitable weeks and he has produced more cash for his football clients than any handicapper in the country the past two years ($16,800 profit). Robert has 10 of 12 winning football months and 19 of 27 winning NFL weeks and he is going to build on that sensational resume again this week.
Read more articles by Robert Ferringo
---
Most Recent NFL power rankings