NFL Power Rankings Week 15
by Robert Ferringo - 12/9/2014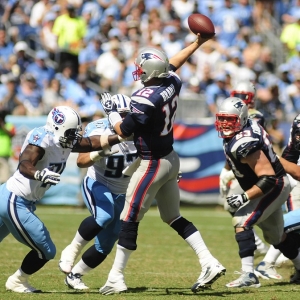 Rivalries are one of the most important handicapping factors in sports. Though difficult to quantify, the emotional impact of a rivalry game is palpable. And over the final three weeks of the NFL season it will be one of the underlying motivational factors as we bet down the stretch.
About four years ago the NFL changed its scheduling model to backload December with rivalry games. The idea was that they would create more marquee situations with playoff implications to sell to the television networks. But the secondary benefit was that rivalry games could be one way to keep the interest of the dregs, preventing teams from simply mailing it in after they were eliminated from playoff contention.
Eleven of the 16 games on the schedule this week are divisional matchups. All but one of these games features at least one team that is fighting for a playoff spot. Divisional rivalry games are a benefit to bettors because there is a wealth of trend data, statistics and matchup information to draw on because we've seen these teams play one another so often. But rivalry games are also a dicey proposition for gamblers because the emotional factors surrounding these games can be impossible to truly quantify.
For example, last week Carolina absolutely buried New Orleans 41-10 down in the bayou. It was the most lopsided ATS result of the weekend and featured a brawl late in the game. Also, Oakland - one of the worst franchises and teams in professional sports - was able to rise up and cripple crosstown rival San Francisco's playoff hopes with an inspired, physical home effort. Those are just two instances of teams riding a wave of emotion to a result that could benefit (or bury) bettors.
Here is Doc's Sports NFL Power Rankings for Week 15:
1. New England Patriots (10-3) - I said it this offseason and I said it again while he was on suspension: Brandon Browner's presence has completely transformed this defense. The Patriots are 5-1 ATS in the six games he has been featured in, and now that he's starting and in game shape the Pats are 0-3 against the total. They are allowing an average of just 18 points per game in their last five. And that's been against the best offenses in the sport: San Diego, Green Bay, Detroit, Indianapolis and Denver. I don't think that Ryan Tannehill stands a chance.
2. Green Bay Packers (10-3) - I know the Packers were on cruise control against the Falcons after another dominating first half. But I still thought it was a little bit of a red flag about this team. They are No. 1 in the league in turnover differential, but they've still given up 20 or more points in four straight games. Glass half full: they held the Patriots and Eagles to just 20.5 points per. Glass half empty: they allowed the Falcons and Vikings 29 points per. The Packers have played four of five games in Lambeau and have been unimpressive on the road, with a loss at New Orleans sandwiched between three-point wins at Minnesota and Miami.
3. Seattle Seahawks (9-4) - I wasn't surprised to see Seattle installed as a 10-point favorite this week against San Francisco. Seattle has a chance to go in for the kill against their primary rival, and they are 6-0 ATS in the series. The home team has won eight of the last 10 meetings, and they've gone 'under' in six of the last seven affairs. But only three of the last seven matchups between these two have been decided by double-figures. That said, Seattle has been on the winning end of all three of those blowouts, with two coming at home in 2012 and 2013.
4. Denver Broncos (10-3) - I'm not sure why everyone is so surprised that Peyton Manning and the Broncos offense is starting to tail off. Half the skill players are banged up or in some half-concussed haze. Manning is old, and the weather is getting cold and the Broncos have run up against some tough defenses the past month. Things should lighten up over the next three weeks. But Denver doesn't throw the ball down the field very much, and it is starting to catch up to them. They can only throw so many six- and eight-yard comebacks and expect to be a Top 5 scoring offense.
5. Philadelphia Eagles (9-4) - If I've said it once I've said it 1,000 times: Mark Sanchez is a loser. Anyone that bought his career resurgence is a fool. Sure, he'll have his moments. He is not an incompetent. But he is a loser. He can't beat good defenses, he isn't accurate, and he is a turnover waiting to happen. For as good as the Eagles have been, they are just 5-14 ATS in their last 19 games against a team with a winning record, and they are just 2-7 ATS in their last nine games in December.
6. Indianapolis Colts (9-4) - I know I am still on an island as the lone person that thinks Andrew Luck is overrated. But through 45 games in his career (with two All-Pro receivers to work with) Luck is completing just 58.5 percent of his passes with 82 passing touchdowns and 61 turnovers (interceptions and fumbles). If you take away games against his pathetic division - the worst in football the past three years - Luck is completing just 57 percent of his passes with a 52-to-50 INT-to-turnover ratio, and his team's record is 17-12. I'm just saying that if not for the Titans, Jaguars and Texans, would more people be on my page with Luck?
7. Dallas Cowboys (9-4) - I still don't think that Dallas has the personnel to matchup with and slow down Philadelphia's offense. They don't have the linebackers or the depth in the secondary. But I'm interested to see the changes that Dallas makes in its game plan for the second time around. The road team has been the play in this series, with the visitor winning seven of the last nine meetings outright and the underdog going 7-2 ATS in those games. Dallas is a perfect 6-0 on the road this year, which is the main reason for their playoff aspirations, and they have the stones to go into Philly and pound their way to a 'W'.
8. Arizona Cardinals (10-3) - I can't believe teams haven't scouted Arizona enough to know that their go-to play in a big moment is that seam route to one of the Browns. They have used it for clutch touchdowns in three games this year - the exact same play - and I'm just curious when someone is going to realize that's where they are going when they are between the 18- and 35-yard-lines and looking to throw to the end zone. It's not a good sign that the Cardinals are underdogs this week against a team with a losing record and I, for one, think the Cards are on borrowed time.
9. Detroit Lions (9-4) - Are we trusting the Lions too much? Matt Stafford is always just around the corner from his next three-INT game, and Jim Caldwell never met a late-game timeout situation he didn't want to screw up. Detroit is 3-11 ATS in their last 14 December games, and they are just 3-8 ATS in their last 11 games after they cover a spread. They are 1-6 ATS after a blowout win of two touchdowns or more. Detroit is building up a lot of swagger at home (5-2 ATS), and this is their final home game. They need to be sure they aren't looking ahead to those road games against Chicago and Green Bay.
10. San Diego Chargers (8-5) - The Chargers seem like they have things in hand and that they'll be in the hunt come Week 17. But I get the feeling that this week's game against Denver is a watershed moment. If they lose this game, making it back-to-back losses to Brady and Manning, I'm not sure if San Diego will have the self-confidence to go on the road and beat San Francisco and Kansas City, even if those two opponents are struggling. They are just 4-4 SU and 1-7 ATS in their last eight games.
11. Cincinnati Bengals (8-4-1) - Good teams don't get rocked by 21 points - on multiple occasions - by division rivals below them in the standings. The Bengals swept the Ravens this year. Those are their only two wins against teams that currently have a winning record.
12. Kansas City Chiefs (7-6) - Huge revenge game for the Chiefs. That loss at Oakland on Thursday night was really a season-changer for Kansas City, and now they've lost three straight. Kansas City is desperate. But they don't have the offensive punch to cover a 10-point line. Alex Smith's limitations are starting to show again, and Kansas City hasn't scored over 24 points in their last six games while averaging just 19.1 points in those contests. The Chiefs are just 2-7 against the total in their last nine games. The rain in the forecast likely won't help Kansas City's offense much.
13. Pittsburgh Steelers (8-5) - The Steelers actually have a really strong base of support down in the Atlanta area (Steelers fans are everywhere), and it wouldn't surprise me if Pittsburgh fans outnumber Falcons fans on Sunday in the Georgia Dome. Random Pittsburgh offensive eruptions (they've scored 30 or more in five of their last seven games and been held below 20 points in three of their last nine) have helped mask their defensive deficiencies. But Pittsburgh has gone 'over' in six of their last seven games, and they have sailed over the total in seven straight games against NFC opponents. That includes a 3-0 mark against the total versus NFC foes this year.
14. Baltimore Ravens (8-5) - The Ravens are one of the few teams that always come to play when their backs are pinned against the wall. But I still don't know that I would trust them not to flop a bit this weekend as a 14-point favorite against the plucky Jaguars. The Ravens are just 3-10 ATS in December, 3-9 ATS against conference opponents, and 2-7 ATS following a win against the spread. They are just 1-5 ATS after a win by two touchdowns or more, and for as well as they have played at home over the last four years they have had instances of shakiness when posted as a double-digit favorite.
15. Miami Dolphins (7-6) - I said it to a friend before last week's games: I don't think I've been right on a Dolphins bet in the last three years. I have no idea what it is about this team, but they are absolutely impossible to handicap. It is ridiculous. They have been outgained in four of their last five games, and I just can't make heads or tails of this group.
16. San Francisco 49ers (7-6) - I know everyone is piling on Colin Kaepernick right now, but he absolutely deserves it. He is not even close to performing like an NFL quarterback right now. All of the injuries on this team have come on the defensive side. Kaepernick has a stacked offensive line, a solid running game, a Top 5 defense, and four extremely talented pass catchers to work with yet can't get this team to score more than 19 points per game. That's pathetic. The Niners have gone 'under' in five of their last six games, and they have managed over 17 points just one time - at New Orleans - since mid-October. They've scored over 30 points just once this year, and the final seven in that game came thanks to a pick-six.
17. Houston Texans (7-6) - Very quietly the Texans are playing very well. Arian Foster is finally healthy, and the pass offense is finally clicking. Of course, it helps that they've faced feeble competition over the last month. But Houston will max out at Indianapolis this week, and this is certainly no gimme game for the Colts. Houston has two years' worth of revenge after four straight SU and ATS losses to the Colts. They were down huge to Indy on Thursday night in the first meeting, but Houston fought back from a 24-0 deficit and had the ball twice with an opportunity to take the lead in the fourth quarter. They are playing better now than they were then.
18. Buffalo Bills (7-6) - I, and many others, took a crushing backdoor loss in Denver last week as Buffalo beat the number for the third straight week following a 1-4 ATS skid. The Bills have played five straight games 'under' the total and are 2-8 against the total in their last 10 games. I keep waiting for this team to run out of gas. But a defensive line that is averaging nearly four sacks a game keeps injecting life into this group.
19. St. Louis Rams (6-7) - Few things in the NFL this year have been as impressive as St. Louis' back-to-back shutouts. I don't care who the competition is; that's incredible. Jeff Fisher's charges are on a 4-0 ATS rush, and they are 6-2 ATS in their last eight games. Along with the Vikings and Texans, the Rams are among the hottest, and best, non-playoff teams left playing.
20. New Orleans Saints (5-8) - Sean Payton is dead on about this team: they just aren't very good. The defense has been a train wreck, and the offense doesn't have enough playmakers to pick up the slack. Fortunately, Chicago is a bigger disaster than the Saints are, which is why New Orleans is favored. I'm not sure what bizarro world we are living in where the Saints are 0-4 ATS at home and 3-0 ATS on the road, but that's what we're staring at with this shaky team.
21. Cleveland Browns (7-6) - Well, it is finally here: Manziel Mania. The little sprite will get the starting call this weekend. He's already been trolled by none other than Marvin Lewis, who called him a midget, and I have no doubt he'll inject some life into the team. But I also see him suffering at least two turnovers and struggling against a veteran, though underperforming, defense.
22. Minnesota Vikings (6-7) - This team is going to fight tooth and nail down the stretch, and their next two games, at Detroit and at Miami, have playoff implications. They have won four of the last six outright, and the two losses were games in which they could've won (at Chicago and versus Green Bay). Minnesota is 6-1 ATS in its last seven overall, and they are 5-2 ATS in their last seven games against the Lions.
23. Atlanta Falcons (5-8) - That was a game effort by the Falcons on Monday even though they were so supremely outgunned. However, Julio Jones left the game with a hip injury, and he will be questionable this week. Atlanta stands no chance of beating the Steelers if Jones isn't available. It is easy to forget that Atlanta is a very good home team because they've only played in the Georgia Dome three times in their last 10 games. They've been great as a home underdog in the Mike Smith era, and they are facing a Steelers team that has lost seven games to sub-.500 opponents the last two years.
24. Chicago Bears (5-8) - Brandon Marshall is on IR, and the Bears are in the tank. Playing at home this Monday - even against a horrid road team like the Saints - is not a benefit for this team. The fan base has turned on them, and when things start to slide the fans are going to pile on Chicago. It's an ugly scene. Their defense is pathetic and will not be able to stop a top-tier quarterback like Drew Brees. I see this game playing out like the entire Bears season: the defense gets torched and puts the offense in a hole, Jay Cutler turns the ball over to dig that hole deeper, and the Bears slowly lose life while watching their failures compound exponentially over the last 30 minutes. Rinse. Repeat.
25. New York Giants (4-9) - The Giants have a lame duck coach, 20 guys on injured reserve, and no motivation to win this game, and they are still nearly a touchdown favorite against the Redskins this week. The Giants maimed the Redskins 45-14 on a Thursday night game back in September, and their last three wins over the Skins have all come by at least a touchdown. However, the Giants were underdogs in two of those games, and the puppy has gone 6-1 ATS in the last seven meetings in this series. The 'under' is 10-1 in the last 11 meetings in New York.
26. Carolina Panthers (4-8-1) - As if Cam Newton weren't already banged up enough, he was in an ugly two-car crash in Charlotte on Tuesday. His status for this weekend is up in the air, and most of the books pulled the line on that Bucs-Panthers game until they have more details. I still think Newton will play, and I think the spread will stay close to its 6.0 open. The favorite has done very well in the Bucs series, going 6-2 ATS in the last eight meetings since 2010 and 11-3 ATS over the last seven years overall.
27. Tampa Bay Buccaneers (2-11) - The Bucs have lost three straight to the Panthers and lost three straight overall. If the season ended today they would have the No. 1 overall pick in the draft, and you have to wonder how much motivation they have to close this season strong. This team knew it was in for a rebuild, and that's exactly what they are doing. Keep an eye on their injury report. The Bucs could be down four defensive starters, including Lavonte David, Mason Foster and Gerald McCoy, this week. If any two of those guys are out then I think the Panthers will walk through this team.
28. Jacksonville Jaguars (2-11) - The focus is on Blake Bortles, but the Jaguars really need to open their eyes about how pathetic the rest of their skill players are. Denard Robinson is a piece, but is not a feature back, and he's run for just over three yards per carry in his last four games.
29. Washington Redskins (3-10) - Bad. Karma. Statistically this team has the metrics of a team that should be 5-9, which has made me wary of them down the stretch. But then when you consider what is going on in the locker room it's easy to see that this franchise is Oakland East. Oh, and anyone surprised by the "revelation" that Jim Haslett has no idea what he's doing obviously doesn't remember his time with the Saints. Haslett is a clown.
30. New York Jets (2-11) - This is actually the third year in a row that the Jets have made the trip to Nashville. They lost each of the last two meetings, including a 38-13 defeat at Tennessee last September.
31. Tennessee Titans (2-11) - It really says something that I actually moved the Titans below teams as pathetic as the Bucs, Jets and Redskins. But good god, the Titans are a train wreck. They are home underdogs against the 3-11 Jets this week, and the Titans are just 3-10 ATS in their 13 games this year. They are on pace for one of the most money-burning seasons in the last decade in the NFL.
32. Oakland Raiders (2-11) - The Raiders let down enough to lose 52-0 on the road after their last loss. How bad will it be on the road against a desperate, revenge-minded Chiefs team this Sunday? I don't think for one second they are going to come to play this weekend. Would you believe me if I told you that the Raiders are No. 1 in the NFL in touchdown efficiency in the red zone? It's true. They have scored a touchdown on 76 percent of their attempts.
Robert Ferringo is a lead writer for Doc's Sport and he has exploded for $8,400 in football profit over the last 11 weeks. Robert has produced more cash for his football clients than any handicapper in the country the past two years ($16,000 profit) and is coming off another winning overall month. Robert now has 11of 13 winning football months and an incredible 34 of 48 winning football months over the last five years. He is going to build on that sensational resume again this week.
Read more articles by Robert Ferringo