NFL Power Rankings Week 16
by Robert Ferringo - 12/16/2014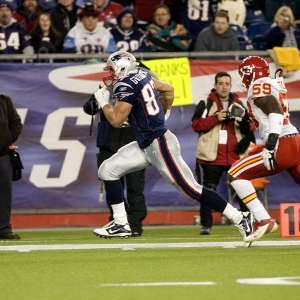 Despite playoff pushes - both in fantasy football as well as real football - it was another rough week for the NFL. I have said it before this year and I will say it again: this year has been some of the worst football I've watched in the past 15 years, and right now the NFL is delivering a very shoddy product.
Several of last week's games - including both the Thursday and Monday night games - were completely unwatchable. Most of Sunday's action featured mind-numbing incompetence, out-and-out blowouts, games decided by crucial calls blown by the refs, or otherwise garbage viewing experience. Scoring has fallen off a cliff so far in December, and teams went 3-13 against the total last week alone.
Free $60 in Member NFL Picks No Obligation Click Here
It was ugly. Real ugly.
The NFL will always generate ratings thanks to the ravenous gambling appetite (and that includes fantasy football) of the general public. But I think that any objective analyst would admit that most NFL games are painful to watch right now.
The playoffs can't start soon enough. Maybe then we'll get some decent games, even if the postseason is going to feature one division winner with a below-.500 record in the NFC and likely two teams from the topsy-turvy North in the AFC.
Good luck and good gambling. Here is Doc's Sports NFL Power Rankings for Week 16:
1. New England Patriots (11-3) - The Patriots lost in New York against the Jets last year, and they were nearly knocked off at home - outgained by 100 yards - by the Jets earlier this season. But prior to last season's road loss against New York the Patriots had won their previous two road games against the Jets 49-19 and 37-16. I don't think there is any doubt that Bill Belichick would love to deliver one final ass-kicking to Rex Ryan, and if New England gets up big in this game, I don't think for one second that New England would hesitate to run up the score. The Patriots are now 6-1 ATS in their last seven games with an average margin of victory of 22.3 points.
2. Green Bay Packers (10-4) - As a now-deceased former client of mine used to say, "That's why they play with a funny-shaped ball." I'm not going to slam the Packers for losing in fluke fashion against the Bills last week. But it did continue what has been an ugly string of road performances from the Pack this year. They are averaging just 21.1 points away from home this year and are 2-5 ATS outside of Lambeau. Green Bay is 1-8 ATS against teams that are below .500.
3. Seattle Seahawks (10-4) - Seattle was gifted a cover last week by Ed Hochuli thanks to that awful roughing the passer call near the goal line. Regardless, the Seahawks are one of the most decisive favorites on the board this weekend in Arizona. Seattle has gone 4-0 ATS in its last four games and 5-1 ATS in its last six. Each of their last four wins, including games at San Francisco and at Philadelphia, has come by double digits. Seattle leads the league in snaps played by players under the age of 30, and those fresh legs are paying off.
4. Denver Broncos (11-3) - Another cover for the Broncos. Ho-hum. Some media bobbleheads are finally starting to parrot what I was saying about Denver two months ago: I don't think they can win a Super Bowl. Not with Manning unable to stretch the field. Despite his woes - and linebacker issues - the Broncos have held three straight opponents below 17 points while the offense has failed to top 30.
5. Indianapolis Colts (10-4) - Once again, Andrew Luck gets the win on his record despite playing awful football last week against the weak-sister Texans and their third-string quarterback. Luck has a QBR of just 54.7 against teams that currently have a winning record, and the Colts are just 2-4 in those games. I like that Chuck Pagano is not planning on resting his starters for the final two weeks. But regardless of who plays, you still have to question how motivated this team is going to be in these last two games knowing they really don't have anything to play for.
6. Dallas Cowboys (10-4) - For about 10 minutes there it looked like another vintage Dallas December collapse as they blew a three-score lead against the Eagles. But Dallas showed why this year's team is different. They held it together mentally, took care of the ball, relied on their star players and pulled out a crucial road win. Now I want to see the Cowboys raise their level against another playoff-caliber team, though. The only two decent teams they've faced the last two months are the Eagles and Cardinals, and Dallas is just 1-2 in those games.
7. Detroit Lions (10-4) - The Bears didn't have anyone to cover Calvin Johnson or Golden Tate when they met on Thanksgiving, and they don't have anyone to cover the Lions' stud receivers this week. The Lions haven't played well on the road over the last, say 5-to-25 years. But I really have a feeling they are going to open a can on the Bears this weekend. Detroit is coming off a perfect 3-0 homestand and could let down on the road. But Chicago is a dead man walking right now, and Detroit has owned the Bears, going 8-1 ATS in the last nine meetings.
8. Arizona Cardinals (11-3) - Bruce Arians should be the Coach of the Year every year, apparently. The Cards are moving on to Ryan Lindley. But does anyone have any doubt that Arizona is going to come to play on Sunday? They've scored only four touchdowns in five games and just two touchdowns in their last four and a half games. That's a major problem against a Seattle defense that's held its last four opponents to season lows in yards and points.
9. Philadelphia Eagles (9-5) - A few weeks ago I was thinking the Eagles were the best team in the NFC. Now they are on the outside of the playoffs looking in. Why? Mark Sanchez. I've been saying for weeks that anyone expecting a career renaissance out of this proven loser would be disappointed. It doesn't look like Trent Cole will suit up this weekend, adding to the attrition Philadelphia has suffered on defense this year. The road team is 11-4 ATS in the Washington series, and the Eagles are 4-1 ATS in their last five trips to the capitol.
10. Cincinnati Bengals (9-4-1) - That was a convincing effort from the Bengals in Cleveland last week - their fourth road game in the last five games overall. However, their last win over a team that currently has a winning record was back on Oct. 26 against Baltimore. The Bengals have lost four straight to the Broncos, and the home team is 0-4 ATS in this series.
11. Kansas City Chiefs (8-6) - Andy Reid returns to Pennsylvania in a desperation game for the Chiefs this week. The Chiefs are 11-4 ATS on the road in Reid's brief tenure, and the Chiefs are one of only two underdogs this week that is catching the majority of the betting action in its game. (San Diego is the other.) The Chiefs are 7-2 ATS in their last nine games against AFC opponents and 5-2 ATS against teams above .500.
12. Pittsburgh Steelers (9-5) - The Steelers have been one of the flakiest teams in the NFL at home this year, so I'm not entirely sure how much of a true advantage they have against Kansas City this week. They are 5-0 ATS in their last five December games and have now won six of their last eight games overall. The Steelers have outgained six of their last seven opponents and were 10 yards away from making it eight straight last week. This team is clearly peaking. But they will still have their hands full with a very good Chiefs team.
13. Baltimore Ravens (9-5) - Another corner bit the dust for Baltimore this week, running the total of cornerbacks placed on IR to five for this team. Five! They are going to be starting their sixth- and seventh-string corners this weekend. The Ravens pounded the Texans in Baltimore last year, winning 30-9, and this week marks the sixth meeting since 2010. Baltimore has won four of the first five.
14. Miami Dolphins (7-7) - Joe Philbin really hasn't done much to deserve the benefit of any doubt down in South Beach, and the Dolphins have been outgained by an average of 95 yards per game in their last four games. But Miami's last four losses have come at New England, versus Baltimore, at Denver (by three) and at Detroit (by four). It is not as if this team is just throwing up on itself and losing games it shouldn't to bottom feeder teams like the Titans or Bucs.
15. San Diego Chargers (8-6) - Keenan Allen is out with a broken collarbone and will not suit up this weekend against the 49ers. That is a huge blow to a Chargers offense that has been held to 14 or fewer points in four of its last six games. San Diego has been completely exposed, and they are just 1-8 ATS in their last nine games overall. They have played a brutal schedule. But the fact is that this team is nothing more than mediocre.
16. San Francisco 49ers (7-7) - This is the first meeting between the 49ers and Chargers since December of 2010 and just the fifth meeting since the turn of the century. San Diego has won the past three meetings, for what its worth. Both of these teams have to be mentally and emotionally exhausted after a grueling last three weeks. It has been years since these 49ers played in a meaningless regular season game. I have a hard time seeing Jim Harbaugh roll over. But with all the negativity around this team right now, it is nearly impossible to back them to win this game.
17. Houston Texans (7-7) - I don't think it matters who is playing quarterback for the Texans this week. I really don't. They have won seven games despite not getting a single start from a proven, NFL-caliber starter this year. Is Thad Lewis really that much worse than Ryan Fitzpatrick or Ryan Mallett? The Texans haven't lost two straight games since mid-October, and they are 6-2 ATS following a loss. However, they are just 4-10 ATS in their last 14 games at home and 1-4 ATS against teams with a winning record.
18. Buffalo Bills (8-6) - This is a really tough spot for the Bills. They are traveling across the country after one of their biggest wins in years. Now they are installed as a road favorite - a role they are almost never in - and being backed by over 80 percent of the public. The Bills are just 6-15 ATS in their last 21 games following a win.
19. St. Louis Rams (6-8) - The Rams were running hot - and then ran into a brick wall. That was a disgusting performance last Thursday. And now that the Rams are out of the playoff picture for good I wonder how much fight they'll have left this week against another team that's just playing out the string.
20. New Orleans Saints (6-8) - Let's not get carried away jumping on the Saints bandwagon after their blowout win over Chicago. After all, it was the Bears. And New Orleans did everything they could to give that game away in the first 20 minutes. New Orleans has revenge for a brutal overtime loss in Week 1, and they would love to drive a stake through the heart of their rivals' season. New Orleans has won six of the last eight meetings between these teams, and they are 6-3 ATS in the last nine meetings with Atlanta.
21. Minnesota Vikings (6-8) - The Vikings covered again last week and really controlled that game on the road against Detroit. I am still not impressed with Teddy Bridgewater, though, and in watching the tape there just isn't a lot that the Vikes do consistently well in the passing game. But they have been the best bet in football for the last two months and are a stellar 7-1 ATS in their last eight games. They are turning keeping games close into an art form, and all but one of their last eight games has been decided by one score or less.
22. Atlanta Falcons (5-9) - I think that it is an absolute farce that the Falcons are going to fire Mike Smith after this season. Their roster is a dumpster fire, and Smith has been by far the best coach in franchise history. They could finish 6-10, doubling last year's win total, but he seems to be the fall guy for the failings of the front office. The Falcons are just 2-5 ATS in their last seven road games, and they are just 3-7 ATS in their last 10 trips to the Superdome.
23. Cleveland Browns (7-7) - One of my largest regrets as a gambler will not be betting absolutely everything that I own against the Browns last week. I will never, ever forgive myself for that. Especially because I was way out in front of the crowd on Manziel, writing back in July that he sucks and will never be a competent NFL quarterback . But he was so bad against the Bengals that I'm not even sure how many chances he'll get in these final two games.
24. New York Giants (5-9) - If Tom Coughlin leaves after this season then he can go out on his own terms and cement his legacy as a great Giants coach (which he has been). But if Coughlin tries to come back for one more season then I think things are going to get ugly next year. This team is atrocious and not even close to competing with the best teams in the league. They need a fresh start, and that includes nudging this past-his-prime coach out the door.
25. Carolina Panthers (5-8-1) - I am rooting for the Panthers to win the NFC South (it is still mathematically possible) just for the pure absurdity of it all. There is no spread on this week's game because of the status of Cam Newton and Juan Manziel. My prediction is that Newton will not play this week and Manziel will. I suspect the Panthers will end up posted at -1.0, and they are 10-4 ATS in their last 14 home games.
26. Chicago Bears (5-9) - You can draw a line right here. The Bears and all of the teams ranked below them have pretty much given up on the season. It is torture watching Chicago play in Solder Field right now, and it looks like the fans are only showing up to boo this team and organization. They are 3-14 ATS in their last 17 home games, and they are a joke on both sides of the ball. I would have someone camped outside Jim Harbaugh's house right now, begging him to come back to the Windy City.
27. Tampa Bay Buccaneers (2-12) - Lovie Smith and Josh McCown are very familiar with Green Bay, and that should give them a slight preparation edge heading into this week's action. The Bucs have been pretty spry over the last month or so, and you can see Smith start to get control of this group of guys as they slowly make progress. Just one of their last seven losses has come by more than 10 points. This week is just Tampa's third home game since mid-October. But they don't have much of an advantage in front of their home crowd as the Bucs are just 15-35 ATS in their last 50 home games.
28. Jacksonville Jaguars (2-12) - Gus Bradley is becoming the new Gary Kubiak, doing just enough and keeping his team just competitive enough in December for people to believe he deserves another shot and that the momentum can carry over into next season.
29. Washington Redskins (3-11) - No team in football has worse karma than the Redskins right now. Wow are these guys bad. They completely outplayed the hapless Giants on Sunday and still ended up losing by double-digits. Washington is 0-5 ATS in its last five home games and 3-7 ATS in its last 10 divisional games. Watch Robert Griffin's posture in the pocket. He honestly appears as someone trying to look like a quarterback rather than someone trying to play quarterback. The fact that he is a huge bust shouldn't be that surprising considering that I predicted that fate for him before he ever took a snap in the NFL.
30. New York Jets (3-11) - It looks like this will be Rex Ryan's final shot at Tom Brady as Jets head coach. His guys have covered three straight against the Pats and gone 4-1 ATS in their last five. Each of the games that the Jets covered was decided by a field goal or less.
31. Tennessee Titans (2-12) - Has there ever been a worse primetime, nationally-televised game than this Thursday's Titans-Jaguars game? Nothing like a Charlie Whitehurst vs. Blake Bortles duel to stimulate the juices. Eight of the last 10 meetings in this matchup have gone 'under,' and the underdog is a solid 5-1 ATS in the last six. Tennessee blocked a 55-yard field goal to seal the win in the first meeting
32. Oakland Raiders (2-12) - This week marks just the 10th meeting between two feeble franchises, Oakland and Buffalo, dating back to 1992. The Raiders have actually dominated the series, going 8-2 ATS and covering the last three meetings. I think that Oakland has quit on this season despite going 2-2 in their last four games. They got their win to ensure they don't go 0-16, and they scored an upset over rival San Francisco. That pretty much covered their second half checklist. Oakland hasn't lost a game by less than six points in their past nine games.
Robert Ferringo is a lead writer for Doc's Sport and he has exploded for $7,100 in football profit over the last 12 weeks. Robert has produced more cash for his football clients than any handicapper in the country the past two years ($14,000 profit) and is coming off another winning overall month. Robert now has 11of 13 winning football months and an incredible 34 of 48 winning football months over the last five years. He is going to build on that sensational resume again this week.
Read more articles by Robert Ferringo
---
Most Recent NFL power rankings Articles