NFL Power Rankings Week 17
by Robert Ferringo - 12/23/2014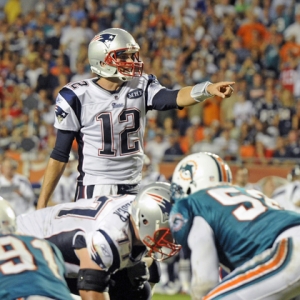 Merry Christmas and happy holidays from Doc's Sports. Week 17 is here and we get to cap one of the worst NFL seasons in history with one of the most bizarre betting situations in sports.
Week 17 in the NFL is on par with betting on Week 4 of the NFL Preseason. It is nearly impossible to gauge motivation for more than half of the teams in the league since only a handful of clubs actually have something to play for this weekend. Even most of the good, playoff-bound teams are stuck in that awkward should-we-or-shouldn't we stage of questioning how much work the starters should get.
Free $60 in Member NFL Picks No Obligation Click Here
How can we tell who cares about what this week?
After four months of obsessing over things like line movements, situational advantages, historical trends, injuries, motivation and statistical indicators, it's always a bit bizarre to try to handicap Week 17 of the NFL. Everything goes out the window. Mix in the distraction and routine-crippling that comes with the holidays, and the variables leading up to this week's action are growing by the minute.
Perhaps my best advice to you is the one piece of advice that ravenous gambling addicts don't want to hear: tread lightly. There will be a bounty of college bowl games to tide us over, and the promise of playoff football is forming on the horizon. Week 17 is an accident waiting to happen, and I've seen many seasoned gamblers brought to their knees by the week that is even more random, unpredictable and ramshackle than the rest of the random, unpredictable and ramshackle NFL season.
You've been warned.
Good luck and good gambling. Here is Doc's Sports NFL Power Rankings for Week 17:
1. New England Patriots (12-3) - The spread on the Buffalo game dropped from an open of -11 to a current number around -4 thanks to Denver's loss on "Monday Night Football". The Patriots have secured home-field advantage and have nothing to play for on Sunday. However, for those of you looking to load up on Buffalo in a seemingly meaningless game for the Pats, know this: Bill Belichick has made a fool of many a bettor that thought they could predict what was going on under that hoodie. I would never count on Belichick to take the expected approach.
2. Seattle Seahawks (11-4) - I'm certainly not going to rag on a defense that's allowing an average of 5.6 points per game over the last five games. But let's keep in mind the quarterbacks they have faced during that stretch: Ryan Lindley, Colin Kaepernick (twice), Mark Sanchez and Drew Stanton.
3. Green Bay Packers (10-4) - While the focus of this week will once again be Aaron Rodgers, I think the key for the Packers this week is the play of their defense. They dominated the line of scrimmage in the first meeting, holding the Lions to 115 yards on 38 carries (3.0 yards per). But the Packers are just No. 22 in the league against the rush on the season and No. 20 in yards per attempt allowed (4.3). If the Lions push Green Bay around then an upset could be imminent. I don't see this one devolving into a shootout.
4. Dallas Cowboys (11-4) - It is pretty clear that the Cowboys will be resting their starters this week at Washington. They will have to wait until next season to get revenge against the Redskins, and I'm already looking forward to betting Dallas in the next meeting regardless of the number.
5. Denver Broncos (11-4) - Sentence I never thought I'd type: the Broncos can't win a Super Bowl with Peyton Manning at quarterback. His arm is beyond shot, and he made some rookie mistakes late in that game against the Bengals. I don't see Manning getting much work against Oakland this week, and neither does anyone else; nearly 70 percent of the indicated betting is on the Raiders this week even though there's no way the spread will hold at its open of 14.0.
6. Indianapolis Colts (10-5) - If you're going to play your starters and go hard when you have nothing to play for, that is understandable. If you're going to rest your starters and tank when you have nothing to play for that is understandable. But I can't understand a team that plays its starters and tanks. I felt like last week was kind of a red flag game for this team as well as another reminder that the best player on this roster is T.Y. Hilton, not Andrew Luck.
7. Detroit Lions (11-4) - By now we've all heard about the fact that the Lions haven't won in Lambeau in over 20 years (since 1991). However, Detroit has beaten Green Bay in the last two meetings, and they've hung within a touchdown in three of their last four forays into Green Bay. It is not as if they have been uncompetitive in this series recently. And those were worse Lions groups facing better Packers teams.
8. Philadelphia Eagles (9-6) - A month ago I was wondering if the Eagles were the best team in the NFC. Now they are out of the postseason. This team is the perfect example of the phenomenon where each season half of the previous year's playoff teams are shut out of the postseason. The 49ers and Saints are already eliminated. If Carolina comes up short then a nearly half of last year's playoff field will have turned over.
9. Pittsburgh Steelers (10-5) - So much for the feud between Todd Haley and Big Ben, eh? Maybe the reality is that things in the NFL take time; Chemistry and understanding don't happen overnight. The Steelers have absolutely dominated the Bengals for the last 20 years. They are 21-8 ATS in the last 29 meetings in this series and 5-2 ATS at home. However, the host in this series is just 8-18 ATS in the last 26 meetings.
10. Cincinnati Bengals (9-5-1) - A.J. Green says he is going to play this week against the Steelers. I believe he'll suit up. But the guy couldn't even lift his arm against the Broncos on Monday. How much can he really contribute? Right now Green's catches, yards and touchdowns are all the lowest marks since his rookie season.
11. Arizona Cardinals (11-4) - Ryan Lindley or Logan Thomas is the Sophie's Choice of NFL quarterbacks. Neither is an NFL-caliber signal caller and, frankly, the Cardinals made a mistake by not signing someone weeks ago as insurance against a Drew Stanton injury. They've had a great season, and it is a shame that it has to end the way it inevitably will. However, at this point even winning a playoff game with Lindley or Thomas under center seems like a monumental task.
12. Baltimore Ravens (9-6) - The Ravens will close the season with the highest point differential of any team that didn't make the playoffs. Heading into Sunday they have outgained their opponents by 97 points per game. Their Pythagorean Win Total is 10 right now, meaning that this team has been a statistical underachiever. With both an offense and a defense in the Top 10 in total yards and points scored, I think you could easily make that argument.
13. Kansas City Chiefs (8-7) - I simply cannot fathom that in today's NFL, with all the rule changes skewed toward the passing game, that a team can go an entire season without throwing a touchdown pass to a wide receiver. How is that even possible? I bet the odds prior to the season of that occurring on any team are somewhere in the hundreds of millions.
14. Miami Dolphins (8-7) - Make no mistake about it, this is an important game for both Joe Philbin and Ryan Tannehill. If the Dolphins win they would've increased their win total in each of Philbin's three years and finished at .500 or above in back-to-back seasons for the first time since 2002-2003. It is difficult to justify firing a coach that had guided the team to its best three-year stretch in over a decade.
15. San Francisco 49ers (7-8) - Much like the Eagles, Saints, Jets and several other teams, it is an absolute guessing game if the 49ers even show up on Sunday. Do they play hard one last game to send Harbaugh out on a positive note? Or is this group going to mail it in since they are not playing or anything? It is a guessing game.
16. Houston Texans (8-7) - I think the argument that J.J. Watt can't win the MVP because a quarterback influences the game on so many more snaps is ludicrous. J.J. Watt influences every single snap an opposing offense takes. He ruins the running game and he pulverizes the passing game. He is the single most dominating player in the sport, and I think that should be recognized. I mean, Jesus, this team is going to win nine games with Ryan Fitzpatrick, Ryan Mallett, a traffic cone, Case Keenum, a mop and Tom Savage at quarterback. Who had more to do with those wins: Watt or a quarterback?
17. San Diego Chargers (8-7) - Phil Rivers is so maniacally opposed to losing I can see the Chargers playing hard this week against the Chiefs. However, this team ahs been smoke and mirrors over the last two months. They are 5-5 in their last 10 games. But they have been outscored by 58 points, outgained by almost 500 yards, and four of their five wins came by three points or less (4-1 in those games since mid-October). Rivers has been masking a lot of the problems this roster has, and if you ignore the fourth quarter of the Baltimore game the Chargers have been outscored 60-13 in their last seven quarters in the Eastern time zone.
18. Buffalo Bills (8-7) - Doug Marrone's decision to punt on fourth-and-1 from the 46-yard-line, in a 19-17 game that would decide the fate of Buffalo's season, was a call that will haunt the Bills and their fans the entire offseason. Marrone has simply been too conservative all season and in the process has wasted one of the league's best defenses. I don't know how this team picks itself up off the mat after a morose cross-country flight back from Oakland.
19. Minnesota Vikings (6-9) - The Vikings have been outscored by just 22 points on the season and have posted an outstanding 10-5 record against the spread. Comparatively, the three teams with six wins in the NFC South have been outscored by an average of 32.3 points per game, and one of them will go to the playoffs.
20. Atlanta Falcons (6-9) - Matt Ryan never gets spoken of as one of the best six or seven quarterbacks in football. I think that's ridiculous. This roster is a dumpster fire. And even though they would only be 7-9, a playoff berth is still a playoff berth, and he deserves all the credit for carrying this team through the last month. They are 3-1 ATS in their last four, and he's completed nearly 70 percent of his passes over the last eight weeks.
21. New York Giants (6-9) - This is another one of those teams with "nothing to play for" this week that actually may be playing for something. I'd say that it is 50-50 that Tom Coughlin returns next year. And I don't think that he should. But the players love him, and I think that the Giants will give a max effort to either make a case for retaining Coughlin or to send him out with a win.
22. St. Louis Rams (6-9) - St. Louis' 6-2 ATS burst through October and November certainly came to a crashing halt. St. Louis has lost back-to-back games as a six-point favorite, and the Giants punched them in the face repeatedly last week. I will never understand how this team beat the Broncos back in mid-November.
23. Carolina Panthers (6-8-1) - The Panthers have really owned the Falcons the last few years, winning three of the last four meetings and going 4-1 ATS in the last five. But Carolina just doesn't play well in the Georgia Dome. They are 1-6 ATS in their last seven trips to Atlanta. The Panthers missed two field goals in a two-point home loss to the Falcons, and they had the lead with less than three minutes to play.
24. New Orleans Saints (6-9) - If you think that things are bad for this team and this organization now just wait until next season. They have been pushing back and pushing back and pushing back one salary cap bomb after another for the past three years trying to take advantage of one final window of opportunity with Prime Drew Brees. But the camel's back is about to break, and this team will be forced to purge its already suspect roster of even more talent to get under the cap for next year.
25. Cleveland Browns (7-8) - Being rejected by Rex Grossman is rock bottom. It has to be rock bottom, right?
26. Chicago Bears (5-10) - Even doing the right thing - benching their spoiled, whiny, overrated, turnover-prone starter - went horribly wrong for this team. They literally cannot do anything right, and they have been just waiting for this season to end for about five weeks now.
27. Washington Redskins (4-11) - These guys are such losers that I could see them blowing this game against the Dallas backups.
28. Tampa Bay Buccaneers (2-13) - This team had just enough defensive success over the last six weeks of the season to convince them that they are "building" and "learning" in the Cover-2 system. That's a mistake because the Cover-2 is dead. And the sooner this franchise realizes that and moves on the better off they will be. The Bucs offense has scored 17 or fewer points in 12 of 15 games this season. Naturally they will likely top 30 this week against the Zombie Saints.
29. Jacksonville Jaguars (3-12) - I can't even bring myself to pretend to care about this team. They went 3-1 ATS in their last four games. There. I said something nice about them. And congrats on winning five games or less for a fourth straight season. That takes some doing. They have also been outscored in seven straight years and have just two playoff appearances in the last 15 years to hang their hats on. (But hey, that's still two more appearances than Buffalo.)
30. New York Jets (3-12) - The Jets are another perfect example of why betting on Week 17 in the NFL is a crapshoot. They are on the road after an emotional loss to New England. Do they have anything left in the tank? Are they going to dig deep and try to "win one for The Gipper" to send Rex Ryan out on a high note? Or are they headed for a 40-3 loss because they simply don't care?
31. Oakland Raiders (3-12) - Say what you will about the Raiders, but they've been a fantastic spoiler the last month or so. Their win over Kansas City stonewalled the Chiefs' stretch run, and their wins over the 49ers and Bills effectively ended both of their seasons. The Raiders are 4-2 ATS in their last six. But if you're a Raiders fan you better hope it hasn't been enough to convince them to sign Tony Sparano long term.
32. Tennessee Titans (2-13) - Most teams as bad as this Titans group have some kind of remarkable implosion. Tennessee's season has been so nondescript and devoid of entertainment that I don't think anyone has even noticed. I don't think anyone is looking forward to the three months of Titans talk that is going to take place in the run-up to the NFL Draft. It wouldn't surprise me if Roger Goodell changed the rules and forced the Titans to make the No. 1 overall pick in March and let everyone else draft in May simply so the media could move on to talking about other teams rather than this pile.
Robert Ferringo is a lead writer for Doc's Sport and he has exploded for $8,300 in football profit over the last 13 weeks. Robert has produced more cash for his football clients than any handicapper in the country the past two years ($15,800 profit) and is coming off another winning overall month. Robert now has 11 of 13 winning football months and an incredible 34 of 48 winning football months over the last five years. He is going to build on that sensational resume again this week.
Read more articles by Robert Ferringo
---
Most Recent NFL power rankings Articles