NFL Power Rankings Week 9
by Robert Ferringo - 10/28/2014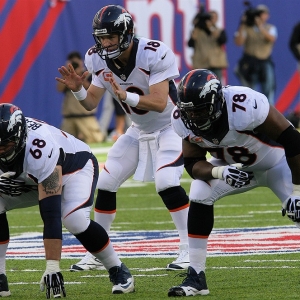 "Wow, this is awful."
That is what I found myself saying aloud time and time again last Sunday while watching all of the NFL action. That was a disgusting display of football from start to finish, and I'd say that right now the NFL really has a substandard product that it's peddling to the general public.
I'm not talking about football in the abstract. The NFL will be successful because it is propped up by all of the ancillary beneficiaries of the league's mechanism. Gambling. Fantasy football. Television ratings on Sundays. All of the built-in advantages that the NFL has will continue to mask the plain and simple truth: NFL football is really hard to watch right now.
The Lions-Falcons and Seahawks-Panthers games were as disgusting of displays of football as I can remember this season; the winner in each game was simply the least incompetent team. I couldn't help but feel sorry for everyone in attendance for the Vikings-Bucs game (it was 3-0 at halftime) or the Raiders-Browns (9-6 after three quarters). Most of the rest of the games were blowouts. Pittsburgh, New England, Kansas City and Houston each won going away. And at the end of the weekend it could be said that only two games (Eagles-Cardinals and Ravens-Bengals) were actually somewhat enjoyable to watch.
Listen, it doesn't have to be pretty. I posted a huge overall winning football week and banked nearly $2,000 in profit for my clients. So I'm fine with winning ugly. But I can't help but feel like we are at a shaky peak in the NFL season, with horrendous quarterback play, jaw-dropping coaching maneuvers, and shaky officiating casting a dark cloud over the sport. Sure, all three of those problems have existed as long as the game has been played. But I feel like we're approaching a bottom with pro football and I can only hope that things turn around this weekend.
Here is Doc's Sports NFL Power Rankings for Week 9:
1. Denver Broncos (6-1) - As well as the Broncos are playing right now, I think you'd have to be pretty daring to lay the points with Denver heading into Foxboro this week. Peyton Manning is just 5-10 in his career against Tom Brady, including last year's AFC Championship win. The Broncos have covered four straight numbers, but they have played perhaps their two worst games of the season on the road at the Jets and at the Seahawks (their lone loss). The Broncos are 0-4 ATS in their last four trips to Foxboro.
2. Philadelphia Eagles (5-2) - How can the Eagles lose and move up a spot in my rankings? Because anyone that watched the Philadelphia-Arizona game knows that the Eagles outplayed the Cardinals on the road. They had two first-half possessions into the red zone foiled by two turnovers. And were it not for some sloppy defending by safety Nate Allen late in that game, I think Philly would've walked out with the outright win. The Eagles are 4-1 ATS in their last five games after a loss, but they are just 10-21 ATS in their last 31 games after failing to cover a spread.
3. Arizona Cardinals (6-1) - Carson Palmer looks like a completely different quarterback this year. And that's a good thing. Despite some nagging injuries, he has not looked shell shocked or jittery under pressure and, most importantly, has only turned the ball over once in his four starts this year. Arizona always gets up for games against the Cowboys, whom they see as a regional rival. Arizona has won the last three meetings - all in the final seconds and each time as an underdog.
4. Dallas Cowboys (6-2) - Uh-oh. Here we go again. Tony Romo's shakiness. Jerry Jones' meddling. Jason Garrett's weakness. The incompetence of the secondary. It is as if all the makeup they've been able to apply to their blemishes were washed away at once on Monday night. And if Dallas loses again this week then you will really be able to feel the walls start to close in on this team. Dallas is still 5-2 ATS in its last seven games. But teams that lose outright as a double-digit favorite that are favored in their next contest are a terrible bet.
5. Indianapolis Colts (5-3) - I don't want to crush the Colts for that weak display in Pittsburgh last week. But they are favored again on the road this week, this time against the Giants on "Monday Night Football". This is now back-to-back weeks where Indy has been a road favorite against a proud, tough, blueblood football franchise that always comes to play as a home underdog. Perhaps the sportsbooks have overcorrected on Andrew Luck and Co. Reggie Wayne's injury situation is critical. The Colts simply aren't the same offense without him in there. Also, if Vontae Davis can't go against New York, that's a major blow to a secondary that is already without LaRon Landry (suspension). Indianapolis is 15-2 ATS in its last 17 games after a loss.
6. Green Bay Packers (5-3) - Much like the Colts, I'm not going to crucify the Packers for getting blasted at New Orleans. That happens to everyone. Green Bay is on a bye this week, and they have two weeks to prepare for Chicago. The Packers can really drive a stake through their rivals' heart with a win in Lambeau next week.
7. New England Patriots (6-2) - Prior to this October, the Patriots had only been underdogs twice in the previous 10 years. Now they have been installed as home dogs twice in the last four weeks. The Pats have rattled off four straight wins by an average score of 40-22. They've now won six of their last seven games and are as hot as any team in the league. This will be the fifth game between the Patriots and Broncos since January of 2012, and the home team is 4-0 ATS in those four contests. New England is 9-3 ATS in its last 12 home games, and they are 5-1 ATS against a team with a winning record.
8. San Diego Chargers (5-3) - I'm still pretty shocked that the Chargers didn't sneak in the back door against the Broncos - as they always seem to do - last Thursday night. San Diego is at a situational disadvantage this week, having to make one of the longest road trips in the NFL for an early a.m. start. The public obviously doesn't care, though, as the Chargers are currently catching 82 percent of the bets in this game. They are 6-2 ATS in their last eight road games but should again be without their top two cornerbacks. Well, top three if you consider the fact that they released Richard Marshall this week.
9. Seattle Seahawks (4-3) - Sunday marked the third straight year the Seahawks have beaten the Panthers on the road despite scoring less than 14 points. The Seahawks are on a 0-3 ATS slide, but they should be able to take some of their frustrations out on the feeble Raiders this week. The home team is 7-0 ATS in this series, and the Seahawks are 40-19 ATS in their last 60 home games. The question is whether or not Seattle's current offense is capable of ringing up enough points to stay ahead of a two-touchdown spread.
10. Baltimore Ravens (5-3) - This is a very dangerous time for the Ravens. They are coming off a disappointing and deflating loss to the Bengals last week. Now they are back on the road against their most hated rival, a team that is red hot and looking for revenge. This is Baltimore's fourth road game in the last five weeks and their fifth trip in the last seven weeks. The Ravens are 1-5 ATS in their last six divisional games and 1-4 ATS in their last five games on the road. They are 4-1 ATS after a loss though.
11. San Francisco 49ers (4-3) - I think that we will find out everything we need to know about the 49ers from how they play this week. They have been outscored on the season and now they are at home facing a team that they just throttled three weeks ago. If San Francisco comes out and screws around, or looks sloppy or disorganized, then I'll be betting against them or staying away altogether the rest of the season. But if these guys are going to make a move they better come out sharp against a Rams team they have beaten three straight times by an average of 16 points per game.
12. Cincinnati Bengals (4-2-1) - That was a gritty, impressive performance in a critical game by the Bengals. But, like Seattle, I don't know if their offense is in good enough shape to go out and beat up a weaker opponent. They are also in a bit of a letdown/look ahead situation. They are off a big comeback win in a divisional game. And they will host Cleveland in a key AFC North clash on Thursday night. The Bengals are 14-3 ATS in their last 17 home games, so I'm not sure that I want to lie down on the train tracks. But I do know that I'm not counting on Cincinnati to ring up another blowout win this weekend, even if it is against the hapless Jaguars.
13. Kansas City Chiefs (4-3) - Very quietly the Chiefs are becoming a team that no one should want to play. If you kick out their five-point loss at San Francisco these guys have wrecked Miami, New England, San Diego and St. Louis in the past month. Their 0-2 start is a world away, and right now Alex Smith is playing as well as any quarterback in the AFC. The Chiefs defense is in the Top 5 in yards and points allowed, and their defense should be able to tee off on New York's completely discombobulated offense.
14. New Orleans Saints (3-4) - The spread in the Saints-Panthers game prior to New Orleans' 44-23 win over Green Bay was Carolina -1.5. But that line swung violently to the Saints -2.5 after New Orleans' big win. The Saints have lost all four road games they've played this season, and they fell at Carolina last year. However, New Orleans outgained the Panthers by 145 yards in last December's loss. They definitely want revenge after that last-second defeat. New Orleans is just 3-7 ATS after a win and dating back to last year they are 3-9 ATS in their last 12 road games.
15. Detroit Lions (6-2) - Don't be fooled by Detroit's record. They should've lost both of their last two games, and no one would think it were strange if I had them at No. 15 as a 4-4 team. The Lions hit their bye No. 1 in total yards and points allowed, a rare double as the clear-cut best defense in football. They will have two weeks to prepare for Miami before a crucial two-game road trip at Arizona and New England.
16. Miami Dolphins (4-3) - Ryan Tannehill still just absolutely refuses to throw the ball down the field. I don't know if it is lack of confidence or something in the game plan. But Miami is No. 28 in the league in yards per completion and are one of only six teams in football to average less than 10 points per completed throw. Despite a dearth of big plays, they have still managed 24 or more points in four straight games while allowing 14 or less in three of their last four.
17. Pittsburgh Steelers (5-3) - Only once (2011) in the last five years has there been a regular-season sweep in the Steelers-Ravens series. Pittsburgh is 7-3 ATS in their last 10 home games and 3-1-1 ATS in their last five tests against the Ravens. I can't say enough good things about Antonio Brown. For my money he has been the best receiver in football so far this season, and I don't know if it has even been close. He caught seven balls for 90 yards against the Ravens the first time, and I think he could do even more damage this week.
18. New York Giants (3-4) - After San Francisco, there is no team I'm more interested in seeing this week than the Giants. They are still a total enigma. Their offense was just starting to stabilize before losing Victor Cruz for the season and Rashard Jennings for a month. How will they compensate? The Giants are always game as a home underdog. But they are just 4-10 ATS in their last 14 games after a bye week and a horrific 19-42 ATS in their last 61 games in November.
19. Chicago Bears (3-5) - I was hoping that the Patriots would score 70 points against the Bears on Sunday. Maybe that would open the eyes of Bears brass to the fact that Mel Tucker is one of the most incompetent defensive coordinators we've seen in the NFL in the past 15 years. And that's not hyperbole. It is also obvious that Jay Cutler is a complete and total loser - something I predicted five years ago when Cutler first came to Chicago. It was obvious then. It is obvious now. But the Bears seem intent to going down with the ship.
20. Carolina Panthers (3-4-1) - The Panthers have won three of four against the Saints. That includes last December's home win. They scored a touchdown with 23 seconds to play in that victory, which clinched a playoff spot. Carolina has gone 5-1 ATS in its last six home games against the Saints, and they are 9-3 ATS in their last 12 games against New Orleans. The home team is 5-1 ATS in this series, and Carolina is 9-2-1 ATS in its last 12 games in Charlotte. Oh, and if you think for one second that DeAngelo Williams' return is going to have an impact, you haven't been watching Williams run the past three years.
21. Buffalo Bills (5-3) - This team has to feel great about itself heading into its bye week. I'm still not on the bandwagon because Buffalo has won several games that they shouldn't have. But their front seven is absolutely no joke, and Kyle Orton is playing steady at the quarterback position. They have three of their next four games at home, including winnable games against the Jets and Browns, and this team could be playing meaningful games in December in the first time in a long time.
22. Houston Texans (4-4) - Houston's defense is getting the job done with smoke and mirrors. They are No. 23 in total yards allowed but No 8 in points allowed. That is unsustainable. They've allowed an average of 27.3 points per game in their last three contests against teams that I consider to have real offenses (Pitt, Indy and Dallas). The Texans are just 3-8 ATS in their last 11 home games, and they are just 2-7 ATS following a win.
23. Washington Redskins (3-5) - There's a very interesting subplot in this week's Washington-Minnesota game: it pits former Bengals assistants Mike Zimmer and Jay Gruden against one another as head coaches. There is no way that Bob Griffin should get the start if he is technically healthy. Griffin is a bust, and the sooner that Washington admits to that the better off they'll be. Colt McCoy wasn't perfect on Monday night. But he throws a great ball and makes pretty good decisions. He just needs some seasoning. The underdog is 8-2 ATS in the Redskins-Vikings series dating back to 1993, and the team catching points has actually won seven of the last eight matchups.
24. Cleveland Browns (4-3) - That wasn't an impressive showing for the Browns as they secured an "inside-out" win over a terrible Oakland team. They have been outgained by 151 yards in their last two games, against the Raiders and Jaguars no less, and they get another cupcake in town this weekend when Tampa comes to visit. This week will mark the fourth straight week the Browns have been favored - something that hasn't happened in over 10 years. Cleveland is 4-0 ATS in their last four home games, and this is one they can't afford to give away if they are going to remain a player in the AFC North.
25. Minnesota Vikings (3-5) - This defense has started to click and they have allowed an average of just 15.3 points per game over the last three games. Now they just need to figure out how to score. They haven't topped 20 points in four weeks and have only scored more than 20 one time in their last seven games. Not surprisingly, they are now 2-8 against the total in their last 10 games, including the preseason. Minnesota is catching the Redskins in a letdown situation after their big MNF upset over Dallas. Also, the Vikings won 34-27 against the Skins last November and have beaten Washington in three of the past four years.
26. Tennessee Titans (2-6) - The Titans continue to be nothing more than filler for the rest of the league. The NFL needs 32 teams, so the Titans are just a random collection of guys to keep the total at an even number. I don't think anyone will miss them on their bye week.
27. St. Louis Rams (2-5) - For a second there I was starting to take a shine to Austin Davis. He throws a pretty accurate, catchable ball and has turned it over only twice in his last four games. But there is just something missing with him, and I can't quite put my finger on it. The Rams will likely be without Janoris Jenkins (not a big loss) and Trumaine Johnson again this week, leaving their already porous secondary without two of its top three corners. The Rams are just 4-9 ATS in their last 13 trips out to San Francisco, and they are just 2-5 ATS against a team with a winning record.
28. New York Jets (1-7) - At this point I have nothing left to say. I just find it comical that Jets fans were actually cheering when Rex Ryan made the move to Mike Vick in the first quarter of last week's blowout loss. It is hilarious that anyone thinks that Vick is the answer to anything. He is basically just a more experienced version of Geno Smith. And it is not comical that the Jets couldn't see that very basic, obvious fact. It is sad.
29. Atlanta Falcons (2-6) - I still don't fully understand all the ire being directed toward Mike Smith and Matt Ryan. Unless Smith is the one making personnel decisions, he can hardly be blamed for this dumpster fire of a roster. And Ryan is a franchise, Top 10 quarterback who doesn't give games away. The fact is that if Atlanta's fourth-string center hadn't committed a terrible holding penalty with 1:50 to play then Atlanta leaves London with a win. That has nothing to do with the coach or the quarterback.
30. Tampa Bay Buccaneers (1-6) - Dating back to the preseason, the Bucs have been outgained in 10 straight games. You can't say this team isn't improving, though. Two of their last three losses were in overtime. Couple that with a win over the Steelers, and that counts as progress. The Bucs may go back to Josh McCown this week. But it really doesn't matter. Without a competent offensive line and with no coherent offensive game plan (remember: their OC Jeff Tedford took a leave of absence to deal with an illness), this team is not even close on that side of the ball.
31. Jacksonville Jaguars (1-7) - It is a shame that Jacksonville's front four is toiling on such a pathetic team. They are sacking the opposition on nearly eight percent of all drop-backs, No. 6 in the league. Interestingly, of the eight teams that lead the league in sack percentage, only three (Detroit, Buffalo and Kansas City) have a winning record. Blake Bortles is showing why the Jaguars intended for him to sit and learn this season. The Jags are now 8-20 ATS in their last 28 games, and dating back to the start of 2012 a whopping 23 of their 33 losses have come by double digits.
32. Oakland Raiders (0-7) - Yup, they still suck. But if there is one positive it is this: Derek Carr has been by far the most impressive of the rookie quarterbacks despite having the least amount of talent to work with.
Throughout the season I will have my NFL Power Rankings every Tuesday. My next ones will be released on Tuesday, Nov. 4.
Robert Ferringo is a lead writer for Doc's Sport and he has exploded for $5,300 in football profit over the last five weeks. Robert demolished the books for $1,800 in football profit last weekend alone and has produced more cash for his clients than any handicapper in the country the past two years ($12,100 profit). Robert has 10 of 12 winning football months and 16 of 23 winning NFL weeks and he is going to build on that sensational resume again this week with more.
Read more articles by Robert Ferringo