2014 NFL Schedule Analysis: AFC Futures Odds Picks and Predictions
by George Monroy - 5/1/2014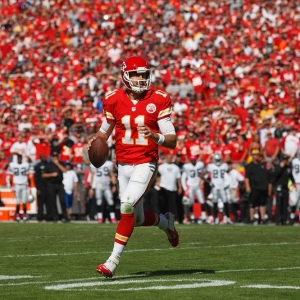 The 2014 NFL season is still over four months away, but with the recent schedule release a few weeks ago and the draft coming up soon, it's hard not to have football on the brain. It may be early. However, since the Week 1 lines and the schedule are already out, let's take a closer look at the AFC and make a few predictions for how each team will end up this season.
AFC North
Cincinnati Bengals
AFC Title Odds : +1200
The Cincinnati Bengals will be a very good team, and a 10-6 season is well within reach. Cincinnati is a likely playoff team, so getting +1200 AFC title game odds does have value.
Prediction : 10-6; division champ
Pittsburgh Steelers
AFC Title Odds : +1500
Pittsburgh has a few tough matchups on its schedule against Carolina, Indianapolis, New Orleans, Cincinnati and Baltimore. Finishing the year with an 8-8 record is probably a best-case scenario for the team, which did not do much to upgrade itself over the offseason.
Prediction : 8-8; miss playoff
Baltimore Ravens
AFC Title Odds : +1800
Baltimore will probably bounce back from last year's disappointing 8-8 season with a 9-7 or 10-6 record. The team has some tough games on its schedule but will be in the hunt for a wild card spot and should ultimately make a return to the postseason in 2015.
Prediction : 9-7; earns a wild card spot
Cleveland Browns
AFC Title Odds : +3000
The Browns are expected to take a quarterback and a receiver in the first round, and simply adding some new blood and an enthusiastic coach should be enough to help the team slightly improve.
Prediction : 6-10; miss playoffs
AFC South
Indianapolis Colts
AFC Title Odds : +1500
Indianapolis will have a brutal schedule that could keep the team out of the playoffs. A worst-case scenario season could see the team go 8-8. But don't expect that to happen, though, as Andrew Luck once against carries the team to an 11-win season.
Predictions : 11-5; division champ
Tennessee Titans
AFC Title Odds: +3500
The Titans are expected to have another tough season, and with a schedule that includes matchups against Dallas, New York (both teams), Indianapolis, Cincinnati and Kansas City, the team is looking at another sub-.500 year.
Predictions: 5-11; miss playoffs
Jacksonville Jaguars
AFC Title Odds: +11000
Jacksonville has a tough schedule for a team that won only four games last season. A best-case scenario for the squad is a 4-12 season. Expect the Jaguars to be more competitive than last year-I doubt there will by any more 28-point lines.
Predictions: 4-12; miss playoffs
Houston Texans
AFC Title Odds: +1800
The oddsmakers are expecting the Texans to improve drastically on last season's two-win record. The squad will have the No. 1 pick in the 2014 draft and should be able to improve on the defensive side of the ball. Houston will not be a team of significance but could win five or six games.
Predictions: 6-10; miss playoffs
AFC East
New England
AFC Title Odds: +300
New England can win 10 games and win the AFC East in its sleep-the team is nothing if not efficient. The Patriots also added a couple of key players during free agency and will probably clean up in the draft like always.
Predictions: 11-5; division champs
New York Jets
AFC Title Odds: +3000
New York made a splash by signing former 2,000-yard rusher Chris Johnson after he was released by Tennessee during the offseason. The Jets have improved and could be a good team if either Geno Smith or Michael Vick can workout at the quarterback position.
Predictions: 7-9; miss the playoffs
Miami Dolphins
AFC Title Odds: +3000
Expect Miami to take a step back this season and struggle heavily for most of the year. The team has a tough schedule, and winning six or seven games is probably a best-case scenario for the squad.
Predictions: 6-10; miss the playoffs
Buffalo Bills
AFC Title Odds: +4000
Buffalo was one of the lowest-scoring teams on offense last season, but it may improve slightly because of the draft and their dynamic-quarterback E.J. Manuel adding another year of experience.
Predictions: 7-9; miss the playoffs
AFC West
Denver Broncos
AFC Title Odds: +250
Denver has a ridiculous schedule to open up the year with games against Indianapolis, Kansas City, Seattle and San Francisco all within the first six games and could be sitting on a disappointing 3-3 record by Week 7. Don't expect that trend to continue, though, as the team rights the ship during second half of the season and rolls into the playoffs.
Predictions: 12-4; division champions, AFC's best record
Kansas City Chiefs
AFC Title Odds: +1800
Kansas City might struggle now that the team is on everyone's radar and will not enjoy an easy schedule like last season. Expect the Chiefs to excel and make the postseason for a second straight year.
Predictions: 10-6; wild card spot
San Diego Chargers
AFC Title Odds: +1800
Expect San Diego to begin the season on a hot streak and then tail off when its schedule gets tougher toward the end of the year. Look for the Chargers to be a very good ATS team, however.
Predictions: 9-7; miss playoffs
Oakland Raiders
AFC Title Odds: +11000
Oakland is in for another tough season and may be lucky to win three games this year. Last season the squad was an even worse ATS team and managed to cover only three games. Expect more of the same for the 2014 season.
Predictions : 3-13; miss playoffs, worst record in the NFL

Want free sports betting picks? Doc's Sports has you covered - get $60 worth of picks free from any of Doc's Sports expert handicappers. Click here for free picks (new clients only).
Read more articles by George Monroy