NFL Super Bowl Matchup Props Odds with Betting Picks and Predictions
by Trevor Whenham - 7/11/2014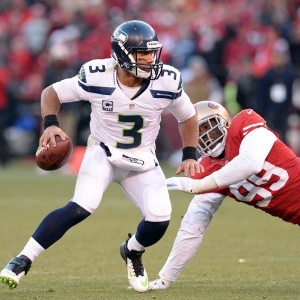 As a big horse racing fan I love the prop bet in which you try to pick the two teams that will play in the Super Bowl. It's basically an exacta - or a combination of that and the daily double. It's a different way of thinking about football than normal, and that's a good thing. You have to figure out the two best teams, and you have to get them both right or you don't get paid. It's a good challenge -and potentially a lucrative one. Here are six of the most interesting potential pairings from Sportsbook.ag:
Seahawks vs. Broncos (+600): This is proof that public bettors aren't always particularly creative or original. The favorite this year just happens to be the exact pairing that we watched last year - the game that was only slightly more competitive than Brazil's World Cup semifinal.
There is a lot for these teams to overcome if they want a rematch. Most significantly, history has proven time and again that it is very tough for a team that played in the Super Bowl one year to make it again next year. Heck, it is tough enough for a Super Bowl team to just make the playoffs the next year. They have to deal with the pressure of having targets on their collective back, players who are now stars of a level they aren't used to, and so much more. In the 48 year history of the Super Bowl we have seen a rematch just once - the Cowboys beat up the Bills in both 1993 and 1994. That alone makes this bet tough to like at this price, but there is more to consider than that.
These two teams have a lot to deal with that could be issues. The Seahawks have egos to deal with - Wilson and Sherman in particular have become much bigger stars than they were, but they are not alone. The Broncos aren't getting any younger, and that is a particular concern for Manning - he has looked immortal for much of his career, but at some point time is going to catch up to him.
I'm not saying that this pairing can't or absolutely won't happen. There is just far too much risk involved to make this bet even remotely attractive.
Seahawks vs. Patriots (+800): Here's another example of how public bettors aren't creative. This pairs up the defending champion with the most public team in the league.
We've already discussed my concerns with the Seahawks. The Patriots haven't been as sharp as they could be for a couple of years now, are also dealing with a QB who isn't getting younger, and have some real questions to answer at receiver and elsewhere.
Again, not nearly likely enough to justify this price.
Packers vs. Broncos (+1000): I sound really negative, but I don't like this one at all, either. I have questions about the Broncos, and I just am not as impressed with these Packers as many seem to be. Aaron Rodgers' health has to be an issue until he proves it isn't, and their division is going to be much tougher this year than it was last year.
At twice the price I would be a bit more interested, but not now.
49ers vs. Broncos (+1500): The 49ers don't make their first appearance on the list of props until things hit 15/1. I have been bullish on them the last couple of years, and I remain bullish now. There is some concern about the mental state of the team - the questions about Harbaugh and his relationship to his team in the offseason are a concern. The team is talented and built to win, though, and I like the offseason that they have had. The brutal division is always a concern, but I like the Niners as much or more than any NFC team.
Bears vs. Chargers (+30000): You have to look for a nice longshot or to when looking at props like this, and at 300/1 I like this one.
Both teams are in their second year of a new regime after a much-needed coaching change last year. They have both significantly upgraded their coaching as a result, and it showed in the mindset of the teams. They both have quarterbacks who have plenty of talent if they can stay focused and avoid the lapses and mistakes. They both have some nice talent on both sides of the ball. Both play in deep and tough divisions, but both should be able to emerge from them if they play their best, and they will be well-seasoned from the challenges of their schedules.
Add it all up and this is worth a gamble.
Vikings vs. Jaguars (+800000): Not surprisingly, this is the longest shot on the board. I like the Jaguars quite a bit more than the Vikings - mostly because of coaching - but both have young quarterbacks and plenty of holes, and both are a few years away from being relevant.
It is tempting to imagine what you would do with your winnings at 8000/1, but spend your money on lottery tickets instead - the payoff is much better, and your chances of winning are about the same.
Read more articles by Trevor Whenham