2014 Oakland Raiders Opponents and Schedule Highlights
by Darin Zank - 4/10/2014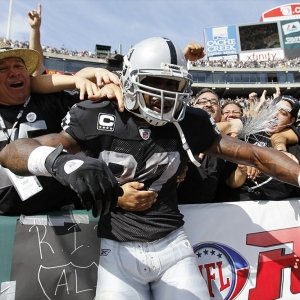 A dozen years ago the Oakland Raiders played in the Super Bowl; they haven't been back to the playoffs since. Last year Oakland won just four games for the second season in a row under head coach Dennis Allen.
But the Raiders have made as much noise over this offseason as any other team in the league, bringing in, among others, QB Matt Schaub, RB Maurice Jones-Drew, WR James Jones, DE Justin Tuck and CB Carlos Rogers. Will this influx of veteran talent be enough to get Oakland back to "contender" status?
If the Raiders are going to improve this season, they'll have to do it against the toughest schedule in the league, based on last year's cumulative win percentage. Oakland will play nine games against teams that made the playoffs last year, including five games against the four teams that played on conference championship weekend.
As of earlier this week,Bovada was listing Oakland at 40/1 to win the AFC this season and 75/1 to win the Super Bowl.
Here's a quick look at the Raiders' opponents for the upcoming NFL season. Official schedules are expected to be released within the next couple of weeks.
2014 Oakland Raiders Opponents: Road Schedule
At Denver: Oakland is 0-4 SU, 0-3-1 ATS against the Broncos with Peyton Manning. The Raiders lost in this spot last year 37-21, pushing the spread as 16-point dogs. These original AFL rivals will meet for the 108th and 109th times this season.
At Kansas City: Oakland had won six times in a row at Arrowhead until the Chiefs won last year 24-7. That game was tied at 7-7 late in the third quarter, but KC scored the last 17 points, thwarting the Raiders' attempt to cover as eight-point dogs. This rivalry is also being played for the 108th and 109 th times this season.
At San Diego: The Raiders and Chargers will be meeting for the 109th and 110th times this season. Oakland has lost four of the last five in this series, including a 26-13 decision at Qualcomm last year.
At New England: Oakland only won only one road game last season but went 4-3-1 ATS on the room-service circuit.
At New York Jets: These AFL originals just met at MetLife Stadium last December, a 37-27 Oakland defeat. However, it wasn't really that close considering the Raiders trailed 20-3 at the half and never got closer than 10 points after that. Oakland has lost five of the last seven meetings in this series, including four in a row in New Jersey.
At Cleveland: Oakland returns to C-Town for the fourth time since Mike Davis picked off Brian Sipe in the end zone in that frigid AFC playoff game back in 1981. The Browns have posted two winning seasons and played in one playoff game since being re-born 15 years ago.
At St. Louis: These two teams, who used to share a city and a stadium out in LA from 1982-94, meet for just the 13th time; Oakland leads the all-time series 8-4. The last time these teams met in St. Louis, Rich Gannon and Marc Bulger were the starters at quarterback.
At Seattle: These former division rivals meet for the fourth time since the Seahawks departed for the NFC in 2002. Seattle is a monster at home, going 24-8 SU and 22-10 ATS at the Clink since hiring Pete Carroll as head coach. No word on whether Bo and/or the Boz will be on hand for this one, but it would be nice if, say, Lester Hayes and Steve Largent showed up.
2014 Oakland Raiders Opponents: Home Schedule
Denver: The Broncos have beaten the Raiders three times in a row in Oakland. Last year in this spot the Raiders fell behind 31-0 at the half and couldn't cover as 10-point home dogs. Oakland went 7-8-1 ATS at home last year, 2-4 ATS as home dogs.
Kansas City: The Raiders lost to the Chiefs in a crazy game in this spot last year 56-31. Oakland fell behind 35-10, rallied to get within 35-31 late in the third quarter, then allowed KC to score the last three touchdowns. The Raiders came up short in trying to cover that one as seven-point home dogs.
San Diego: Oakland is just 4-12 SU against Philip Rivers, although the Raiders beat the Chargers last year in this spot 27-17 in that game that didn't finish until far past most of our bedtimes.
Buffalo: The last time the Bills and Raiders met in Oakland, Kerry Collins quarterbacked against Kelly Holcomb. This series is tied all-time at 19-19.
Houston: New Raiders QB Schaub might get a chance at some revenge against the team that just dumped him. Then again, the Texans will be looking for a little payback after losing to the Raiders at home last year 28-23.
Miami: This one will be played at Wembley Stadium in London, part of the NFL's ongoing attempt to attract a following overseas. Oakland has lost 10 of the last 12 meetings in this series. Remember when Clarence Davis nabbed that Stabler floater in the end zone in that classic AFC playoff game all these years ago? Miami should probably wear its retros for this one.
San Francisco: It's almost hard to believe but these two teams have only met a dozen times previously during the regular season, each team winning six times. The Raiders won five of the first seven Battles by the Bay, but the Niners have won four of the last five.
Arizona: These teams have met only eight times before, most recently in 2010, a 24-23 Oakland defeat. The Cardinals are suddenly a pretty good team, with a defense that ranked No. 5 overall last year and No. 1 vs. the run. Arizona also went 11-5 ATS last season, 6-2 ATS on the road.
Doc's Sports has had a winning tradition for more than four decades. Don't believe us? Try us out for free, and we are convinced you will be a believer. Get $60 worth of free sports picks - members' picks just like our paying clients get - here .