Seattle Seahwaks Odds to Win the Super Bowl and Betting Futures
by Alan Matthews - 7/28/2014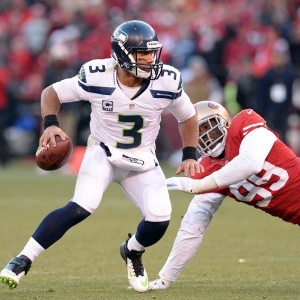 So how soon until we call Pete Carroll one of the best football coaches of all time when counting both college and the pros? No, he's not Jimmy Johnson yet, but you have to give it up to Carroll. He rebuilt USC into the marquee program in college football, if perhaps not while following the rules. Now he has rebuilt his once-tarnished NFL reputation by bringing the Seahawks their first Super Bowl title, and thanks to shrewd drafting it should be a team that will be a force for at least the next few years. Players seem to love playing for him because he doesn't take things too seriously in practices.
We all know how hard it is to repeat in the NFL. A total of 15 Super Bowl champions have failed to even reach the playoffs the following season, and in 2013 Baltimore was the sixth to do so in the past 12 years. I'm not saying that Seattle is ripe for a fall like the Ravens because the Seahawks are way more talented than that team and in better salary-cap position. That said, the bill is coming due, and finances will start to thin the roster. All-Pros Richard Sherman and Earl Thomas got their monster extensions this offseason. QB Russell Wilson is eligible to get his after this season, and he's going to want more than Colin Kaepernick got considering Wilson has a ring and Kap doesn't (so far). So enjoy it while you can, 'Hawks fans.
Offense
I find it interesting that we are in the midst of the highest-scoring NFL ever and a pass-happy league, yet the two most recent Super Bowl winners were pretty average offensively. Seattle ranked just 18th in total yards last season (26th in passing, fourth in rushing) but eighth in points because its defense often put the offense in position to succeed. The game plan isn't likely to change this year. Wilson will be asked to simply not turn the ball over and convert those third-and-shorts that come courtesy of Marshawn Lynch or short, safe Wilson passes. Why mess with success?
There were some rumblings this offseason that the team might do a bit of a shared backfield with Lynch and Christine Michael/Robert Turbin, but that quickly was quashed. Lynch should have at least one monster season left at age 28, but I can see the smart Seahawks dumping him after this season if he struggles. There is some wear on the tires, to be sure. Lynch has had a combined 616 carries the past two seasons, and that's not including playoffs or his receptions. That's a ton in the modern NFL. But the guy is a beast, rushing for at least 1,200 yards in three straight seasons, and the team will ride him until he's gassed. He is holding out of camp to begin with, but I don't think it affects anything. In fact, it makes him fresher for the regular season.
If there's one concern on this side of the ball it's at receiver. Last year's leading guy, Golden Tate, took the big money in Detroit. That leaves Percy Harvin and Doug Baldwin as the No. 1 & 2. Harvin is great when healthy, as shown in the Super Bowl. It's just that he rarely is, and it's unrealistic to expect Harvin to play all 16 games. Baldwin is OK. The team did take Colorado WR Paul Richardson in the second round of May's draft. Seattle was hoping Sidney Rice would provide something this year, but he retired last Wednesday. Rice missed the final eight games of the 2013 season after tearing his ACL in a Week 8 win over the Rams. He never came close to living up to the big free-agent dollars he got to come to Seattle.
Defense
The 2013 unit has to go down on any Top-10 list as one of the best single-season groups of all time. The Seahawks led the NFL in total defense (273.6 ypg, only team under 300), passing defense (172.0, only team under 194), scoring (14.4 ppg, only team under 15) and takeaways (39, thanks to a league-leading 28 interceptions). What that defense did to Peyton Manning's record-setting Denver defense in the Super Bowl was remarkable. Most of the same cast is back, with the two keys being Sherman, the NFL's top corner, and Thomas, the league's No. 1 safety. The team did lose cornerbacks Walter Thurmond and Brandon Browner (technically backups) to free agency.
Up front the depth took a hit with Red Bryant, Clinton McDonald and Chris Clemons going elsewhere, but Seattle was able to re-sign end Michael Bennett even though he was offered more by the Bears. The team also took a chance on former Vikings Pro Bowl tackle Kevin Williams. He's 33 but will only be used in a rotation, so he could still be a force. The linebackers are stacked, so much so that Super Bowl MVP Malcolm Smith might be the weak link of the starters (if he even starts)
2014 Seattle Seahawks Schedule Analysis
The Seahawks have the sixth-toughest schedule in the NFL as their opponents went a combined 143-112-1 last season, a winning percentage of .561. It's the third toughest in the NFC West but not much behind St. Louis (.564) or San Francisco (.563). Obviously those two get a bump playing Seattle, which can't play itself. Seattle's road slate (.578) is the toughest among all NFC teams. The home schedule (.543) looks a bit easier.
As per tradition for the Super Bowl champions, the Seahawks will host the season-opening Kickoff Game, and they are 6-point favorites against Green Bay in a matchup we could easily see again in January. The total is 45 and Seattle is -285 on the moneyline. Of course, the last time the two teams played was Week 3 in 2012 when the Seahawks were wrongly gifted the game-winning Hail Mary TD pass by the replacement officials for a 14-12 victory. Thankfully the NFL saw how wrong that call was and quickly got a new deal done with the regular refs. I wonder if the game was in Green Bay would the officials made the same call? They looked overwhelmed in the moment. It's going to be incredibly loud for this one as the Seahawks will raise their Super Bowl banner in front of the rabid 12th Man faithful. The defending Super Bowl champion has lost the past two Kickoff Games, although Baltimore had to play on the road last year. The only home defending champion to lose in this format was the Giants in 2012.
It's a really tough three-game stretch before a Week 4 bye. Seattle visits San Diego, always a tough place to win, in Week 2 before hosting Denver in the Super Bowl rematch in Week 3. Seattle has no time for a Super Bowl hangover. I would then break up the schedule from Weeks 5-11 and 12-17. The schedule for the former is: at Redskins, vs. Cowboys, at Rams, at Panthers, vs. Raiders, vs. Giants, at Chiefs. Not incredibly tough but certainly a couple of potential losses there. Then starting Week 12 the schedule is: vs. Cardinals, at 49ers (Thursday short week), at Eagles, vs. 49ers, at Cardinals, vs. Rams. Arizona is the only team to beat Wilson at home, doing so late last season. We all know about the 49ers-Seahawks rivalry.
2014 Seattle Seahawks Odds to Win the Super Bowl and Betting Futures
Odds courtesy of Sportsbook.ag . The Seahawks are +650 co-favorites with Denver to win the Super Bowl, +320 favorites to repeat as NFC champions and +130 favorites to repeat as NFC West champs. Seattle has a wins total of 11, with the "over" a -130 favorite. It is -300 to make the playoffs and +235 to miss. Wilson is +2500 for NFL MVP and Lynch is +10000. Wilson is +10000 to lead the NFL in passing yards, while Lynch is +1200 to lead in rushing. Harvin is +10000 to be No. 1 in the league in receiving yards. Richardson is +2500 to be the Offensive Rookie of the Year.
2014 Seattle Seahawks Picks and Predictions
So will the Super Bowl curse hit this team or is it too talented and well-coached? We shall see. I'm still not sure the offense is all that great, so if that stellar defense has an off day this team can be beat. Ditto if it has to play a road playoff game. At home? Just about unbeatable.
I projected the division-rival 49ers to go 10-6, but think their schedule is significantly harder than Seattle's. I would slightly lean over 11 wins for the Seahawks, although hitting that on the number wouldn't be a shocker. They will win the division, but I'm not sold on them repeating in the NFC unless the Seahawks get the top seed again. It's just such a deeper conference. So I wouldn't put money there yet or on the Super Bowl. Lynch is my 2014 rushing champion because he wants one more big contract, but no other individual props are worth a look.
Doc's Sports has been a leader in NFL handicapping for more than 40 years. Now we have a great offer for new clients. Get $60 worth of NFL picks absolutely free. No obligation. Nothing else to buy. You don't even need a credit card. Just click here to get started.
Read more articles by Alan Matthews