NFL Handicapping: How Tom Brady's Suspension Will Impact New England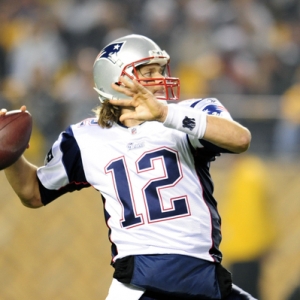 The NFL dropped the hammer on Tom Brady and the New England Patriots late Monday afternoon for their roles in the "Deflategate" controversy back in January. Brady was hit with a four-game suspension (which he plans to appeal), while New England was fined $1 million and relieved of a first- and fourth-round draft picks in 2016 and 2017. The punishment was in line with what most industry experts predicted, even though it fell on the harsher side of Commissioner Roger Goodell's range.


Brady's suspension of course, will be subject to weeks, if not months, of appeals, and Monday's ruling is probably not the last fans will hear of the scandal. For bettors, there's a solid chance that New England will be without their starting quarterback for at least a few games, and if the suspension holds then the team could be in deep trouble to start the season. Let's take a closer look at the Patriots 2015 NFL schedule and figure out how the suspension will impact the team.
New England Patriots 2015 NFL Schedule
Week 1: vs Pittsburgh
Week 2: at Buffalo
Week 3: vs Jacksonville
Week 5: at Dallas
If the league's suspension is upheld, Brady will not play his first game of the season until Week 6 (the squad has a bye early in the year), when New England will ironically face the Indianapolis Colts, the team that reported the suspicion of deflated balls in the first place. The Week 1 line against the Steelers has already made drastic moves with the news of Brady's suspension. The line opened with New England favored by six points at most sportsbooks and has since moved by four points, with the Patriots now favored by two.
Backup quarterback Jimmy Garoppolo (who?) is expected to stand under center for those games. The Patriots schedule to begin the year is difficult to say the least, and the slow-starting squad was probably looking at a 2-2 record with Brady in the lineup anyway. Now that the reigning Super Bowl MVP is out, New England could begin the year 1-3 and end up in a situation where it must finish off the season 9-3 or 10-2 to earn a playoff berth. Let's take a closer look at those first four games and see which matchups the team can win.
Week 1 : New England was never a lock to win this game even with Brady in the lineup. The Steelers finished off last season with an 8-2 mark and seemed to finally get back on track after a horrendous start to the year. Pittsburgh is filled with talent on the roster and may finally be done with underachieving. Prediction: New England loss 0-1.
Week 2 : Rex Ryan and his squad will undoubtedly go into this matchup believing they can get a win. Buffalo split games with New England last season, and fans should expect Ryan to have a new defensive scheme drawn up and ready to disrupt the Patriots second-string quarterback. The Bills will also trot out a new and energized offense with LeSean McCoy doing much of the heavy lifting. Expect a close matchup that could go either way. Prediction: New England loss 0-2.
Week 3 : Jacksonville started off the 2015 season the only way Jacksonville knows how-with an ACL injury to their first-round draft pick that will cause the defensive end to miss his entire rookie season. The Jaguars will be hard pressed to improve on 2014s 3-13 team, and a win against a weakened Patriots squad will probably still not happen. Prediction: New England win 1-2.
Week 5 : New England is simply in a tough spot to start the year. Not only will they play Dallas in Week 5 and Indianapolis in Week 6, but they will also face four .500-or-better teams (from last season) during their first five matchups of the season. Week 5 feels like another loss without Brady and on the road against an excellent Cowboys squad: Prediction: New England loss 1-3.
The Patriots are in for a tough start to the 2015 season with or without Brady. The squad, however, will probably still be favored in most of its matchups, and bettors should look at taking the points against a New England team that will probably have a Super Bowl hangover and struggle either way.
Read more articles by George Monroy