NFL Office Pool Picks Week 14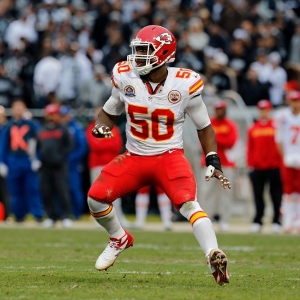 Another week, another set of games for us to pick. If this season stays true to form then the one thing we can be sure of is that there will be odd results in here. Some games will make complete sense and turn out true to form. And then the Eagles will beat up on the Patriots in Foxboro - or this week's equivalent craziness. All we can do is hope for the best - it seems like we're due. Here's how the straight up picks for the week set up:
Minnesota at Arizona: The Vikings were a team that was easy to like - until last week. They absolutely failed to show up against the Seahawks, and they have been showing signs of crumbling chemistry since. Now they have to face a brutal test on a short week. Arizona, meanwhile, looks as strong as any team in the league right now. Given the location, this one shapes up as a mismatch. Take the Cardinals.
Buffalo at Philadelphia: Philadelphia is suddenly in a three-way tie for the lead in the truly brutal NFC East. Weird year. They are playing better these days, though, and at home could actually be the better pick. Buffalo underwhelms despite their 6-6 record. Take the Eagles.
San Francisco at Cleveland: San Francisco isn't a great team, but Blaine Gabbert has them looking like a different and much better team than they were earlier. Cleveland is just Cleveland - and that's the furthest thing from a compliment. Take the Niners.
Detroit at St. Louis: The Lions aren't very good. They are inconsistent and lacking in top-level talent in too many spots. Lucky for them, the Rams are much worse. They don't have a quarterback, and that has had a predictably toxic effect on everything else they are doing. Ugly. Take the Lions.
New Orleans at Tampa Bay: I have a lot of respect for this New Orleans offense. They keep fighting and doing their jobs when the defense does absolutely nothing to help. They could have quit long ago, but they haven't. But that defense. Ugh. Tampa Bay is feisty, and they are at home. Worth a shot. Take the Bucs.
Tennessee at New York Jets: The Jets have won two in a row, and Ryan Fitzpatrick is playing better than anyone would have any reason to expect him to. Tennessee has some issues - like a general lack of overall talent and an absence of consistency. Take the Jets.
Pittsburgh at Cincinnati: Good game - as it so often is when these teams meet. The most common pick here is going to be Cincinnati. I can't really argue with that. I'm in the mood to gamble, though. I love how the Steelers are playing offensively right now. The way this season has gone for me it's not like I have anything to lose. Take the Steelers.
Indianapolis at Jacksonville: Awful game. The Jaguars can't seem to win, but the offense looked good last week. Indianapolis finds ways to trip over themselves time and time again. I hate trusting either team. When that happens, you have to default to the home team. Take the Jaguars.
San Diego at Kansas City: The Chiefs have won six straight. It will be seven. Hard to see it any other way. The Chargers just aren't good. At all. Not even a little bit. Take the Chiefs.
Washington at Chicago: The question here is which team is less traumatized after last week. The Bears lost in OT. Washington lost at the final buzzer after giving up a late TD and then scoring an even later one of their own. Both outcomes hurt. I guess I'll default to the home team again. Take the Bears.
Atlanta at Carolina: I have a simple rule right now that applies to this one. Are the Falcons playing? If yes, then you automatically take the other team. No exceptions. It's foolproof. Take the Panthers.
Seattle at Baltimore: Matt Schaub is consistently completing passes - to the other team. Russell Wilson and his Seahawks are finding their form after a rough start to the season. There are certainly tougher games to pick this week. Take the Seahawks.
Oakland at Denver: I'm disappointed in the Raiders and how they are playing over the last month or so. I shouldn't be too surprised, though - they are the Raiders after all. Against the unstoppable force that is Brock Osweiler they should be in trouble. Take the Broncos.
Dallas at Green Bay: Dallas won a very odd one on Monday night, but it was only against Washington. Even with their issues this year the Packers are dramatically better than Washington is. Take the Packers.
New England at Houston: Tougher game than we might have guessed. The Pats have suddenly lost two in a row and are still banged up. Meanwhile, Houston has been much better than they were earlier on. They had an off week last week, though, and New England will be playing angry. Take the Patriots.
New York Giants at Miami: I don't like much about the Giants right now. The Dolphins are terrible, though. I hate to have to do it, but take the Giants.
Doc's Sports has been successfully handicapping the NFL for years - more than four decades in the business - and wants to give new clients a chance to try our service for free. Click here for the hassle-free sign up and get $60 in free NFL picks today . Also, get three handicappers for the price of one when you sign up for a full-season football package! Click Here for details.
Read more articles by Trevor Whenham
---
Most Recent NFL Office Pool Picks