NFL Office Pool Picks Week 2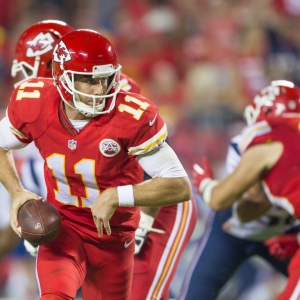 It was a respectable start to the season on the picking front. We didn't set any land speed records with the start we got off to, but I don't have any regrets. This week shows you just how tough the NFL can be to pick. Last year the underdogs reigned on opening weekend - as they often do. This year, though, we largely saw the favorites do what they were expected to do. The only thing constant about the NFL, then, is change. If you can come to terms with that then you'll be fine. So, can we build on what we learned to make a better set of picks in week 2? Here are my straight up picks for this week:
Denver at Kansas City: Both teams are unbeaten, but the differences are remarkable. Kansas City looked great on both sides of the ball to win a tough one on the road. Denver looked lousy at home and was saved by a kicker. You can't convince me that Peyton Manning is alright. When he should have been putting a foot on the throat in the second half he was dinking and dunking. Not good. Take the Chiefs.
Houston at Carolina: I wasn't crazy about how Carolina played, but they get credit for a win on the road. Now they return home against a Houston team that proved to have a few more questions than answers in the opener. Take the Panthers.
San Francisco at Pittsburgh: The Steelers lost the opener, and it wasn't that close. The offense was mostly solid, though, and there is room to grow on defense. This is a much better spot for them, and they'll be just fine. Take the Steelers.
Tampa Bay at New Orleans: I am not panicking about Jameis Winston. He looked like a rookie making his first start, and it wouldn't have been at all remarkable against any other opposing QB. He is in tough here, though, and his biggest issue is that he just plays for a lousy team. Take the Saints.
Detroit at Minnesota: I want to believe in both of these teams this year. The Lions make that tough, though - that was not a great start, and now they are on the road again. Take the Vikings.
Arizona at Chicago: Carson Palmer is a much better quarterback than he gets credit for. This team just wins with him at the helm. Chicago is a mess. That's no surprise, and it will take a while for that to change. Take the Cardinals.
New England at Buffalo: I liked the start that the Bills got, and it was impressive how strong their defense was. It's too early to jump fully on the bandwagon, though. This is a tougher pick than it has been in this matchup for years, but I still have to take the Patriots. Brady is smart and playing well, and I don't trust the Buffalo offense yet to keep up with him.
San Diego at Cincinnati: It would be easy to be impressed with the start the Bengals got - until we remember they only played Oakland. That barely counts as an NFL game. I don't like this team a whole lot, and I was very impressed by the toughness San Diego showed in their comeback. Take the Chargers.
Tennessee at Cleveland: I'm not willing to give Mariota the MVP, or even Rookie of the Year, just yet. He's a smart player in a good position, though, and he took advantage of the opportunity beautifully in the opener. He should do the same again here. Cleveland is a train wreck in cleats. Take the Titans.
Atlanta at New York Giants: The Giants last possession last week tells you all you need to know about this team. There was nothing that made sense - telling the running back not to score from the five on the first two downs, then throwing on third down to stop the clock and give the Cowboys eons to come back to score and win. Boneheaded. Incomprehensible. The signs of a team that isn't in a good place. Ugly. Take the Falcons.
St. Louis at Washington: Nick Foles had a very solid debut for the Rams. Nothing wrong with beating the two-time defending conference champion in your opener. The Rams are a good team. Washington isn't -- though they were decent on defense for the most part in the opener. Take the Rams.
Miami at Jacksonville: Miami was tough on the road in the first game. Now they play closer to home in a game that isn't any tougher. If they intend to be a contender then this is a spot they have to win. Take the Dolphins.
Baltimore at Oakland: As I write we haven't heard how bad Derek Carr's injury is. It's a problem either way, but not the only reason not to pick this team. They were just horrible in their opener. You would never guess Jack Del Rio had coached anything higher than a peewee game watching that farce. Awful. Baltimore has their woes - injuries and inconsistency - but that's not enough to be worried about here. Take the Ravens.
Dallas at Philadelphia: Great game. Coin flip. It sure won't be boring. Take the Eagles at home.
Seattle at Green Bay: Seattle doesn't need to be too ashamed of their opening effort, though it does show that this Kam Chancellor mess needs to be resolved immediately. I have bigger concerns about the team, though, and this is not a good spot for them. Green Bay will be more comfortable at home and is the more confident team right now. Take the Packers.
New York Jets at Indianapolis: The Colts couldn't have started more poorly if they tried. Ugly. The Jets won, but we know nothing about what they really are because the Browns were so truly lousy. I respect the New York defense, but the Colts will be ready for this one and are too good not to have learned from the debacle of last week's performance. Take the Colts.
Want free NFL picks? Doc's has you covered. New clients can take advantage of this great offer of $60 in free Doc's Sports members' picks for any handicapper on Doc's Advisory Board. Just check out these guys' pages and see what great work they have done making money for themselves and their clients over the years. Click here for this exclusive $60 picks offer. Also, get three handicappers for the price of one when you sign up for a full-season football package! Click Here for details.
Read more articles by Trevor Whenham