NFL Office Pool Picks Week 3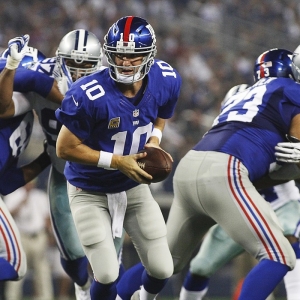 This freaking league. They just like to take every opportunity that they can to remind us that we don't know anything. Coming into the season I thought the Colts were ready to be serious contenders. Not so far. I picked the Eagles to win it all on the backs of their potent offense. I have about as many rushing yards as they do. Saints? Just awful. Seattle hasn't won. Houston sucks. So do the Lions. Marcus Mariota stunned the world then he forgot how to play. The Bucs and Raiders each looked impossibly bad in their opener then made winning look easy this week. Washington doesn't look nearly as terrible as they were thought to. The Jets can play defense like crazy. It's all bananas. I could go on, but my head hurts enough already. Let's just get to the picks for this week, with the sincere hope that things make more sense this time around:
Washington at New York Giants: Is it possible that Washington is competent? Not offensively, but defensively it seems like it could be true. The Giants, meanwhile, aren't. They have collapsed twice in the fourth quarter and could be on the verge of a total implosion. Still, I can't trust Washington enough to take them on the road in what has been a tough spot for them. Take the Giants.
Atlanta at Dallas: Dallas took a huge blow losing Tony Romo for awhile. Now they face an Atlanta team that has been reborn under new and finally competent coaching leadership. Take the Falcons.
Indianapolis at Tennessee: I hate this game. Just hate it. Andrew Luck was supposed to be winning the MVP this year, but he is playing like a guy who wants to get benched. Tennessee looked fantastic in their first game and lousy in their second. What to do? Indianapolis, on paper, is the better team by far even if they are horrifically underachieving. Take the Colts.
Oakland at Cleveland: Derek Carr and Johnny Manziel both looked very good last week, building strong relationships with emerging receivers. Who can pull it off twice in a row? I trust the talent of Carr more, so even though I don't trust either team at all, the Raiders are the pick.
Cincinnati at Baltimore: I don't like the Bengals nearly as much as their 2-0 record suggests I should, but the Ravens have issues that they need to resolve - and I don't trust them to do that right now. Take the Bengals.
Jacksonville at New England: Hugely disappointing opening game for the Jaguars. Quite a good second game. They are no match for Tom Brady right now. He is on fire, and it isn't going to stop yet. Take the Patriots.
New Orleans at Carolina: Carolina is playing strong defense. Their offense hasn't been atrocious. You can't say either thing about the Saints right now. Take the Panthers.
Philadelphia at New York Jets: I don't know how a team can play as poorly on offense as the Eagles did last week. What a mess. This suddenly-revitalized Jets' secondary is not what Bradford and company need to get back on track. Take the Jets.
Tampa Bay at Houston: This game just makes me shake my head. The Texans are doing crazy things with QB selection. They have not looked good. Tampa Bay has been very unpredictable, and they just aren't very talented. Take the Texans. I guess.
San Diego at Minnesota: I want to like the Chargers. They just haven't done enough to earn it, though. Minnesota has some issues, but they looked pretty solid last week, and I hope they can build on that here. Take the Vikings.
Pittsburgh at St. Louis: The Pittsburgh offense is firing on all cylinders. The St. Louis defense is underwhelming at the moment. Nick Foles has not looked good. Add it all up and the Steelers are the pick.
San Francisco at Arizona: The 49ers pulled off some voodoo in the opener, but they came back to earth in a big way last week. Arizona, meanwhile, have just been rolling along at an impressive clip. Take the Cardinals.
Buffalo at Miami: Wounded egos are in full supply here - the Bills were crushed by the Patriots, and Miami lost to their in-state weakling sisters. Who bounces back better? I have marginally more faith in Miami and they are at home. Take the Dolphins.
Chicago at Seattle: Seattle has struggled, but they haven't been as bad as it seems - those were two tough games to start a season with. This is a much easier game for them. Don't think that a win means that they are right back on track, but a win is what they will get. Take the Seahawks.
Denver at Detroit: I am assuming that Matthew Stafford is going to be limited or out because he has been beaten up so badly already. Peyton Manning has looked rough - one pass for a tying touchdown being an exception. Rough game. Take the Lions at home, but don't feel good about it.
Kansas City at Green Bay: Kansas City doesn't do anything particularly well. The Packers just crushed the Seahawks. One of these teams is much, much better than the other - and at home to boot. Take the Packers.
Doc's Sports has been successfully handicapping the NFL for years - more than four decades in the business - and wants to give new clients a chance to try our service for free. Click here for the hassle-free sign up and get $60 in free NFL picks today . Also, get three handicappers for the price of one when you sign up for a full-season football package! Click Here for details.
Read more articles by Trevor Whenham
---
Most Recent NFL Office Pool Picks