Odds for the 2015 Miami Dolphins NFL Home Schedule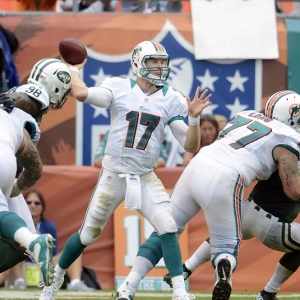 I understand why the NFL sends teams to London to help grow the sport. And I get a team like Jacksonville wants to do it because it needs all the exposure it can get and doesn't sell out at home. But it's a major disadvantage potentially for a team that figures to be in the playoff hunt to lose a home game, and that's the case for Miami this season. The Fins went to London last season and it worked out well, a 38-14 win over the Raiders, but that was an Oakland home game. If Miami loses overseas this year and misses the playoffs by that one game, keep that in mind.
The Dolphins will play in a renovated Sun Life Stadium this season (fully done in 2016, but some things are finished). They were just 4-4 there last year, 3-5 against the spread and 5-3 "over/under." Miami's 2015 home schedule (including London) ranks as tied for the third-hardest in the NFL with an opponents' 2014 winning percentage of .570. That is the toughest in the AFC East -- doesn't help the Fins' division title hopes that New England's home slate is one of the easiest.
Here's the schedule with very early (opponent) odds.
Sept. 27 -- Bills (+2): Miami comes off trips to Washington and Jacksonville, while Buffalo will be playing its first home game after hosting the Colts and Patriots. This is home debut of the Dolphins' big offseason signing, Ndamukong Suh. Miami beat visiting Buffalo 22-9 on a Thursday night last season. The Dolphins trailed 9-3 before outscoring the Bills 19-0 over the final 18 minutes. Ryan Tannehill, the new $100 million man, went 26-for-34 for 240 yards and two scores. Key trend: Dolphins 6-4 ATS in past 10 as a home favorite in series.
Oct. 4 -- Jets (+3.5): This is your London game, meaning the Dolphins are off the following week. New York comes off a home game against Philadelphia. This will be the Fins' first look at new Jets coach Todd Bowles. Miami lost to visiting New York 37-24 in Week 17 last season, a week after owner Stephen Ross (stupidly in my opinion) said that Coach Joe Philbin would return in 2015. The Dolphins missed a shot at their first winning season since 2008. Tannehill threw for 259 yards and a score, and Lamar Miller rushed for a career-high 178 yards, including a 97-yard TD run that was the NFL's longest play from scrimmage in 2014. Key trend: Dolphins 5-5 ATS in past 10 before a bye (any location).
Oct. 25 -- Texans (+3): Dolphins are off that bye and a trip to Tennessee. Houston is in Jacksonville in Week 6. Maybe the Texans simply stay in Florida for the week and practice in the humidity. Two highest-paid defensive players in the NFL here in the Texans' J.J. Watt and Suh. First meeting since 2012. Miami is a surprising 0-7 all-time against Houston. Key trend: Dolphins 3-7 ATS in past 10 at home vs. AFC South.
Nov. 22 -- Cowboys (+1): Long break in between home games as Miami has trips to New England, Buffalo and Philadelphia ahead of this. Dallas comes off a trip to Tampa, so perhaps the Cowboys also stay in Florida for the week as well. First meeting between teams since 2011 and first Dallas visit since 2007. Key trend: Dolphins 5-5 ATS in past 10 at home as a favorite of 2.5 points or fewer.
Dec. 6 -- Ravens (pick'em): Miami is off a trip to the Jets, while Baltimore is on a short week as it hosts Cleveland on Monday in Week 12. This game could have big wild-card implications as it did last season. Baltimore won 28-13 in south Florida in Week 14. Dolphins were up 10-0 after one quarter, but they finished with only 249 total yards. Tannehill threw for 227 yards and a score but was sacked six times. Key trend: Dolphins 3-7 ATS in past 10 at home vs. AFC North.
Dec. 14 -- Giants (+3): This is Miami's lone Monday night game. The Giants are off a home game against the Jets. I don't know about you, but I find Tannehill and Eli Manning to be similar in many ways, at least regular-season Eli. Of course, we haven't seen playoff Tannehill yet. First Giants trip to Miami since 2007, and I have a feeling there will be plenty of New Yorkers in the stands in mid-December! Key trend: Dolphins 4-6 ATS in past 10 at home vs. NFC.
Dec. 27 -- Colts (pick'em): Miami is off a trip to San Diego, while Indianapolis hosts Houston in Week 15. Indy might not have anything to play for by this point as I expect the South is clinched by now and maybe the Colts are locked into a playoff seed. Teams last met in September 2013, a Dolphins 24-20 win in Indianapolis. Tannehill outplayed Andrew Luck in that one. Key trend: I'm going to speculate that Miami is a small dog here. The Fins are 5-5 ATS in past 10 at home as a dog of 3 points or fewer.
Jan. 3 -- Patriots (TBA): No Week 17 lines because of the potential intangibles involved on the final Sunday. If Miami is going to dethrone the Patriots atop the division, you want this as your finale as the AFC East could be on the line. New England is off a trip to the Jets in Week 16. Miami beat visiting New England 33-20 in Week 1 last year after trailing 20-10 at halftime. The Fins had three turnovers and Tannehill threw for only 178 yards, but former Dolphins running back Knowshon Moreno had 134 yards rushing and a TD. Key trend: Dolphins 4-5-1 ATS in past 10 at home in series.
Get free picks from any Doc's Sports handicapper - there is no obligation for this offer and no credit card required. Just sign up for an account, and you can use the $60 in free picks for any Doc's Sports Advisory Board handicapper and any sport. Click here to get started now.
Read more articles by Alan Matthews