Odds for the 2015 New England Patriots NFL Home Schedule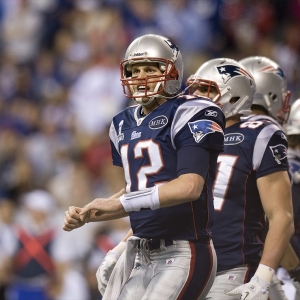 Are you ready for a summer of football? Welcome to my first schedule analysis looking toward the 2015 NFL season. I will break down all 32 teams' schedules into their home and road slates and try to give you relevant betting trends and advice on each. You can look for actual team-by-team previews later this summer. This will be simply opponent-based.
We will start at the top with the Super Bowl champion New England Patriots, who have been in the news a bit this week with the surprising four-game suspension of quarterback Tom Brady for his role in "Deflategate." I think that's about right (not sure about the $1 million fine for the Patriots and two lost draft picks), but there's a decent chance that Brady gets a reduction on appeal. For this story's purposes, I am going to stick with the four games missed. Bovada actually is offering a prop on the result of his appeal. Check that out.
The Patriots lost only one home game all last season, including playoffs. They were 5-3 against the spread at Gillette Stadium during the regular season and 5-3 "over/under." New England's 2015 home slate ranks as the fourth easiest in the NFL with an opponents' winning percentage of just .398. It's the easiest by far in the AFC East. Here they are with early game odds (for opponent).
Sept. 10 -- Steelers (pick'em): This looked like the marquee matchup of Week 1 with Brady facing Ben Roethlisberger. I see no way that Brady's suspension gets completely overturned, so expect to see 2014 second-round pick Jimmy Garoppolo under center. He threw 27 passes in mop-up duty last year and completed 19 for 182 yards and a touchdown. New England also will be without running back LeGarrette Blount due to a one-game suspension, but the Steelers will be without their much better running back, Le'Veon Bell, as well. This opened as New England -6 but is now a "pick'em" post-suspension. Key trends: New England is 3-2 ATS in its past five in this series, and the over has hit four times.
Sept. 27 -- Jaguars (+11.5): This line would change if Brady is out. Really the Patriots probably don't need Brady considering how pathetic that Jacksonville was last season offensively. Some might prefer Garoppolo to Jags second-year quarterback Blake Bortles. Plus the Jaguars sadly lost No. 3 overall pick Dante Fowler Jr. already to a season-ending torn ACL, meaning they will have no pass rush again. Key trends: New England is 6-0 all-time vs. Jacksonville in the regular season and has covered four of those.
Oct. 25 -- Jets (+8.5): If the suspension stands, this would be Brady's home debut as in Week 4 the Pats are on the bye and then at Dallas and at Indianapolis (Brady's return as things stand) in Weeks 5-6. Last season in Foxboro, the Patriots beat the Jets 27-25, which was the closest win of New England's season-high seven-game winning streak. In fact, the other six were all blowouts. The Pats blocked the potential winning Nick Folk 58-yard field goal at the end. Sadly, no Rex Ryan in this one. But the Patriots now have to deal with Darrelle Revis again. Key trend: the Pats are 6-3 ATS in their past nine October home games vs. the Jets.
Oct. 29 -- Dolphins (+5.5): The Patriots trashed the visiting Dolphins in Week 15 last season, 41-13, to clinch the AFC East title for a sixth straight year. The Patriots became the first team in NFL history with 11 division titles in 12 years. The only other team to win it in that stretch? Miami in 2008 when Brady was lost in Week 1. Key trend: New England has covered six of its past 10 vs. Miami as a favorite.
Nov. 8 -- Redskins (+8.5): Our first and maybe only Robert Griffin III vs. Brady matchup. These teams last played in 2011 when Rex Grossman was Washington's quarterback and RGIII was winning a Heisman at Baylor. Key trends: New England has won seven of its past 10 at home vs. the NFC but covered only five.
Nov. 23 -- Bills (+5.5): Ryan returns to Foxboro with his new team, and this is New England's only Monday night game of the season. In Week 17 last season, the visiting Bills beat the Patriots 17-9, but that game meant nothing. Brady and the rest of the starters didn't play much and some not at all. The loss snapped several streaks: Buffalo's 0-12 record at Gillette Stadium, and New England's 35 home wins against AFC teams and 16 at home against any opponent. Key trends: The Pats are 9-1 at home in their past 10 vs. Buffalo as a favorite but only 4-6 ATS.
Dec. 6 -- Eagles (+4): Possible Super Bowl preview? This could be a bit of a letdown game for the Patriots as they visit Denver in likely the final Brady vs. Peyton Manning regular-season meeting the week before on a Sunday night. Plus, it's the Patriots' final game against an NFC team, and those mean much less in terms of potential tiebreakers. Key trends: Pats are 8-2 in past 10 at home vs. NFC East but only 5-5 ATS.
Dec. 20 -- Titans (+10.5): This is the home finale and ahead of two key division games. Potential trap against a probably lousy Titans team with a rookie QB (Marcus Mariota)? Key trends: Patriots are 3-0 ATS and all three have gone over in home games vs. Tennessee since the Titans moved from Houston to Nashville.
Read more articles by Alan Matthews