Odds for the 2015 St. Louis Rams NFL Road Schedule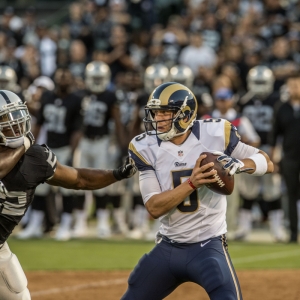 This my 64th and final story previewing each team's home and road schedules for the coming NFL season. Only three weeks until the Steelers and Patriots kick things off on Sept. 10 in Foxboro.
I was one of those on the Rams' bandwagon last season as a potential wild-card team but jumped off immediately once Sam Bradford suffered (another) season-ending ACL injury in the preseason. The Rams don't have to worry about the brittle Bradford any longer as they dealt him to Philadelphia for Nick Foles. It's not like Foles has been a picture of health in his three-year career, however. But the Rams are all-in with him for now as they already have signed Foles to a two-year extension through 2017 worth around $24 million. The final year of the contract can void based on performance. If Foles is pretty good, then getting him at $12 million a season is a great deal. The Rams were 6-10 last year and ended 2014 having played 25 consecutive games without Bradford. Austin Davis, who's competing with Case Keenum for the backup job, shared starting duties with Shawn Hill last season.
I still worry about the Rams' receivers as they are one of the worst groups in the NFL. I'm definitely interested to see how rookie running back Todd Gurley fares in the NFL, but he's not likely to be ready to start the season off his serious injury suffered last year at Georgia. Gurley has been compared to a young Adrian Peterson.
The defense should be fantastic, especially the front four. Anything less than a 9-7 record probably means the end of Jeff Fisher's tenure as head coach. Then you have the whole potential move to Los Angeles hanging over the franchise. But I think it can finish second in the West with the 49ers taking a huge step back and the Cardinals having overachieved in 2014.
The Rams were 3-5 on the road last season, 4-4 against the spread and 3-5 "over/under." Their 2015 road schedule ranks as the third-toughest in the NFL with an opponents' combined 2014 winning percentage of .582. It's the second-hardest in the NFC West behind Seattle.
Here's the schedule with very early (opponent) odds. There are five road games against 2014 playoff teams.
Sept. 20 -- at Redskins (+2): This could be a huge letdown game for St. Louis if it can somehow upset visiting Seattle in Week 1. Washington hosts Miami to start the season. I have to mention the RGIII draft pick trade between the Rams and Redskins as it stocked St. Louis with some good young players with all those picks in received in return. The Rams' final win of last year was 24-0 in Washington in Week 14. It was the team's second straight shutout, which the franchise hadn't done since 1945. Rams win this. Key trend: Rams 6-4 ATS in past 10 as road favorite.
Oct. 4 -- at Cardinals (-3.5): St. Louis off a Week 3 home game vs. Pittsburgh, while Arizona is home to San Francisco the previous Sunday. The Rams lost 31-14 at the Cardinals in Week 10 last season. St. Louis led 14-10 entering the fourth and had knocked out Cards starting QB Carson Palmer with what would be a season-ending injury. But Rams QB Davis had a pick and fumble both returned for touchdowns in the fourth quarter. Rams win this. Key trend: Rams 3-7 ATS in past 10 as road dog in series.
Oct. 11 -- at Packers (-5.5): This is ahead of the Rams' bye week. Green Bay is off a trip to San Francisco in Week 4. St. Louis has lost four straight in series, last in 2012. All four losses have been by double digits. Make it five. Key trend: Rams 5-5 ATS in past 10 before a bye (any location).
Nov. 8 -- at Vikings (pick'em): St. Louis is off a home game vs. San Francisco, while Minnesota is in Chicago in Week 8. I think this game could be important for a second wild-card spot as many like the Vikings as a team on the rise with St. Louis. The Rams opened last season at home vs. the Vikings and were pounded 34-6. St. Louis starting QB Hill lasted only a half before getting injured. He was replaced by Davis. Rams lose this. Key trend: Rams 5-5 ATS in past 10 at NFC North teams.
Nov. 22 -- at Ravens (-3.5): St. Louis off a home game vs. Chicago, while Baltimore is home to Jacksonville in Week 10. Rams lost last meeting 37-7 in 2011. They lose this one. Key trend: Rams 8-2 ATS in past 10 at AFC teams.
Nov. 29 -- at Bengals (-2.5): Probably the final chance of an outdoor winter-type game for St. Louis. Cincinnati comes off a trip to Arizona in Week 11. Rams have lost two straight in series, last in 2011. Make it three. Key trend: Rams 5-5 ATS past 10 as road dog of 2.5 points or fewer.
Dec. 27 -- at Seahawks (-6.5): Rams off a three-game homestand, capped by a Week 15 Thursday game vs. Tampa Bay that could be the finale in the city of St. Louis. Seattle is home to Cleveland the previous Sunday. Rams closed last season with a 20-6 loss in Seattle. St. Louis had three fourth-quarter turnovers. The Rams finished with just 42 yards rushing and no play longer than 20 yards. They lose this one. Key trend: Rams 3-7 ATS in past 10 as road dog in series.
Jan. 3 -- at 49ers (TBA): Again, no Week 17 line with too many potential intangibles on the final Sunday. San Francisco is off a Week 16 trip to Detroit. St. Louis won 13-10 at the Niners in Week 9 last season thanks to a Colin Kaepernick goal-line fumble with two seconds left. The Rams had eight sacks of Kaepernick to offset just 193 total yards on offense. I expect the Niners to stink this season and this to possibly matter for the Rams, so let's say they win it. Key trend: Rams 4-6 ATS in past 10 at 49ers.
It's another football season, and Doc's Sports want to help you make it a winner. Take $60 worth of free, no obligation picks from us. See what we're about and what we can offer. Absolutely nothing to lose. Plenty to gain. Sign up today! Also, get three handicappers for the price of one when you sign up for a full-season football package! Click Here for details.
Read more articles by Alan Matthews