Odds for the 2015 Tampa Bay Buccaneers NFL Road Schedule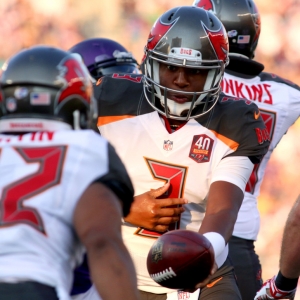 You know how all these sites (ESPN, MMQB, NFL.com, etc.), put out most improved lists each offseason? I urge you to not take those as gospel. The Tampa Bay Buccaneers were on everyone's most improved list last season after adding a ton of free agents as well as Coach Lovie Smith. So of course the Bucs finished 2-14 and got the No. 1 overall pick in the draft.
That said, I don't think the Bucs were that bad and that there is some big-time talent on this team. I'd take the receiving duo of Vincent Jackson and rising star Mike Evans over most other teams' best two. The defense should be excellent and has one of the NFL's best tackles in Gerald McCoy and linebackers in Lavonte David, who just got a big new extension. Yes, there are major questions on the offensive line and at running back, although everyone who follows the Bucs daily has been raving that Doug Martin looks like his 2012 "Muscle Hamster" days when he had one of the best rookie seasons of any running back ever.
But let's not kid ourselves. This all comes down to quarterback Jameis Winston. To little surprise, he is the +550 favorite at 5Dimes to win NFL Offensive Rookie of the Year. Not sure that's a smart bet as Winston is going to struggle at times behind that line and with interceptions -- the latter was a major problem last season at Florida State. He won't be as bad as Blake Bortles was as a rookie but won't be Andrew Luck, either. Winston didn't look good at all in his preseason debut Saturday against the Vikings. Maybe Bucs fans should expect something like how the other Florida NFL QB performed in his rookie season, Miami's Ryan Tannehill.
I don't do guarantees, but it's a sure thing that Tampa won't win two games again -- and it won't be fewer than that. The Bucs were 2-6 on the road last season (were only winless home team), 5-3 against the spread and 4-4 "over/under." Their 2015 road schedule ranks as the 11th-easiest in the NFL with an opponents' combined 2014 winning percentage of .473. It's tied for the hardest in the NFC South with New Orleans.
Here's the schedule with very early (opponent) odds. There are only two road games against 2014 playoff teams.
Sept. 20 -- at Saints (-6.5): Tampa Bay is off what should be a Week 1 home win over Tennessee. New Orleans is in Arizona on the first Sunday of the season. Tampa lost 37-31 in overtime at New Orleans in Week 5 last season. The Bucs really should have won but blew a 31-20 fourth-quarter lead. The Bucs had 15 penalties for 113 yards, including a crucial one on cornerback Jonathan Banks on third down in overtime when the Saints would have had to punt. Tampa Bay quarterback Mike Glennon was 19-for-32 for 249 yards and two touchdowns. Jackson had eight catches for 144 yards. Bucs lose this. Key trend: Bucs 6-4 ATS in past 10 as road dog of at least 6 points in series.
Sept. 27 -- at Texans (-6.5): Houston is off a Week 2 trip to Carolina. This will be a matchup of No. 1 overall picks if Houston defensive end Jadeveon Clowney is healthy, and that's no sure thing. When is the last time a No. 1 overall defensive player sacked a No. 1 overall QB? Hmmm. These teams have only played three times and Bucs have lost past two. Make it three. Key trend: Bucs 0-6 ATS all-time at AFC South teams.
Oct. 25 -- at Redskins (-4): Tampa Bay comes off its bye week, while Washington is at the Jets in Week 6. Of course a matchup of Heisman winners here in Winston and Robert Griffin III -- if RGII is healthy at this point, and that's no sure thing. Tampa's final win of 2014 was 27-7 at Washington in Week 11. Evans caught seven passes for 209 yards and two scores in his biggest game as a rookie Josh McCown (now with Browns) started at QB. Bucs win this. Key trend: Bucs 6-4 ATS in past 10 after a bye (any location).
Nov. 1 -- at Falcons (-5.5): Atlanta is off a Week 7 trip to Tennessee. Easily Tampa Bay's worst game of last year was a 56-14 embarrassment on Thursday at the Georgia Dome in Week 3 last year. The Bucs were down 35-0 before even getting a first down and 56-0 entering the fourth. Against the Falcons reserves, Tampa scored two meaningless touchdowns to avoid the worst loss in franchise history. McCown was awful before leaving with a thumb injury. Bucs lose this. Key trend: Bucs 5-5 ATS in past 10 as a road dog of at least 5 points in series (lost six straight SU).
Nov. 22 -- at Eagles (-8.5): Could be another matchup of Heisman winners and No. 1 overall picks here in Winston and Philly QB Sam Bradford. If Bradford is healthy by this point, and that's no sure thing (noticing a trend?). Bucs have lost three straight in series, last in 2013. Make it four. Key trend: Bus 4-6 ATS in past 10 at NFC East teams.
Nov. 29 -- at Colts (-9.5): Another all-No. 1 overall pick matchup, this time against Luck. And I think he will be healthy. Indianapolis is off a trip to Atlanta in Week 11. Bucs won last meeting 24-17 in 2011, but Luck was at Stanford then and Winston a senior in high school. Bucs lose this. Key trend: Bucs 1-9 SU (7-3 ATS) in past 10 as road dog of at least 9 points.
Dec. 17 -- at Rams (-8): Thursday night game and Tampa's last indoors. Bucs are off a home game vs. New Orleans in Week 14, while St. Louis is home to Detroit the previous Sunday. It's the Rams' home finale -- maybe ever there? Bucs lost at home 19-17 to Rams in Week 2 last year on a Greg Zuerlein field goal with 38 seconds left. Bobby Rainey rushed for 144 yards and McCown had two short touchdown runs for the Bucs. The game ended with the Bucs at the St. Louis 32, but the final eight seconds had to be run off because Evans was injured. Bucs lose this. Key trend: Bucs 4-6 ATS in past 10 at NFC West teams.
Jan. 3 -- at Panthers (TBA): Again, no Week 17 lines with too many potential intangibles. Might the Panthers need win here for a third straight NFC South title? Tampa off a Week 16 game at home vs. Chicago, while Carolina is in Atlanta the previous Sunday. Yet another Heisman/No. 1 overall pick matchup with Winston and Cam Newton. That should be a good rivalry going forward. The Bucs were swept last year by the Panthers but never faced Newton -- it was Derek Anderson both times. The game in Charlotte was 19-17 for Carolina in Week 15. McCown had a pick and two lost fumbles. Bucs lose this. Key trend: Bucs 5-5 ATS in past 10 as a dog in series.
You can get free NFL picks everywhere. What you can't usually get though, is free access to top-quality picks from expert handicappers - the same picks that member's happily pay for. Doc's Sports wants to give you $60 worth of NFL picks absolutely free. No obligation - just click here.
Read more articles by Alan Matthews