Expert NFL Picks: Props Odds and Predictions for Most Receiving Yards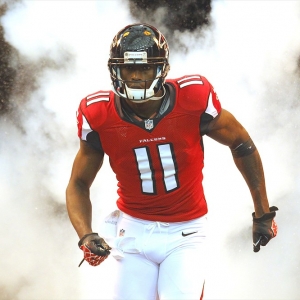 Last year it was a two-horse race for the receiving title in the NFL. Julio Jones of the Falcons and Antonio Brown of the Steelers both led the league with 136 receptions, but Jones had the slightly better average yards per catch and came out 37 yards ahead with 1,871 yards. The odds suggest that those two again are in the driver's seat of what promises to be another tight and exciting race. BetOnline has posted their odds for the top receivers this year, and there is plenty of interest:
Antonio Brown, Pittsburgh (+350): It's not hard to make a case for Brown as the favorite despite him falling short last year. He is the top receiver on what should be the top offense in the league this year, and he has incredible chemistry with Big Ben. Roethlisberger is healthy out of the gate this year, too, and has the chance to pile up some truly stunning passing numbers. Remember, Brown put up those numbers last year even though Roethlisberger missed four games due to injury. Maybe the most amazing thing of all, though, is that Brown was only a sixth-round draft pick out of Central Michigan in 2010. A lot of scouts were asleep that year, it seems. Deserving favorite.
Julio Jones, Atlanta (+450): Jones is the opposite of Brown - a blue chip draft pick who has done what he was drafted to do. Kyle Shanahan took over at offensive coordinator last year, and Jones saw the ball a lot more as a result. That should continue this year, though opposing defenses will know more of what to expect. The biggest concern I have here is durability - Jones has played just two full seasons over the last five years. I also am just not convinced that this team is going to be any good. I like Brown a lot more despite the lower price.
Odell Beckham Jr., New York Giants (+850): If it was a race for highlight reel catches then Beckham would be the clear leader, but he was just fifth last year in yardage. He did lose a game to suspension last year, though, and that didn't help. Eli Manning is a passer who will look to Beckham a lot, and he is good at amassing yards after the catch - better than the first two on this list. He's worth a shot at this price - the most attractive so far, and the second most attractive overall in my eyes.
DeAndre Hopkins, Houston (+1000): Hopkins was third last year, albeit 350 yards behind Jones. If you think of who he had throwing passes to him in Houston last year, though, that's remarkable. I'm not as optimistic as others about Brock Osweiler this year, though, and Hopkins is weak at yards after the catch. He'll be a contender, the price isn't enough to bet on him to be the leader.
A.J. Green, Cincinnati (+1400): Green saw his usage fall last year in Cincinnati's deep offense, and his numbers were well behind the leaders as a result. The Bengals said goodbye to two strong receivers in the offseason, though, so Green should again see a big share of the action. He'll be closer to the leaders, but I still don't like his chances of coming out on top.
Jordy Nelson, Green Bay (+1800): Nelson missed all of last season with a torn ACL. He is expected to be back at full strength this year, but as of now he has not fully rejoined the team for drills. That's a concern. He has immense talent and a quarterback who can sling it with the best, but there is just too much risk involved to even consider this bet.
Allen Robinson, Jacksonville (+2000): This is not only my top pick here, but at this price it is also my favorite prop bet of any heading into the season. Robinson last year was sixth with 1,400 yards, and his stellar 17.5 yards per catch were by far the best by any top receiver - fully four yards per catch more than Brown. The Jaguars should be much improved this year, and in his third year Blake Bortles is poised to have a huge passing year. Bortles and Robinson worked very hard together this offseason, and they have excellent chemistry. He had just 80 receptions last year, but we should see him targeted much more this year. This is a bet packed with value.
T.Y. Hilton, Indianapolis (+2000): Hilton is interesting, though not nearly as interesting at the same price as Robinson. Last year he posted more than 1,100 receiving yards despite having to deal with one of the messiest QB situations in the league. If you believe in Andrew Luck, and believe that he can stay healthy, then you have to be optimistic for Hilton's chances of having a much better year - if only because a higher percentage of passes to him will be close enough for him to try to catch them.
Read more articles by Trevor Whenham