2016 New York Jets Home Schedule Odds and Picks with Win Total Predictions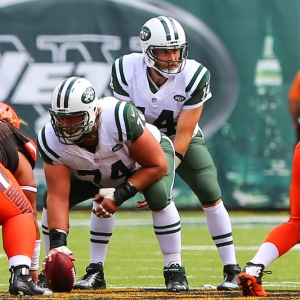 When I previewed the Jets' 2016 road schedule back in late May, I wrote that "I have a hard time believing they will enter the season with a trio of Geno Smith, Bryce Petty and 2016 second-round pick Christian Hackenberg as their quarterbacks." And, expectedly, the Jets did sign last year's starter, Ryan Fitzpatrick, to a one-year, $12 million deal on the eve of training camp with another $3 million possible in incentives.
I think that's a great deal for the Jets even though back in June the Jets were not reportedly interested in offering the exact same deal. But I think this is wise because Fitzpatrick clearly has the support of the locker room after leading the Jets to a 10-6 mark last year and just missing the playoffs. Fitz had a career year in passing for 3,905 yards and 31 touchdowns. But he also had 15 picks and some really bad games. This guy is a journeyman for a reason. So let him prove it again. Plus, presumably either Hackenberg, this year's second-round pick, or Petty, last year's fourth-round selection, will be the 2017 starter.
The Jets also made one of their top defensive players happy a few weeks before camp started in giving excellent end Muhammad Wilkerson a five-year extension. That was a moderate surprise as the sides were reportedly really far apart and Wilkerson was ready to hold out. He made the Pro Bowl for the first time in 2015 and had a career-best 12 sacks. That deal actually helped free up money to give Fitzpatrick.
This offense could be pretty good if Fitzpatrick plays even 85 percent at last year's level. The Jets have a terrific receiving combo of Brandon Marshall and Eric Decker. Marshall, who was gotten for a song from the Bears last offseason, caught 109 passes for 1,502 yards and 14 scores, while Decker had 80 catches for 1,027 yards and 12 scores. They had TD catches in the same game nine times, an NFL record for teammates. They also became the first Jets pair to each catch 10-plus TDs in a season. Can't ask for better than that. Leading rusher Chris Ivory (247 carries, 1,070 yards, seven TDs) left for Jacksonville as a free agent. But the Jets re-signed underrated Bilal Powell and added former Bears running back Matt Forte.
I'd still say this is the second-best team in the AFC East. And maybe if the Patriots struggle in the first four games without Tom Brady, the Jets can steal the division. Unfortunately for New York, it doesn't get a shot at the Patriots in the first four weeks.
The Jets were 6-2 at home last season, 5-3 against the spread and 5-3 "over/under." Gang Green hosts three 2015 playoff teams this season. I project a 6-2 record. BetOnline gives the Jets a wins total of 8, with the under a -150 favorite. I'm going to project 9-7, but I don't have a lot of faith in that because I don't have much in Fitz. Overall, New York's strength of schedule ranks as tied for the seventh-hardest in the NFL with an opponents' combined 2015 winning percentage of .531. Odds listed below for the home team.
Sept. 11 vs. Bengals (+2, 42): New York catches potentially two great breaks here. For sure out for the Bengals is top linebacker Vontaze Burfict, who is suspended the first three games of the season. Probably out is Pro Bowl tight end Tyler Eifert off ankle surgery; he was hurt in the Pro Bowl, and the Bengals don't seem too confident he'll be ready come Week 1. I think the Jets win this game now. They better with a killer schedule through Week 6. Key trend: Jets have won nine straight at home in series and covered past four.
Oct. 2 vs. Seahawks (+2): Jets are off a Week 3 trip to Kansas City. Seattle is home to the 49ers in Week 3 and ahead of its bye. It's the Seahawks' first trip to MetLife Stadium since routing Denver in Super Bowl XLVIII in February 2014. The Jets have lost past two in series, both on road. Key trend: Jets 6-4 ATS in past 10 as a home dog of 2.5 points or fewer.
Oct. 23 vs. Ravens (-4): Short week for New York as it's at Arizona on Monday in Week 6. Baltimore can simply make camp in MetLife Stadium as it is at the Giants the previous Sunday. The Jets have lost eight in a row in the series, not having scored more than 20 points in any game. Key trend: Jets 7-3 ATS in past 10 at home vs. AFC North.
Nov. 13 vs. Rams (-4): One of those tough 10 a.m. Pacific time starts for the now West Coast Rams. New York is off a trip to Miami in Week 9 and ahead of its bye week. Los Angeles is home to Carolina the previous Sunday. New York has won past two in the series easily. Key trend: Jets 7-3 ATS in past 10 before a bye (any location).
Nov. 27 vs. Patriots (+2.5): Sunday night game. Jets are off their bye. New England is in San Francisco in Week 11. The Jets lost 30-23 in Foxboro in Week 7 last year. New York led 20-16 midway through the fourth. The game ended with the Jets on the Patriots' 37 when Marshall was called for a false-start penalty. Fitzpatrick completed 22 of 39 passes for 295 yards and a pair of touchdowns. Key trend: Jets have covered five of past six as home dog in series.
Dec. 5 vs. Colts (-2): Monday night game. Indianapolis is on extra rest as it hosts Pittsburgh on Thursday in Week 12. The Jets won 20-7 in Indy on Monday night in Week 2 last year. Darrelle Revis had an interception and two recovered fumbles. Fitzpatrick finished 22 of 34 for 244 yards with two touchdown passes and one interception in getting his first career win at Lucas Oil Stadium. In an odd stat, he became the first player since 1950 to start five consecutive road games against one team while playing for five different teams. Key trend: Jets 7-3 ATS in past 10 at home vs. AFC South.
Dec. 17 vs. Dolphins (-5): Saturday night game, and it should be plenty cold for the warm-weather Fins. New York is in San Francisco the previous Sunday. Miami hosts Arizona. The Jets beat the visiting Dolphins 38-20 in Week 12 last season. Fitzpatrick threw for 277 yards and four scores without a pick. Marshall caught nine for 131 and two TDs. Key trend: Jets 5-4-1 ATS in past 10 as home favorite in series.
Jan. 1 vs. Buffalo (TBA): Still no Week 17 lines posted with too much potentially up in the air on the final Sunday. Jets are in New England the previous Saturday. Buffalo hosts Miami in Week 16. The Jets lost both games to the Bills by the unusual score of 22-17 in 2015. The home matchup was Week 10 on a Thursday. Fitzpatrick wasn't good, going 15-for-34 for 193 yards, two TDs and two picks. The Jets had four turnovers and forced none. Key trend: Jets 3-7 ATS in past 10 at home in series.
Ready to bet on some NFL winners this year? Doc's Sports wants to help you get started by giving you $60 worth of picks completely free. No obligation. No salespeople to deal with. You don't even need to give us a credit card number. Click here to get started and get your free picks in minutes.
Read more articles by Alan Matthews