NFL Betting Predictions: Week 13 Opening Line Report and Picks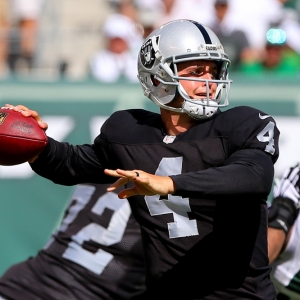 I don't consider that many records in sports to be truly unbreakable, but there are some. Nobody is obviously going to match Cy Young's Major League Baseball record of 511 wins. Shoot, we may not see any more 300-win pitchers with how starters are used these days. Cal Ripken's record of 2,632 straight games played also won't be broken or even remotely approached. No player in the NBA is going to score 100 points in a game like Wilt Chamberlain did. And no NHL guy is coming within a mile of Wayne Gretzky's 2,857 points.
I mention these because I believe Patriots quarterback Tom Brady is going to set an unbreakable record this Sunday and only add to it over the next few years. In this past Sunday's rather ugly 22-17 win at the Jets -- New York always plays New England well, so I hope you took the points as I recommended last week (and the under) -- Brady threw for 286 yards and led the game-winning touchdown drive to win his 200th career game as an NFL starting QB, including playoffs. That ties the record held by Peyton Manning.
Think about that total for a minute. Let's say you play 15 years and win 10 games every regular season. You are still 50 short! OK, maybe throw in a handful of playoff victories in there, but it's an incredible number. Brady says he wants to play into his 40s, so he could put this number somewhere around 250 if that's the case. I just don't see any QB going forward playing long enough and on a team good enough to approach whatever number Brady finishes on. I still say Manning was the better regular-season QB, but I don't think there can be any argument that if Brady wins a fifth Super Bowl ring that he's the best all time. The Pats remain +210 favorites at BetOnline to win Super Bowl LI in Houston.
This week, New England opened as by far the biggest favorites on the board at -13.5 against the visiting Rams. So that's 200 wins (Brady) vs. zero (Jared Goff). Will Brady have Rob Gronkowski? Gronk returned from a one-game injury absence vs. the Jets but was forced from the game with back troubles. Early reports indicate it's not serious and he should play, but the Pats aren't the same without Gronk and might choose to sit him against an overmatched opponent and get him as healthy as possible for the stretch run. Brady, by the way, played through a knee injury vs. the Jets but said it already feels better this week than last. The Patriots can't let up as the streaking Dolphins remain just two games back in the division. New England also is still in a dogfight with fellow 9-2 team Oakland for the AFC's top seed.
Here are some Week 13 early lines that caught my eye. I won't touch on Thursday night's game (Cowboys-Vikings), Sunday's marquee matchup (most likely Bucs-Chargers) or the Monday night game (Colts-Jets). It's the last week of byes, with Cleveland and Tennessee off.
San Francisco 49ers at Chicago Bears (-2.5, 43.5): It's the Toilet Bowl for the 2016 season. Were the NFL Draft to be held today, of course the winless Browns would pick first followed by San Francisco (1-10) and Chicago (2-9). I'm pretty confident that Cleveland will stay at No. 1, but the loser here seems very likely to pick No. 2 overall, although Jacksonville (2-9) could still factor in. Most mock drafts have the Browns not taking a QB with that top pick but Texas A&M star pass-rusher Myles Garrett. Then Cleveland would take a QB with the first-round pick it is owed from the Eagles. The 49ers and Bears are absolutely taking a QB early in the 2017 draft. So the loser Sunday would have its pick of guys. Both the Niners and Bears nearly staged big comeback wins over the Dolphins and Titans, respectively, in Week 12. But San Francisco lost its 10th straight and Chicago its third in a row. The Bears should have won but had 10 dropped passes, the most in the NFL since Pro Football Focus has been charting those (2006). One was the potential winning TD pass from Matt Barkley to Josh Bellamy in the final minute. Barkley actually played pretty decent in his first NFL start. The Bears did lose another key player to season-ending injury: linebacker Danny Trevathan. The pick: Bears and "under."
Kansas City Chiefs at Atlanta Falcons (-3, 49): What an amazing, unlikely win by Kansas City in overtime on Sunday night in Denver. That game looked like an utter bore for the first half but became crazy in the fourth quarter and OT. I would have given you 2/1 odds that Alex Smith wouldn't have led the TD drive and then converted the 2-point conversion to tie at the end of regulation. I don't understand what Broncos coach Gary Kubiak was thinking going for a 62-yard field goal late in overtime; if he punts that ball, the game is ending in a tie. But Brandon McManus missed it, the Chiefs got great field position and were able to kick the winning field goal at the end of OT, with the Cairo Santos boot ricocheting 90 degrees off one upright yet somehow still going through. Great stuff. The Chiefs' Justin Houston and Broncos' Von Miller each put on a clinic on how to sack the quarterback. I don't see how the Chiefs aren't a bit flat here and having to go into that loud Georgia Dome against the NFL's highest-scoring offense. I maybe give the Chiefs a shot if injured WR Jeremy Maclin and OLB Dee Ford can play this week, but not much of one. NFC South-leading Atlanta easily handled Arizona on Sunday, 39-18. Matt Ryan passed for 269 yards and two touchdowns. He became the first player in NFL history to pass for at least 200 yards in 50 consecutive games. The pick: Falcons and "over."
Houston Texans at Green Bay Packers (-4.5, TBA): Off the top of my head, I can easily remember some of the biggest draft busts in NFL history, leading with JaMarcus Russell and Ryan Leaf. I don't think an NFL free-agent bust clearly stands out like that, although I can recall guys like Albert Haynesworth and former Super Bowl MVP Larry Brown. By the end of this season, Houston QB Brock Osweiler, who got $37 million guaranteed this past offseason despite starting just a handful of games in Denver, could stand atop that list. For lack of a better word, he simply sucks. Houston lost its first home game of the year in Week 12, 21-13 to San Diego. Osweiler managed his lowest-rated game of the season with no TDs and three picks. Osweiler has topped 250 yards only twice this year, and his yards per attempt is a ridiculous 5.77. Essentially, his ability to thrown downfield has rendered WR DeAndre Hopkins, a breakout star last year, almost irrelevant. Yet Coach Bill O'Brien continues to say he's sticking with Osweiler. I'm not sure I believe him. Third-year player Tom Savage looked pretty good in the preseason. It's time to give him a shot. This line could move depending on what the Packers do Monday in Philly. The pick: Packers.
Buffalo Bills at Oakland Raiders (-3, 49.5): I'm sure you've seen video by now of Raiders QB Derek Carr's gruesomely dislocated right pinky finger suffered in Sunday's wild win over Carolina. That was nasty. Carr only missed a series, although he returned wearing a glove and worked exclusively out of the shotgun (injury happened on a direct snap from center). There apparently was no significant damage and Carr says he expects to practice this week and play against Buffalo. Trailing by eight points, Carr led two fourth-quarter scoring drives to pull out the victory against the Panthers, who had scored 25 straight points after trailing 24-7. The Raiders are 9-2 for the first time since 2000 and have clinched their first winning season since 2002. The Bills badly need this one for their wild-card hopes. The pick: Raiders as long as Carr is in there.
Doc's Sports has been successfully handicapping the NFL for years - more than four decades in the business - and wants to give new clients a chance to try our service for free. Click here for the hassle-free sign up and get $60 in free NFL picks today .
Read more articles by Alan Matthews