NFL Betting Predictions: Week 8 Opening Line Report and Picks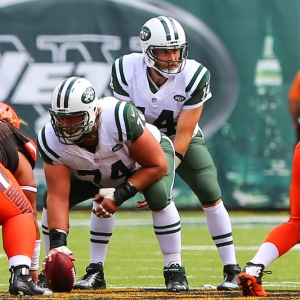 OK, I'm now at the point where I actually feel sorry for New York Jets quarterback Geno Smith. Some guys just have bad luck. Smith was such a good player at West Virginia and I thought he might be a good pro some day. He just happened to land with about the worst possible franchise for a quarterback east of Cleveland. And now Smith's Jets career is probably over and perhaps his NFL one.
You may remember that Smith was the projected Jets starter in training camp last year but a former teammate sucker-punched him over a supposed debt of $600 or so. That led to Smith missing the start of the season and Ryan Fitzpatrick stealing the job by playing really well in his place. But Smith finally got another shot in Week 7 against the Ravens with Fitzpatrick the worst QB in the NFL this year, and Smith probably would have been given a chance to start several games in a row with the Jets' season basically already over and young kids Bryce Petty and Christian Hackenberg not ready yet.
Sadly, Smith tore his ACL in the second quarter against Baltimore so his season is obviously over. He completed 4 of 8 passes for 95 yards and a touchdown before exiting. Jets legend Joe Namath tweeted this during the game, which looks pretty bad now: "If you've got a right knee injury keeping you out of the game why are you standing on the sideline the entire 2nd half? How bad can it be?"
So it's back to Fitzpatrick, who probably won himself no fans in the front office when he said this about being benched: "When the owner stops believing in you, and the GM stops believing in you and the coaches stop believing in you, sometimes all you have is yourself."
I mean, does he not realize how bad he was playing? Talk about being entitled! The Jets are in Cleveland this week and it might be the Browns' best chance to avoid a 0-16 record. Who will they start at QB? Rookie Cody Kessler left Sunday's loss to Cincinnati with a concussion, meaning fellow rookie Kevin Hogan became the sixth QB to take snaps this year. Hogan might have to start this one if Kessler isn't cleared. Browns coach Hue Jackson said Josh McCown (collarbone) has "a chance" to return this week.
By the way, Fitzpatrick has won four games in a row when facing the Browns, including last season's opener. He has the same 4-1 record against them that Tom Brady does. The last time a Fitzpatrick-quarterbacked team lost to the Browns was 2008. The Jets opened at -2.5, but that line surely will grow if it's Hogan.
Here are some Week 8 early lines that caught my eye. I won't touch on Thursday's game (Jaguars-Titans), the marquee Sunday matchup (Eagles-Cowboys) or the Monday night game (Vikings-Bears) as I will be previewing them here individually. Los Angeles, Miami, the New York Giants, Pittsburgh, San Francisco and Baltimore are the teams off this week.
Redskins at Bengals (-3, 47): So Cincinnati doesn't have a road game west of Dallas this season. But the Bengals head to London for this game. It's the last game overseas this season and another 9:30 a.m. start. The NFL isn't going to stop playing these London games because Roger Goodell wants a team over there full time eventually. But, man, they are usually ugly. Much like the Thursday night games. Washington is expecting back tight end Jordan Reed this week. He has missed the past two with a concussion. Left tackle Trent Williams is in doubt after suffering a left knee injury in Sunday's loss to Detroit, but an MRI revealed no structural damage. Cornerbacks Josh Norman (concussion) and Bashaud Breeland (ankle) were also hurt vs. the Lions. This is Redskins coach Jay Gruden's first regular-season game against Cincinnati, where he was the team's offensive coordinator before being hired away following the 2013 season. The pick: Bengals and "under."
Patriots at Bills (+6, 47.5): Buffalo may have jeopardized its season by allowing top running back LeSean McCoy to play in Sunday's loss in Miami. I say that because he wasn't supposed to due to a hamstring injury but did and was ineffective before leaving early due to the injury. So now maybe instead of missing one game he might miss several. The Bills really need him because they can't count on QB Tyrod Taylor at crunch time. Sunday was the sixth straight time the Bills have been behind by seven or tied in a fourth quarter and lost with Taylor at quarterback. Had Buffalo hung on to that lead, this game would have been for the division lead. The Patriots took apart a Steelers team without Ben Roethlisberger on Sunday. They will be looking for payback here after losing 16-0 at home to the Bills in Week 4, but that was with Jacoby Brissett at quarterback. I'm fairly shocked this line isn't higher. The pick: Patriots and under.
Cardinals at Panthers (-2.5, 48): Rematch of last season's NFC Championship Game in which the Panthers destroyed the visiting Cardinals by forcing six Carson Palmer turnovers (four picks, two fumbles). Carolina is the NFL's most disappointing team at 1-5 and probably has to go no worse than 9-1 the rest of the way to get back to the playoffs. The Panthers are off their bye week. I'm still shaking my head at how the Cardinals didn't win Sunday night's 6-6 tie vs. Seattle. Never seen a more entertaining game that didn't have a touchdown scored. If Arizona's special teams coordinator isn't fired on Monday he must be related to Coach Bruce Arians as the Cards totally dominated that game but had a field goal blocked, a late punt blocked and Chandler Catanzaro missed a bunny 24-yarder in overtime to win. They simply have to work out kickers this week. Remember, he also missed a potential winning field goal Week 1 vs. New England. The pick: Panthers and over.
Doc's Sports has been handicapping the NFL for more than four decades. That means that we know our stuff, and we know you'll see that as soon as you look at our picks. To make that easy, new clients can access $60 worth of picks totally free. No obligation. No credit card needed. Found out what our long-time clients already know. Sign up here.
Read more articles by Alan Matthews