NFL Betting for Thanksgiving Games: Advice and Handicapping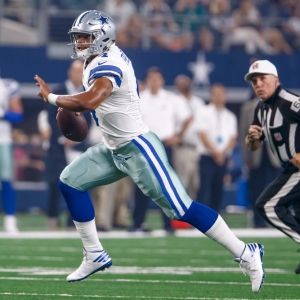 The best Thursday of the NFL season is here. In fact, it's really the only Thursday of the season that is worth anything at all. With three consecutive games we really have no choice but to settle down on the couch and get ready for the long haul, breaking only to stuff ourselves silly with turkey and all. It's an endurance test for viewers — but the kind of test that we love to take.
Handicapping Thanksgiving games is a little different than all the rest. We know that the short week has a big impact — we see that every week. There are three times as many teams involved as usual, though, so there is more to compensate for. For Detroit and Dallas this is old hat, too — them hosting Thanksgiving games is as much a part of the tradition as pumpkin pie or mashed potatoes. That helps their preparation. The games are also far more of a focus than the typical Thursday games — the public often forgets about those games, but everyone is watching this one. That makes the dynamics of public action and line movement very different than usual.
Add it all up and we have a great day of handicapping puzzles. Here's a look at the three games on offer:
Minnesota (+2.5) at Detroit: These teams are tied at 6-4 at the top of the NFC North, so while this won't determine the winner of the division it will have a huge impact on that race. Detroit is a bit of a surprise. They have won five of six, and Matthew Stafford is playing the best all-around football of his career. This isn't the most talented team they have had recently — Calvin Johnson's retirement guaranteed that — but it is working on some level. Detroit won at Minnesota two games back, so we know that they are capable of winning this one. They are 4-1 at home, while the Vikings are 2-3 on the road, so there is a clear geographical edge. The toughest challenge for bettors is figuring out which Minnesota team we will see. They won their first five and looked like perhaps the best team in the NFC at that moment. Then they lost their next four and looked incompetent on several levels. And then they beat a dazed Arizona team and didn't make it too easy. So they are generally capable, but are they capable right now? The line is less than the typical home-field advantage, so it's obviously close. Betting action is split almost exactly between the two teams in early action, so it's hard to argue with people who want to bet on either side.
Washington (+7) at Dallas: This is a divisional contest that won't decide much in the moment — Dallas will still lead the division and be in good shape even if they lose. It's a chance for both teams to make a statement, though. Washington could prove that there is actually a hint of mortality in Dallas and that all hope is not lost for every other NFC team. Dallas, on the other hand, could move on step closer to wrapping up the division and the conference. It's an intriguing quarterback duel above all else. Dak Prescott is the story of the season — an MVP contender who some didn't even expect to make the roster when he was drafted this year. Kirk Cousins is making himself a lot of money with his play on a franchise tag this year and is coming off one heck of a performance in strong wind last weekend. Dallas is getting a solid majority of the bets here, so the line isn't likely to fall below the key number of seven. Dallas is the sounder bet, but there sure is a big part of me that wants to gamble on the Redskins and hope that this squad, that is a very solid 13-6-1 in their last 20 games, can stop the runaway train that Jerry Jones owns.
Pittsburgh (-3) at Indianapolis: This game should be so, so much better than it sets up to be. With these quarterbacks this should be the game of the week, the month and maybe the year. Instead, it's just another game — one that will have a winner because games almost always have winners. Pittsburgh beat Cleveland, but that doesn't really count, and before that they were entirely frustrating and unsuccessful. The Colts have won two straight, but they still can't protect their quarterback and still can't find ways to consistently take advantage of the assets they have. Above all else, I guess, this game just shows how tough it is to win consistently in this league. Having an elite QB is crucially important, but it isn't enough by itself. Pittsburgh is drawing a massive amount of the bets — about three-quarters of all bets at this point -- and that moved the line from 2.5 to 3 in early action. I can't argue with the public sentiment here — if only because I think Pittsburgh's upside is higher this year. Of course, that means that they have also been the more disappointing team.
Doc's Sports is offering new clients free NFL picks from any handicapper on our Advisory Board. This special offer does not require a credit card, and you will never have to deal with a salesman. Click here to get your free $60 NFL picks credit today.
Read more articles by Trevor Whenham