NFL Handicapping: Can Green Bay Packers Turn Season Around?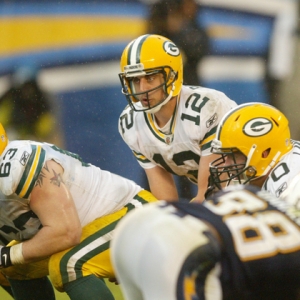 This is not how things were supposed to turn out in Green Bay. Entering the season the Packers were +750 to win the Super Bowl, which put them narrowly second behind only New England. They were seen as the clear class of the NFC and a very strong threat to win it all. Well, 10 weeks later they are at 4-5 and just don't look very good at all. It's a bit of a mess and one of the bigger mysteries of the season so far. What's going on up there in Lambeau Field? Can they stop the bleeding, or is this destined to be a lost season? How should bettors handle this squad? Here are five factors to ponder as you tackle those questions:
Not dead yet: If you are going to be unimpressive this year then the NFC North is a good spot to do so. It is just not a good division this year. The Packers would be dead in the water in four divisions with their 4-5 record and in trouble in two more. In the NFC North, though, they are just a game back of the leading Lions and Vikings. It's not like either of those teams is terrifying, either - Detroit has allowed one more point than they have scored, and the Vikings have dropped four straight and only rarely have what you could call an offense. They have already beaten the Lions once, and they have games against both Detroit and Minnesota at the end of the season. They also get a divisional game against Chicago - one that would be very tough to lose given how the Bears are playing. The challenge could be, though, the other four games on the schedule. It's not easy. They travel to Washington and Philadelphia in consecutive weeks in winnable-but-tough road games and then face two ugly games at home with Houston and Seattle. At their best Green Bay would have been expected to win three of four of those at least, and that would have them right back in the divisional mix. They are not at their best, though, so things have a chance to go pretty rough over the next month.
Rodgers isn't Rodgers: A lot is being made of the fact that Aaron Rodgers doesn't look like himself. You could easily have made the argument not too long ago that he was the best QB in the league, but that certainly isn't the case now. He isn't awful by any means - at least 20 teams would kill for him even in his current state - but he is far off what he was at his best. The biggest concern from my viewpoint isn't that he has been far from his best this year. It's that his numbers closely mirror what he did last year. We are now 25 regular-season games into this somewhat-less-stellar Rodgers era, and the team is just 14-11 over that stretch. You can debate whether Rodgers' step back is the cause of the issues or a symptom of the problems, but either way the team isn't going to be the team people want and expect until he again dons his cape and becomes Superman.
Injuries on defense: The defense has been an issue for this team - 10 NFC teams have allowed fewer points. Injuries have been an issue that have made things a problem on defense. Most strikingly, they have been without two Pro Bowl-caliber players. Clay Matthews has missed four games with hamstring issues, and though he is supposed to return this week we don't know how effective he will be. Corner Sam Shields, meanwhile, was hurt in the first game of the season and is gone for the year on the IR. I'm not convinced that this defense was going to be great anyway, but these absences and all the other bangs and bruises the unit has certainly hasn't helped.
Running game woes: When a team thinks that bringing in Christine Michael midseason is a possible salvation then they have some issues. They haven't been a total disaster - they rank 19th in the league in yards per game. They just haven't been as good as they should be, and they have had to make far too many tweaks to get to where they are - like using receiver Ty Montgomery heavily to carry the ball. The offensive line hasn't helped, either. They have not been good, and injuries are a factor there, too - they will be without their starting right guard and perhaps left tackle on Sunday. When running is suboptimal opposing defenses can focus more on the quarterback, and that just isn't what the team needs right now.
ATS performance: Things actually haven't been nearly as bleak this year on this front as you might expect. They are at 4-4-1 ATS, so they aren't costing bettors too much money despite their struggles. It seems, then, that bettors had more concerns about the team heading into the season than you might have guessed. They haven't been a great ATS team the last couple of years - profitable but not the best in the league by any means.
Read more articles by Trevor Whenham