NFL Handicapping: Easiest and Hardest Betting Games on Week 1 Schedule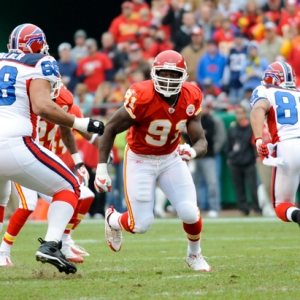 If you have spent any time at all betting on the NFL then you know that there is no such thing as a truly easy game to bet. There are unquestionably some that feel easier than others, though. Some games you look at and it doesn't take long to figure out which side you are going to be on. You may or may not ultimately be correct, but you know you will feel good about the pick regardless of how it turns out. Then there are the games that you can look at for as long as you want and things don't become any clearer. You may end up picking the right side, but only because you made a lucky guess. As we get ready for another NFL season, here's a look at the three easiest and three hardest games of the opening week of action:
Easiest
Kansas City (-7) vs San Diego: I find the Chiefs pretty easy to love right now. I am not convinced they are a Super Bowl team, but they are a solid, well-built, well-coached squad that is going to win plenty of games. They have talent in most key spots, and they have had a pleasingly quiet offseason and preseason. They just put their heads down and go about their business - and that is going to get them into the playoffs. The Chargers, meanwhile, have some real issues. Their coaching staff probably shouldn't be back, because they haven't done anything to earn their jobs. They have a very solid QB and a couple of nice defensive players, but there are holes in the roster wide enough to drive a truck through. They just aren't good enough, and opening on the road in a very hostile environment is going to be too much for them to handle.
Baltimore (-3) vs. Buffalo: The Ravens had a rough year, but they should be much improved this season. Joe Flacco is healthy after a rough year last year, and he is going to have a strong year. They had a solid offseason and have a better team than their record last year. They are likely the third-best team in their division still, but that's no insult in that tough group. Buffalo, meanwhile, is a steaming mess. They have a horrible coach, the coaching staff is worse now than last season, and they have had a really ugly offseason - between the injuries and suspensions they are in real trouble. It is going to be a horrid year in Buffalo, and it starts here for this game.
Houston (-6) vs. Chicago: I'm not completely sold on Brock Osweiler as a guy worth the investment his team made in him. That being said, these are two teams moving in very opposite directions. Houston is on the rise and should continue to make progress this year. The Bears are treading water - or trying to with an anvil tied to their ankle. They just aren't good right now, and are going to be in tough spot in this one.
Hardest
Tennessee (+2) vs. Minnesota: There is a whole lot to compute here. The Titans have made a whole lot of changes, but Marcus Mariota should take a step forward this year. The team is not going to be great, but they could and should be improved. How improved? We don't really have a way of knowing until they play. Minnesota suffered a soul-crushing loss and now has to face the reality of starting a quarterback that only joined the team after the preseason had ended. Ten days ago this would have been a hugely easy game with Teddy Bridgewater on board. Now, though, there is a lot to make my head hurt.
Philadelphia (-4) vs. Cleveland: The Browns are truly awful and will only be competitive this year by accident. They have stripped this team down to the studs, and the rebuild will take time. The problem, though, is Philly. By trading Bradford away they made it clear that winning out of the gate wasn't their first priority. By starting Carson Wentz here, after he missed most of the preseason with an injury, the team just shows that they have given up on any hope of short-term competitiveness. So, a team that is terrible up against a team that is focused only on the future. Who wins that mess of a game? I'll tell you who - all of the people who don't watch the game are the clear winners.
Dallas (pick) vs. New York Giants: The Cowboys were poised to be the best team in the division - and I don't think it was going to be that close. Now they are largely the same team except for one big issue - Tony Romo is out, and Dak Prescott will be making the first start of his career. Prescott was spectacular in the preseason, but that is completely irrelevant. Can he survive in live fire? And is the team around him good enough to win if he is only mediocre?
New to Doc's Sports? We'd like to offer you $60 of free, no obligation picks. Try us out. See why experience matters, and why we have been around for so long while others have come and gone. Click here to sign up today. Also, get three handicappers for the price of one when you sign up for a full-season football package! Click Here for details.
Read more articles by Trevor Whenham