NFL Odds: Analyzing Tennessee Titans' 2016 Road Schedule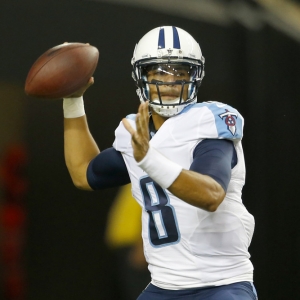 You will see those "will any team go 0-16 props" every year at sportsbooks, and I never recommend betting on that. But you often can find a "who will have the No. 1 pick in the next year's draft" prop. Last year, I loved the Tennessee Titans on that as I felt they had the worst talent level -- outside of rookie quarterback Marcus Mariota -- in the NFL.
That proved largely accurate as the Titans finished 3-13, tying for the league's worst mark with the Cleveland Browns ( my pick, by the way, for least talented team this year and to get the top pick in 2017). Tennessee won the tiebreaker over Cleveland to earn the top overall pick. But with a franchise quarterback already in place in Mariota, the Titans opted to trade that for a huge haul from the Los Angeles Rams. A very smart move, I believe, in a draft that didn't appear to have a franchise-type player in it. Plus, the Titans had holes everywhere. But I'll touch more on that in my Titans home schedule preview story.
Tennessee fired head coach Ken Whisenhunt after a 1-6 start to last season and named Mike Mularkey interim coach. The team went 2-7 under him. For some reason, the Titans decided to hire him full time in the offseason, a really uninspired choice when perhaps they could have reunited Chip Kelly with Mariota. Mularkey is an ugly 18-39 in his career as a head coach. I think this was a money thing as the franchise still owes around $15 million to Whisenhunt. Mularkey is probably also simply a bridge coach until this team is ready to win again. That's not likely until 2018, even though I think Mariota is going to be an excellent NFL quarterback. I do worry about his health as Mariota was limited to 12 games as a rookie due to injury. Some of that can be blamed on a lousy offensive line.
The Titans were 2-6 on the road last season, 2-6 against the spread and 5-3 "over/under." They play two away games this year against 2015 playoff teams, which is the fewest possible. And I'm not convinced those two playoff teams get back there. Tennessee's home schedule is much, much harder outside the division. I project a 2-6 road record. The Titans have a wins total of 5.5, with the over a -140 favorite. Odds listed below for the home teams.
Sept. 18 at Lions (-5): Tennessee off a Week 1 game vs. Minnesota. Detroit probably will be 0-1 after visiting Indianapolis in Week 1. The Titans have won four straight in the series, last 44-41 at home in September 2012. Key trend: Titans 3-3 ATS all-time at NFC North teams.
Oct. 2 at Texans (-7): Tennessee is probably 0-3 entering this one and comes off a home game vs. Oakland. Houston is in New England on a Thursday night in Week 3 so could be a bit flat here, especially if the Texans win that game. The Titans lost 20-6 in Houston in Week 8 last year. Mariota missed that game with a knee injury. Zach Mettenberger (since released) threw for 171 yards with a pick and was sacked seven times. Tennessee had 211 yards of offense. Key trend: Titans are 1-4 ATS in past five as a road dog in series.
Oct. 9 at Dolphins (-5.5): Miami is off a Week 4 Thursday game in Cincinnati. This is one matchup where I'd give Tennessee the QB edge with Mariota over Ryan Tannehill. The Titans hosted the Fins in Week 6 last year and lost 38-10. Mariota was under siege all day, getting sacked five times (injuring his knee late) and throwing two picks. The Titans turned it over four times. Key trend: Titans 5-5 ATS in past 10 at AFC East teams.
Nov. 6 at Chargers (-4.5): These two also open the preseason against one another in Nashville. Tennessee enters this one off a three-game homestand, culminating in a Thursday night matchup in Week 8 vs. Jacksonville. This is the Titans' only road game scheduled to start at a time other than 1 p.m. ET (4:25 p.m.). San Diego comes in off a trip to Denver. Whisenhunt was hired back as the Bolts' offensive coordinator this offseason. The Titans ended a nine-game losing streak in the series with a 20-17 home win in September 2013. Key trend: Titans 4-6 ATS in past 10 at AFC West teams.
Nov. 20 at Colts (-8): Titans are home to Green Bay the previous Sunday. Indy is off its bye week. Tennessee closed last season with a 30-24 loss at the Colts -- a game that clinched the No. 1 overall pick for the Titans. Mariota was out injured, so Mettenberger started and was of course terrible before leaving in the third quarter with an injury. Some dude named Alex Tanney finished the game at QB. I do this for a living, and I don't know who that guy is. Rather embarrassed about it honestly. But in my defense, he's an undrafted guy out of Monmouth College in Illinois. Never heard of that, either, and I used to live in Illinois. Key trend: Titans 2-3 ATS as a road dog of at least 7 points in series.
Nov. 27 at Bears (-5): Tennessee is ahead of its bye week. Chicago is at the NY Giants in Week 11. I'd much rather have Mariota than the Bears' Jay Cutler and this is winnable for Tennessee. The Titans have lost four of the past five meetings but won their last trip to Chicago in 2008. Key trend: Titans 5-5 ATS in past 10 before bye week (any location).
Dec. 18 at Chiefs (-9): Titans off a home game vs. Denver. Kansas City hosts Oakland on a Thursday in Week 14 and then hosts Denver on Christmas, so this could be a huge potential trap game for the Chiefs. Tennessee has five combined victories the past two seasons, but one was in Arrowhead Stadium in Week 1 of the 2014 season, 26-10, in the last meeting. Key trend: Titans 3-7 ATS in their past 10 as a road dog of at least 9 points.
Dec. 24 at Jaguars (-4.5): This is sandwiched between trips to Houston (Week 15) and Indianapolis (Week 17) for the rising Jaguars, so it could be a bit of a sandwich game for them. The Titans and Jags have somehow split the season series nine years in a row. Tennessee lost in Jacksonville 19-13 on a Thursday in Week 11 last year in a dreadful game. Titans led 13-9 with less than four minutes to go. Mariota threw for 231 yards and had a 23-yard TD run. Key trend: Titans 4-6 ATS in past 10 as road dog in series.
Doc's Sports has had a winning tradition for more than four decades. Don't believe us? Try us out for free, and we are convinced you will be a believer. Get $60 worth of free sports picks - members' picks just like our paying clients get - here .
Read more articles by Alan Matthews