NFL Odds: Week 8 Line Movements & Last-Minute News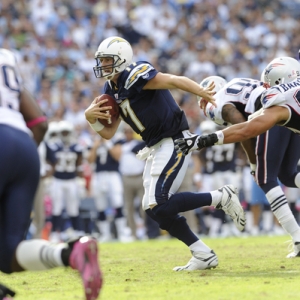 I would really like to go work for Jacksonville Jaguars owner Shad Khan in any capacity because that guy is incredibly loyal. I could show up to work dressed as a Little Bo Peep and drunk and he probably wouldn't fire me. Not that I would do either.
This is mentioned because I can't believe that he hasn't fired head coach Gus Bradley by this writing. The Jaguars looked absolutely horrific -- again -- in Thursday night's 36-22 loss in Tennessee. The Titans, who are improving but not exactly a Super Bowl contender, were up 27-0 at halftime and had 354 yards of offense, the most of any team in the first half of a game this season. Did I mention that Bradley is a defensive guy? The Jaguars had 60 yards of offense in the first half and nearly as many penalty yards (50).
Since the start of the 2014 season, the Titans are 3-0 at home against the Jaguars and 1-17 against everybody else. Yet Khan told the media that he's not firing Bradley even though that team has clearly given up on its head coach and Bradley's 41st loss in 54 games was arguably his ugliest. There is precedent for this with the franchise. Nearly four years ago, soon after a Jaguars road loss to the Titans, Khan fired GM Gene Smith. Two weeks later, Coach Mike Mularkey (now the Titans' head coach) was fired by new GM Dave Caldwell.
But it's starting to look like we might not have any head coaching firings during the season, as at this late point of the year it's almost not worth it. Jacksonville will be a fairly coveted job this offseason as there is a load of talent on the roster (and, hey, no state income taxes). The team simply needs new direction. I did recommend Tennessee -2.5 for that game here at Doc's, so I was happy with the result.
Here are some line moves or potential game-changing injury notes for Week 8.
Chargers at Broncos (-4.5, 43.5): This opened with Denver at -6. The Broncos got some bad and really out-of-nowhere news this week when top tailback C.J. Anderson had knee surgery to determine whether he had a full or partial tear in the meniscus. An early report out of Denver is that it's a significant tear and that Anderson is done for the regular season. But then ESPN is saying he could miss four weeks only. This was a weird thing because a prominent NFL reporter tweeted this news, and Anderson tweeted simply: "False." Yet obviously it was true. Anderson comes off his best game of the season, carrying 16 times for 107 yards and a touchdown in Monday's blowout of Houston. The Broncos need a good running game to limit third-and-long for inexperienced QB Trevor Siemian, who isn't great throwing deep downfield. Rookie Devontae Booker takes over as the primary back. Denver looks to avoid a season sweep here as it lost in San Diego 21-13 on a Thursday in Week 6. The Chargers have not swept a season series against the Broncos since 2010.
Lions at Texans (-2,5. 45): Houston coach Bill O'Brien says he hasn't considered benching quarterback Brock Osweiler, but O'Brien might have to think about it his QB struggles here. Osweiler was almost historically bad on Monday. Osweiler finished 22-for-41 for 131 yards, without a touchdown or an interception. His 131 passing yards were the second-fewest in NFL history by a QB who attempted at least 40 passes. He didn't complete a pass at least 15 yards downfield. This is a recurring trend. Didn't the Texans sign this guy because of his big arm? Osweiler looks lost on the road but has been better at home, where Houston is unbeaten. Some mixed injury news for the Lions. Top cornerback Darius Slay is in question after missing the second half of last week's game vs. Washington with a hamstring injury. But running back Theo Riddick (ankle), tight end Eric Ebron (knee/ankle) and defensive tackle Haloti Ngata (shoulder) all practiced this week and all should return from multiple-game absences.
Packers at Falcons (-3, 52.5): Atlanta opened at -2.5. This is the highest total on the board, to no surprise, inside the cozy Georgia Dome and featuring Aaron Rodgers vs. Matt Ryan. The latter leads the league with 2,348 passing yards. With 406 yards against Green Bay, Ryan would surpass Philip Rivers (2,753 yards in 2015) for the second-most passing yards through eight games in NFL history. The record-holder is Peyton Manning with 2,919 in 2013 when he set the single-season yardage mark. Ryan will be missing one valuable weapon in running back Tevin Coleman, who has a hamstring injury. He has been a great complement to No. 1 Devonta Freeman, who did show up on the injury report but is expected to play. The Green Bay offense seemed to figure things out last Thursday vs. Chicago in basically using short passes as a substitute for a running game. Rodgers was 39 of 56 for 326 yards and three scores, setting a franchise mark for completions in a game. The Green Bay defense is missing its top three cornerbacks due to injury. I would definitely play Ryan in your fantasy league because the Packers are great at stopping the run.
Patriots at Bills (+5, 47): I touched on this Monday and there hasn't been any line movement yet, which surprises me in all honesty. I want to update the situation regarding Bills running back LeSean McCoy. He hasn't practiced this week as of Friday due to his hamstring injury, so you can pretty much rule him out. Mike Gillislee will be the starter. He is listed on the injury report because of a foot injury, but Coach Rex Ryan believes his top backup "will be fine." Bovada also offers a prop on whether Tom Brady throws a pick this week, with "no" at -150 and "yes" at +110. Amazingly, the Patriots have used three quarterbacks this year and not thrown a single interception. New England is just the third team in modern NFL history to begin a season with seven interception-free games. The 1960 Browns hold the modern mark as they made it to Week 11 without one, but obviously teams passed much less back then. The Bills have six picks on the year. I always recommend yes on interception props like this because one tipped pass or Hail Mary can result in one.
Want free NFL picks? Doc's has you covered. New clients can take advantage of this great offer of $60 in free Doc's Sports members' picks for any handicapper on Doc's Advisory Board. Just check out these guys' pages and see what great work they have done making money for themselves and their clients over the years. Click here for this exclusive $60 picks offer.
Read more articles by Alan Matthews