NFL Office Pool Picks Week 11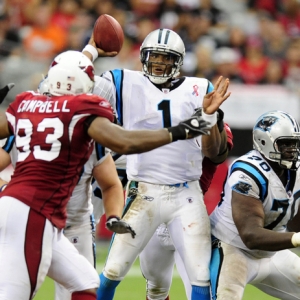 I'm at the stage this year in my office pools that you never want to get to I am in it only for moral victories. Wins haven't been coming at quite the ideal rate, and dreams of championships are long since dead. All I can do to salvage some pride is to dwell on the picks that turned out well and make me feel a little clever as a result. I'm not going to impress anyone else with the way the season has gone so far, in other words, so I might as well try to impress myself. And one game last week did that to some extent. I liked Tennessee over Green Bay quite a bit and the Titans dominated. Now, I'm not suggesting I'm Nostradamus or anything - the Packers have been really lousy and are pretty easy to hate right now, so I wasn't exactly going out on a limb. Still, it's a pick that would have been easy to convince myself out of, so the fact I stuck with it is as much of a victory as anything this year. Perhaps, then, that moral victory will lead to a real victory this week. Maybe, finally, we will have a really dominant week of picks.
New Orleans at Carolina: Both of these teams threw away victories late in their last games, so they both need to pick themselves up and find new focus. It will be tough in both cases, and both have plenty of flaws. The Panthers played their best game in a while despite the loss, though, and showed some signs of their prior swagger returning. Finally. That makes them worth the gamble here. Take the Panthers.
Pittsburgh at Cleveland: Pittsburgh mostly played pretty well against the Cowboys and would have been able to beat most of the teams in the league with that same level of effort. They have lost four in a row now, and they have some real warts, but they are far from disastrous. They will remember how to win again, and that will happen starting here. The Browns remain horrific, and they are completely outclassed. Take the Steelers.
Baltimore at Dallas: The Ravens are playing reasonably well right now, but they are outclassed here. Dallas is red hot and keeps finding ways to win. They have beaten better teams than this and are going to be tough at home. Take the Cowboys.
Jacksonville at Detroit: Jacksonville continues to be a major disappointment this year. It's a lost season for a lost franchise. Detroit is playing surprisingly well and is playing tougher than you would guess that they would be capable of. This is a much easier pick than I ever would have guessed before the season. Take the Lions.
Tennessee at Indianapolis: The Colts are coming off a bye week. I'm not convinced that that will be enough to solve their issues, though. Tennessee is coming off a very strong performance and is playing with tremendous confidence. They are as solid on the road as at home, so they are worth a chance here. Take the Titans.
Buffalo at Cincinnati: I think maybe my favorite part of this season so far has been watching Marvin Lewis march towards unemployment. Cincinnati will be shocked how much better life can be with any other coach. They are lifeless and coming off a short week and a rough loss on Monday. I'll gamble. Take the Bills.
Tampa Bay at Kansas City: That win for the Bucs last week was dominating, but it hardly counts because the Bears and Jay Cutler are so hopelessly awful right now. Kansas City, meanwhile, just keeps rolling. They aren't flashy - especially on offense - but they are defensively sound and almost boundlessly confident. Take the Chiefs.
Chicago at New York Giants: The Giants are fine. Underwhelming but fine. They are winning games right now and are heading likely towards a wild card spot, but they certainly don't get the heart pumping. The Bears are just awful. Really, really bad right now. Only one choice, here - take the Giants.
Arizona at Minnesota: Tough game to call. Minnesota looked like they were back to their early-season strength in the second quarter at Washington last week. And then they didn't score again and threw away another road game. Arizona made beating San Francisco look much tougher than it should have been. These are two badly-underachieving-but-talented squads. Minnesota has been better at home, though, so perhaps that is enough. Take the Vikings.
Miami at Los Angeles: Miami has won four in a row, and they showed a lot of grit late in their wild one against San Diego last week to come out on top. The Rams can't score and are going to be outmatched here. Take the Dolphins.
New England at San Francisco: The Patriots suffered a pretty significant setback in that loss to the Seahawks. This is a perfect spot to rebound, though. The Niners are awful and the Patriots are angry. Tough combination. Take the Patriots.
Philadelphia at Seattle: Seattle showed a whole lot in that road win against the Patriots. They are playing up to their potential right now. That is bad news for the Eagles. They are a bad road team and won't be up to this task. Take the Seahawks.
Green Bay at Washington: The Packers are a broken team right now. Under normal circumstances they would beat the Redskins easily. Now they can't be trusted for anything. I hate to do it, but we have to take the Redskins.
Houston at Oakland: Oakland is no worse than the second-best team in the AFC right now, and they are rested coming off a bye. Houston has struggled on the road and is clearly second best here. Take the Raiders.
Read more articles by Trevor Whenham
---
Most Recent NFL Office Pool Picks