NFL Office Pool Picks Week 16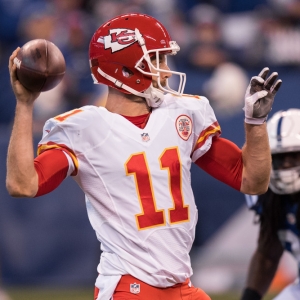 It's the second-to- last week of the NFL season. That means that it is the second last week for you to show all the morons you are in an office pool with that you are the king of their world. Remember when you are making your picks this week that Sunday is Christmas Day, so Saturday is the new Sunday this week. There are two Christmas day games, but the bulk of the schedule is being played a day earlier than we would normally expect. So, don't be late with those picks -- you can't get a pick right if you don't make it. Without further ado, this week's straight up picks:
New York Giants at Philadelphia: The Giants just keep rolling. They are now 10-4 and are a virtual lock to be the top wild-card team in the NFC. The Eagles have looked mostly horrible and have lost five straight, though they made things interesting late last week. I wish all picks were this easy. Take the Giants.
Miami at Buffalo: Rex Ryan is a dead man walking -- he's going to be fired but not until after the season. Why teams do that is beyond me. Miami, meanwhile, control their own playoff destiny and didn't skip a beat despite the QB change necessitated by Ryan Tannehill's injury. Another easy one -- take the Dolphins.
New York Jets at New England: We took the road team twice in a row, and… we aren't going to do it again. I mean, don't be stupid. Ryan Fitzpatrick is like a boomerang -- the Jets keep throwing him away, and he keeps winding up back in the starting lineup. What a mess. Take the Patriots.
Tennessee at Jacksonville: Gus Bradley is gone. He's proof that coaching is a total mystery. With his background and the talent the team had he should have been all kinds of successful. Instead he won just 14 games in most of four seasons. Ugly. The coaching change could be a bit of a wakeup call for the squad, but Tennessee is playing well and fighting for a playoff spot. Another road team -- take the Titans.
Minnesota at Green Bay: The Packers have new life. The Vikings have died in front of our eyes. This one should have been a can't-miss classic, but it's just sad. Take the Packers.
San Diego at Cleveland: San Diego is really at no disadvantage being on the road -- the visiting fans outnumbered their own 3-to-1 last week anyway. They played the Raiders fairly tough despite the lingering move to L.A. and all the drama that surrounds it. Cleveland has not shown much of a pulse lately, and there is no reason to expect them to now. Take the Chargers.
Washington at Chicago: Well, Washington really screwed that up. All they had to do was beat a struggling Carolina team at home and at 8-5-1 they would control their destiny in the search for the final wild-card spot. They have this game, and then they finish against a Giants team that likely will be resting guys because they won't have anything left to play for. They should be a playoff team, but they blew it against the Panthers, and now they are behind the Packers and Bucs -- likely for good. What a wasted opportunity. They are the better team here -- even though Matt Barkley is playing fairly well. There is a big risk of a letdown, but we have to take the better team. Take the Redskins.
Atlanta at Carolina: Atlanta has won two straight and control their own fate in the race for the division. I still don't trust them or like them much, but their form is solid. Carolina is still a shadow of what they were, but they have won two straight and have turned a bit of a corner. Time to gamble - take the Panthers.
Indianapolis at Oakland: The Colts looked really good last week. Unfortunately, you can't play the Vikings every week. Oakland is dramatically better than Minnesota, and they now have new hope to win the division after that seemed lost just last week. They should be hungry. Take the Raiders.
Tampa Bay at New Orleans: The Saints are certainly fun to watch right now, but they aren't winning as much as they could be. Tampa Bay is coming off a rough loss, but a win here keeps them in the playoff hunt. They are the better all-around team, and they have much more to play for. Shockingly, take the road team - the Bucs are the ones.
Arizona at Seattle: Seattle is the worst they have been in a few years, yet they have already clinched the division with two games remaining. This is a weird sport. Arizona's whole season is one big mulligan. Take the Seahawks.
San Francisco at L.A.: Don't watch this game. Just don't. You deserve better. There is not a single redeeming feature of this mess. Take the Rams at home. I guess. But only because someone has to win.
Cincinnati at Houston: I think that benching the grossly-overpaid Brock Osweiler for a journeyman from Rutgers is my favorite story of the NFL season. And it's not close. Osweiler lost the job in Week 16 for the second year in a row -- though there is far more shame in doing it to Tom Savage than Peyton Manning. Especially when your team is in first place. Ugly. Savage wasn't bad last week, though, and the Bengals gave up a month ago. Take the Texans.
Baltimore at Pittsburgh: Pittsburgh has won five straight and have their feet on the Ravens' necks here -- win and they take the division. Baltimore has been feisty but ultimately aren't quite good enough. I would feel better if Big Ben was more consistently dominant lately, but take the Steelers.
Denver at Kansas City: I have been highly skeptical of the Broncos since before the season started, and lately they are showing why. The offense just isn't good enough, and the defense has to work too hard. Kansas City's loss last week was concerning, but they will rebound. Take the Chiefs.
Detroit at Dallas: The most Lions thing ever would be for them to lose the division after the start they had. They are on track to do it, though Green Bay is surging, they have already lost to the Packers once, and the two teams meet in the finale. The Cowboys need one more win to secure the division and home field, so they will be ready. Tough spot for the Lions. Take the Cowboys.
Read more articles by Trevor Whenham
---
Most Recent NFL Office Pool Picks