NFL Office Pool Picks Week 17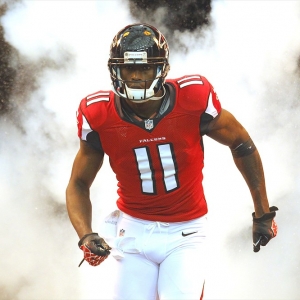 This office pools season needs, like the year 2016, to end. The sooner the better. There have been some good parts of both the year and the season, but there have also been countless frustrations and setbacks. This last week of action was another example of why I hate this office pools season so much. It wasn't exactly a Christmas miracle. I still won more games than I lost - if you aren't doing that with straight up pick then you are really doing something wrong - but yet again I proved that high levels of success this year is a moving target and my scope isn't properly sighted. And through it all one team has emerged above all the others as the object of my scorn and, frankly, hatred. The Titans can bite me. They are 8-7, and yet I don't feel like I have picked them right a single time. When I think they will struggle they shine. When I think, like this week, that they are in a prime position for success, they lose to the Jaguars by three touchdowns. I like a lot of things about what that team is doing, but as a collective group I just hate them right now.
Now that that is off my chest, let's get on with the final week of straight up office pool picks for this NFL season:
Baltimore at Cincinnati: Baltimore just missed their playoff shot last week and will likely be frustrated. This is the last game of the Marvin Lewis era, though (mercifully), and the motivation levels in Cincinnati should be at an all-time low. Take the Ravens.
Houston at Tennessee: The freaking Titans. The only good thing about this game is that it is the last time I have to pick their game this year. They will have a backup QB. So will Houston. The Texans have already sealed the division title and can't really control who they play in the opening round of the playoffs, so they are likely to rest players here. It means nothing for them. Take the Titans, he says, as he mainlines scotch.
Carolina at Tampa Bay: The Bucs are technically still alive for the playoffs but not enough that they will kid themselves - among other things they need a win and a Washington tie to get in. They aren't going anywhere. Still, they are the better team here and should be motivated to deliver a final knockout blow to their spiraling divisional rival. Take the Bucs.
Jacksonville at Indianapolis: The Jags got a nice boost post-coaching change last week. That was emotion-fueled, and I don't have faith that it will carry over to this week. The Colts have been a disappointment but can secure the moral victory of finishing at .500 with a win. Take the Colts.
New England at Miami: If the Patriots lose and the Raiders win then Oakland would have hypothetical home-field advantage if the teams met in the AFC Championship. Do you honestly think Brady and Belichick would risk that? Miami has clinched a playoff spot and can't change their positioning, so they will be less motivated. Take the Patriots.
Chicago at Minnesota: What a horrible, horrible game. I literally just flipped a coin. It said heads, and that means take Minnesota.
Buffalo at New York Jets: The Jaguars are a lousy team that got a big boost from cutting a doomed coach lose. The Bills could enjoy the same thing. The Jets were profoundly bad last week, too, and that was no fluke. Take the Bills.
Dallas at Philadelphia: Dallas has nothing to play for, and Philadelphia is coming off a nice win. Could an upset be brewing? Nope. The Cowboys are just so much better, and we could see some Tony Romo here. Take the Cowboys.
Cleveland at Pittsburgh: The Browns got their win. Sadly. That is all they could have hoped for. The Steelers have won six straight, and their pride won't let them lose this one at home. Take the Steelers.
New Orleans at Atlanta: This is quite possibly the last game with the Saints for Sean Payton. They won't fire him but could trade him. That is a factor here, but it's likely not enough of one. The Falcons clinch a first-round bye with a win. I don't trust their toughness, but that is a major prize which should motivate. Take the Falcons.
New York Giants at Washington: The Redskins have a whole lot to play for. If they win here they are in the playoffs unless Green Bay and Detroit tie. They looked like they threw away their playoff chances two weeks back, but they bounced back well last week. The Giants are in no matter what, and they can't change their fate. Take the Redskins.
Arizona at L.A.: The Cardinals are a major disappointment, but they won last week and will finish their season off with two straight wins. I mean, the Rams just lost to the freaking 49ers. Take the Cardinals. That's bad.
Oakland at Denver: Losing Derek Carr was a crushing blow for the Raiders. Matt McGloin isn't a total disaster, though. The Raiders still control their own destiny - win and they win the division and get a much-needed by. Against a fully-depleted Broncos squad that should be enough. Take the Raiders.
Kansas City at San Diego: The Chiefs win the division if they win and Oakland loses. That will be plenty of motivation - more than they need to beat the Chargers in this spot. Take the Chiefs.
Seattle at San Francisco: The Seahawks are just lucky their division is so lousy this year, because they are far from good. Last week's loss was embarrassing for a playoff team playing in front of a home-field advantage like they have. Still, it's San Francisco. Take the Seahawks.
Green Bay at Detroit: Huge, huge game. The winner wins the division. The loser needs help to make the playoffs - and by gametime could very well know that they are eliminated. The stakes couldn't be higher. Green Bay is rolling, but I am going against the grain here. Detroit is at home and will be hungry, and they are better than they have shown lately. Take the Lions.
Read more articles by Trevor Whenham
---
Most Recent NFL Office Pool Picks