NFL Office Pool Picks Week 7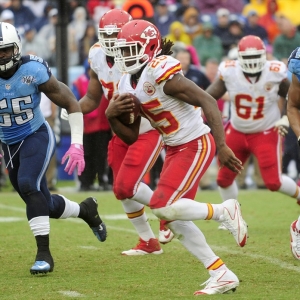 Big Ben's knee went pop and the Steelers collapsed - taking my office pool with it. That's really a metaphor for this season. Each week starts off promising but then something derails it and we limp to another fine-but-not-exciting result. We're like one of those teams that isn't quite good enough to get into the playoffs but isn't bad enough to get a draft pick that could change things in a hurry. It has just been a mediocre season. That changes now, though - or at least that's the theory. Here are the straight up picks for your office pools this week:
Chicago at Green Bay: I don't like a lot of things about Green Bay right now. Fortunately for them, though, I hate pretty much everything about the Bears right now - and for most of this decade so far, really. Take the Packers.
New York Giants at L.A.: These are basically the same team right now - both do enough to win and impress at times but not enough to get enthused about consistently. The Giants have a long trip ahead of them for this one, so I'll take the team that sleeps in their own beds. Take the Rams.
New Orleans at Kansas City: The Chiefs just went into Oakland and manhandled the very solid Raiders in a must-win divisional contest. That takes heart. That should certainly be enough to beat the lowly Saints at home. Take the Chiefs.
Indianapolis at Tennessee: The Colts are frauds. They can't protect their quarterback, they can't protect a lead, and they can't play defense. Disgraceful. I'm not exactly in love with Tennessee, but at home they have an edge here. Take the Titans.
Minnesota at Philadelphia: Carson Wentz is finding it a little tougher to play in the NFL now than he was a couple of weeks ago. That's not a knock on him - just an inevitability. Minnesota has a defense that will be able to make things even tougher for the talented rookie. Take the Vikings.
Cleveland at Cincinnati: I am quite possibly going to be wrong about this one, but I take pleasure in making the pick anyway. I have long held that Marvin Lewis is the worst coach in football. Usually he waits until the postseason to prove it, but he got a very early start this year. He's a mess. So are the Browns, but the Cody Kessler-Terrelle Pryor tandem was as close to electric as anything the Browns have had since Bernie Kosar was at the helm. An upset could very easily happen. In fact, I'm calling for it. Take the Browns.
Washington at Detroit: Tough game. The Lions had a nice home win last week. Washington got a key divisional win as well, and they are 2-0 to date on the road. I could easily see this one going either way, but I'll take a shot with the Redskins.
Oakland at Jacksonville: The Raiders need to win this one. Big. They were neutered last weekend, but they need to show that it was just the temporary type of neutering. They need to display the kind of heart and rebounding ability that defines true contenders. Take the Raiders.
Buffalo at Miami: I really like the Adam Gase hire in Miami. New coaches so often need a rallying point for their team to buy into their system fully. Beating up on the Steelers and knocking Big Ben out of action is such a point. It is quite possible that a bit of a corner has been somewhat turned in Miami. Take the Dolphins.
Baltimore at New York Jets: The Jets are facing a short week and there is a lot not to love about this team - yes, I'm talking about you, Ryan Fitzpatrick. Baltimore lost a tight one on the road last week but won their first two away from home. Take the Ravens.
Tampa Bay at San Francisco: The Niners are just horrible. Really awful. Tampa Bay isn't exactly dominant, either, but if they can't come off a bye week with an extra week of planning to their credit and have enough in their toolbox to win this one then they don't deserve to be in the NFL. Take the Bucs.
San Diego at Atlanta: I don't believe in the Falcons. I have made no secret of that. I don't like their toughness. Going against them in this spot is far from a safe idea, but what I have been doing up to now hasn't been exactly setting records for picking success, so it's time to take risks. Take the Chargers.
New England at Pittsburgh: This one was going to be tough. Now it's really not. Big Ben tore his meniscus and in the process tore the intrigue out of this game. The Steelers have shown twice this year that when their leader isn't there or isn't playing well they are powerless. The Patriots have shown repeatedly that they are ruthless robots programmed to kill. This won't be that close. Take the Patriots.
Seattle at Arizona: It's so hard to know what to expect from the Cardinals this year. All we know is that they aren't the team they were supposed to be. The Seahawks are far from perfect, but they are a decent 4-1 and are playing better of late. Take the Seahawks.
Houston at Denver: The Broncos, I'm sure, will be unable to sleep all week due to the fear of having to face their former teammate at QB. Brock Osweiler and company pulled off a nice comeback last week, but don't think for a minute that that means that they are good. Take the Broncos.
New to Doc's Sports? We'd like to offer you $60 of free, no obligation picks. Try us out. See why experience matters, and why we have been around for so long while others have come and gone. Click here to sign up today. Also, get three handicappers for the price of one when you sign up for a full-season football package! Click Here for details.
Read more articles by Trevor Whenham
---
Most Recent NFL Office Pool Picks