NFL Playoffs Betting Advice: Ranking the Field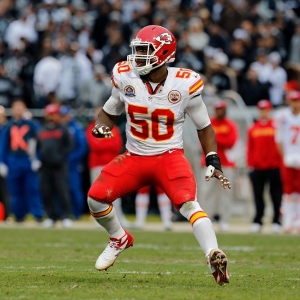 Football and power rankings go together like peanut butter and jelly. The Internet is full of them. So, of course, I'm going to do the original thing as we get ready for the start of the NFL Playoffs - add another power ranking to the bottomless pile. This one is a little different, though - I care less about how good the teams are or even directly how likely they are to win the Super Bowl. What I'm focused on instead is how much betting value the teams offer. It's a muddier picture this year than in many years - the gap between the best and the rest isn't nearly as big as it has been other times, and a solid argument can be made for a whole lot of teams to win it all. ( Futures odds are from BetOnline):
Kansas City Chiefs (+1600): The Chiefs aren't the most likely Super Bowl winner, but they are the one I would most like to bet on. They come in off a 10-game winning streak, they are playing with focus and intensity, and they have the significant advantage of playing in the AFC - the softer conference by far in the playoffs this year. Good value here.
Carolina Panthers (+450): This is the best team in football right now, and their odds aren't the lowest on the board. That seems attractive to me. There is a concern about the lack of both experience and depth, but you can't argue with what they have done so far. They are my pick to win it all at this point, and the price isn't as bad as it could be. This is a playable price.
Houston Texans (+5000): For the sake of both these Texans and the Chiefs, I wish they didn't have to play each other in the first round. Both teams come in playing well. The Houston defense has really woken up. Their offense is always an adventure, but if they keep playing like they have played defensively and they get past the Chiefs then they have the chance to shock people and deliver value. Let's put it this way - it has been a lot of years since the longest shot on the board has been as attractive as this one.
Arizona Cardinals (+400): I like Arizona a lot, but I am uneasy about the way their season finished off. The thinking is simple here - I like Carolina a bit better, if only because they have home-field advantage, so it makes sense that I like the Panthers better at their better price. I don't hate this price, though.
Pittsburgh Steelers (+800): I wish their running back situation was better, but they are a solid team with no shortage of experience where it matters. Another more-than-fair AFC price.
Seattle Seahawks (+500): The positives are significant - they have been to the big game twice in a row so they know what it takes, they have really found their form lately except for one lousy game, and Russell Wilson is playing the best ball of his career. They have an extra game to play this year, though, and can't play at home - which is not good news for them. It's an uphill battle.
Washington Redskins (+3300): I like how Kirk Cousins has been playing this year - a whole lot. Their first game against the Packers at home is very much winnable. Then things get really tough for them. They could pull off a miracle, but I would like them a whole lot better if they were in the AFC.
Cincinnati Bengals (+2500): Uncertainty at quarterback - either a raw player or a rusty one. A coach who is world-class at failing to win in the playoffs. A tough first-round matchup. I am not inspired.
Minnesota Vikings (+3300): You can say pretty much the same thing about the Vikings as I just said about Washington - though I didn't like Teddy Bridgewater quite as much as Cousins this year, and their first game is dramatically tougher than Washington's.
New England Patriots (+400): The public nature of the Patriots never ceases to amaze me. This team is the co-favorite to win the Super Bowl? With these injuries and uncertainties? With the way they played down the stretch? I will never count out Brady and Belichick, but I wouldn't dream of betting on them at this price, either.
Denver Broncos (+600): The defense is good. I get that. The offense is a hot mess, though - they don't have a quarterback that can be trusted in crunch time right now. Their first game is going to be tough no matter what. If they somehow won two games, they would get eaten alive by the NFC team. This price is half of what it would need to be for me to seriously consider them.
Green Bay Packers (+2500): They have no offense - at least compared to what they have been in the past. The defense isn't good enough to make up for that They have been far from clutch this year. They just aren't good enough. The weakest team in the strongest division - that's how you wind up on the bottom of the rankings.
Read more articles by Trevor Whenham