NFL Props Odds: Teams to Make the Playoffs from BetOnline with Predictions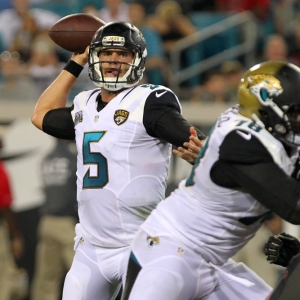 The NFL Preseason is over - mercifully. That means that the games are finally going to matter. As we get ready for the regular season, it only makes sense that we would look forward to the playoffs. BetOnline has made that more interesting for us, allowing us to bet on whether each team will or won't make the playoffs. Handicapping them is a good exercise for us even if we don't bet them. It's easy to consider a team a playoff team in our minds, but when you look at it closely you realize just how tough it can be to make the playoffs - there aren't as many playoff spots as there are teams that could justify earning one. Here are the most interesting prices to consider:
Jacksonville Jaguars (Yes +220): I like this bet. The preseason was not ideal, but I am not too invested in that in this case. The defense has been improved significantly and has some nice pieces. Offensively, we should see Blake Bortles take another step forward in Year 3, and Allen Robinson is a dangerous weapon. The division is wide open, and there is no reason the Jaguars couldn't win it. It has become tough to have faith in this team after a couple of years of disappointment lately, but there is a decent chance that they could be a playoff team.
Indianapolis Colts (Yes -115): I'm very uneasy about the Colts this year. The wide assumption is that last year was an anomaly and that they will be back at their best again this year. While that is certainly possible, it is far from a lock. Andrew Luck has to prove that he can be lucky and that he can play up to his massive new contract. If he is hurt again, the backup situation inspires even less confidence than last year. They have plenty of talent, but they did last year, too, and that didn't turn out great. I wouldn't at all be surprised to see them in the playoffs, but I sure wouldn't bet on them.
Kansas City Chiefs (Yes -130): I really like this bet. Strong team, lots of talent, well coached, solid QB depth, manageable division, decent schedule. This feels like a safe bet - though I can't think of a good reason to bet anything at a price like this when you have to lock your money up for the whole season.
Oakland Raiders (Yes +145): You obviously need to be cautious any time you think of the Raiders - they are still the Raiders, after all. This price, though, just sits there and dares you to bet it. Competent coaching, a franchise QB, exciting talent on both sides of the ball, a fair schedule. I'd feel better if the AFC was just a touch softer - there is going to be at least one good team that will miss out on the wild-card chase. Still, if I was choosing a side here I'd pretty much certainly take the yes.
Seattle Seahawks (No +260): I would be willing to take a gamble here. Seattle has been so good for so long now that I can't shake the feeling that they could be in for a step back. I'm not expecting a disaster of a year by any means, but they could easily take a step back and fall short of the playoffs this year. The big problem with this bet, though, is that with the Teddy Bridgewater injury, the hunt for the wild card got just a little less crowded. That makes this bet less attractive, but it's still worth a look.
Baltimore Ravens (Yes +155): Again, the AFC playoff hunt is crowded this year, and the AFC North is particularly tough. I like where this team is at right now, though, and am optimistic that Joe Flacco is going to have a strong rebound year. I don't think the price is good enough to be truly attractive, but I am tempted.
Denver Broncos (No -115): I am down on the Broncos this year. I know that the defense has the potential to be very good. The offense scares me badly, though - there isn't a guy there that I would have any interest in trusting. Inexperience is going to be a major issue on that front. Combine that with the major challenges of defending a championship and it is very easy for me to bet against this team.
Green Bay Packers (-400): You don't need to think about this one too hard. Barring a really major injury it would be a major upset if the Packers didn't make the playoffs. This is a totally unbettable line, though - you can't justify this much of a timeframe for this much of a return.
Atlanta Falcons (Yes +260): I have done well by being very negative about this team for a long time. This price, though, could be enough to force a change. They should be better than they have been - they have decent talent, a quarterback who is going to have a great year at some point, and a coach who has more to offer than he has shown so far. The NFC isn't as deep as the AFC, and it is quite possible to imagine this team breaking through enough to make the playoffs.
Doc's Sports is offering new clients free NFL picks from any handicapper on our Advisory Board. This special offer does not require a credit card, and you will never have to deal with a salesman. Click here to get your free $60 NFL picks credit today. Also, get three handicappers for the price of one when you sign up for a full-season football package! Click Here for details.
Read more articles by Trevor Whenham