Where Tony Romo will Play Next Season: Odds and Expert Betting Predictions
by Raphael Esparza - 11/21/2016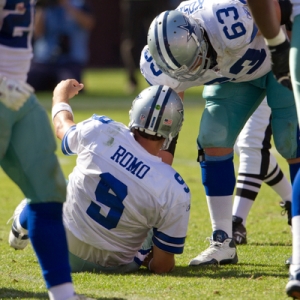 It seems like just yesterday the Dallas Cowboys were Tony Romo's team, but that was yesterday and today is a new day in Dallas. The Cowboys come into their Thanksgiving game riding a nine-game winning streak and unbelievable 9-1 ATS run, and it's all because of their offense. With the Cowboys being one of the hottest teams in the league right now, it seems weird that they announced that Tony Romo will now be the backup to Dak Prescott for the rest of the season.
When Cowboys owner Jerry Jones says he believes Romo will quarterback a Super Bowl team and has another five years to play, it sure sounds like he's trying to build up some trade value for when the season ends. After Romo's press conference last week I started wondering who could use Romo as a starting quarterback and what team would pull the trigger on his health. Romo has had a list of injuries that will be attached to his trade value, but the list of QBs that will be on the market is slim and I can think of four teams that will be calling Jerry Jones for the service of Romo.
Our friends over at MyBookie have listed 11 NFL teams, including a 'Field' prop on 'where' Romo will suit up next year for the 2017-18 NFL season. I'm not shocked that the Denver Broncos and Arizona Cardinals are in the mix, but getting Dallas at +200 seems way off in my eyes. As long as Prescott continues to grow behind the center and the O-Line continues to dominate games then the Cowboys will be in good hands will Prescott. Do I believe Romo still has some football left inside him is the bigger question because if he gets hit one more time that lands him on the operating table I do see him calling it a career.
Dallas Cowboys +200
Denver Broncos +250
Arizona Cardinals +300
Chicago Bears +800
Kansas City Chiefs 15-1
Houston Texans 16-1
New York Jets 13-1
Minnesota Vikings 20-1
Jacksonville Jaguars 25-1
Los Angeles Rams 20-1
Cleveland Browns 80-1
Field (Any Other Team) 8-1
Free Pick
It's hard to pick just one team that will trade for Romo because, at the end of the day, five to six teams will be calling Jones. I'm going to throw out a dark horse for this Romo betting prop and my dark horse pick is the Chicago Bears +800. After the season is over Jay Cutler is gone in a Bears jersey, and I see them trading for Romo's services while they groom a younger QB to be the future quarterback of the Bears. The Chicago Bears opened at 10-1 and quickly moved to +800 so some early bettors feel the same way I do. Bears at +800 is still great value!
Raphael Esparza is one of the top handicappers in all sports. This week Esparza will have College Football, NFL Football, NBA, NHL, Canadian Football, boxing and yes golf action. Get his top NFL pick this week for only $30, or new clients can take advantage of Doc's no-hassle $60 free picks offer and get Esparza's weekend picks and still have a $30 credit to use for any picks from any handicapper on the site.