Expert NFL Betting Advice: Should Patriots Shocking Loss Worry Bettors?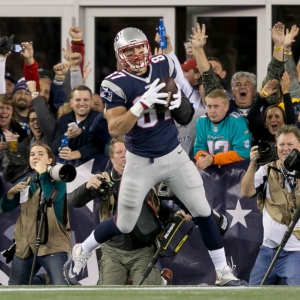 Things must have been too easy and straightforward for bettors involving the Patriots. They were cruising, and it seemed clear - almost inevitable - that they were the class of the AFC again. To keep us on our toes, then, the Patriots laid a massive egg last time out against Miami. It is not nearly as easy as the Patriots made it to make Jay Cutler and the Dolphins seem like a legitimate NFL team. It came from nowhere, and it was shocking. So, was it the sign of more problems on the horizon? Or was it just one of those weeks that good teams encounter and then shake off? Here are seven factors to consider when pondering those question and what is to come starting with the battle for AFC supremacy against Pittsburgh this weekend:
Brady: The ageless wonder leads the league in passing yards and is at the helm of an offense that is fourth in scoring despite a pretty average run attack. It has been impressive. There are reasons for concern, though. Despite being the favorite to win another MVP award, Brady was concerningly lousy against Miami last time out. Really, the issues stretch back three games. Brady's numbers have fallen off a cliff the last three games, which corresponds with an Achilles injury that landed him on the injury report. He had two picks in his first 10 games and four in his last three. He's completing much fewer passes and has averaged 75 fewer yards per game over the last three than in the first 10. His next outing against Pittsburgh is going to be really telling. The defense of the Steelers is reeling since losing two key contributors to injury - and the 38 points the Ravens scored last week is a sign of just how vulnerable they are right now. Brady will have Rob Gronkowski back, and at full strength he would run all over a defense like this. If he again looks ordinary - or worse - then things could really be an issue the rest of the way.
Defense: This is an odd defense. They sit 29th in yards allowed per game, 29th in passing yards allowed, and 24th in rushing yards allowed, but they are tied for fifth in points allowed. This is the definition of a bend-but-don't-break defense. It's an approach that is far from perfect - they did more breaking against the Dolphins last week than would be ideal. It's hard to get overly excited about a team featuring a defense like this - especially if Brady is indeed hurting.
Margin for error: Before the Miami game, the path to the first overall seed in the AFC was simple - all they had to do was beat Pittsburgh and they would have all but locked it up. That Miami loss is a concern, though. Jacksonville is only a game behind the Patriots, and they have a very manageable remaining schedule so if Pittsburgh wins the Patriots could be facing the real possibility of having to play without a bye in the playoffs. An extra playoff game is the last thing this team needs. The good news, though, is that the AFC is as weak as it has been for the Patriots in their entire run of strength, so the playoffs are less intimidating than they could be regardless of what their postseason schedule looks like.
Schedule: The good news for the Patriots on the schedule front, though, is that after the trip to Pittsburgh this week things finish off relatively smoothly - they host the Bills and the Jets. Given where both of those teams are at, there is no reason to believe that New England can't win both games even if Brady isn't entirely at full strength.
Depth: Depth is an issue in so many ways on this team. Their offense lacks pop when Gronk is hurt or suspended. They have struggled to make the receiver position work after being hit very hard by injuries early, and they have even resorted to hiring Kenny Britt this week. Getting rid of both Jacoby Brissett and Jimmy Garoppolo this year seems like a particular risk if Brady is indeed banged up, and that risk is particularly clear given that neither trade led to immediate help on the field. Defensively there is a lack of depth in almost every spot. Add it all up and you have a team that just can't afford to suffer any losses at all.
Betting performance: Despite the Miami loss, the team is still a solidly profitable 8-5 ATS on the season. They had covered six straight before the Miami game to turn around a slow start. Now the worst they can end up is 8-8 ATS, so they are going to be no worse than a near-break-even team. They have gone "under" the total seven times in 13 games, so they are essentially a break-even team on that front, too.
It's another football season, and Doc's Sports want to help you make it a winner. Take $60 worth of free, no obligation picks from us. See what we're about and what we can offer. Absolutely nothing to lose. Plenty to gain. Sign up today! Also, get three handicappers for the price of one when you sign up for a full-season football package! Click Here for details . Get free NFL betting picks weekly on Doc's Sports free football picks page .
Read more articles by Trevor Whenham