NFL Odds to Win Division with Expert Betting Predictions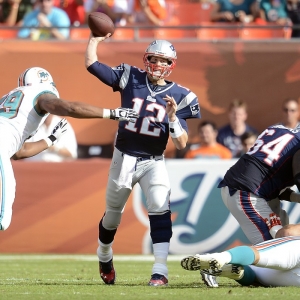 The last couple of weeks we have looked for value in NFL division winner futures from a number of perspectives. To finish off that series of articles we are going to go to the logical conclusion and share some quick takes on all 32 teams in the league. Needless to say, some of the futures are attractive - either as strong favorites or legitimate underdogs - while others are just hideous. ( Odds are from Bovada )
Free $60 in Member NFL Picks No Obligation Click Here
Betting Odds to Win AFC East
New England -500: The only team in this division that can beat New England is themselves. At some point this formula in Boston will quit working, but this is likely not that time. These guys are not mortal, so we don't have to treat them as mortals. Don't over think this one.
Miami +500: In many other divisions this would be a more attractive bet. They have nice things going on for them on both sides of the ball, the coaching is solid, and they are improving. They just don't measure up.
Buffalo +700: Rex Ryan is gone. No move in the offseason is more positive. There is still plenty I don't love going on, but that change alone is massive.
New York +3300: So, so, so awful. I don't want to get all political here or anything, but Colin Kaepernick would be dramatically better than what they are going with - and that's a problem for this team.
Betting Odds to Win AFC North
Pittsburgh +110: I have had an uneasy feeling about this team the last couple of years. They have been solid - and more than that in some aspects - but they don't feel quite as sharp as they have been in the past. I wait for the wheels to fall off, though, and they haven't. And probably won't. I have no issue with them as favorites, but this price is insane.
Baltimore +175: I think the Ravens have had a sneaky-good offseason, and I would be willing to take a gamble on them at this price - at least in relative terms compared to the Steelers.
Cincinnati +250: Marvin Lewis is still in charge here. There is not a less comprehensible fact in all of sports. That is singularly a damning factor.
Cleveland +3300: So, bad. So, so bad. So, so, so bad. Have you noticed the pattern? I could carry it on forever. Or I could just skip a few steps and end off with so, so, so, so, so, so, so, bad. This is not going to be a good team.
Betting Odds to Win AFC South
Houston +175: I like Deshaun Watson fine, but I am still not convinced that this team has their QB situation - a glaring problem for too long - figured out in the short term. That's going to be a problem.
Indianapolis +200: At some point this team is going to put it all together, and Andrew Luck is going to be able to take advantage of his incredible skill. Maybe this is the year but, sadly, I doubt it.
Tennessee +225: I really like this price. They did a lot of good things last year, and I fully expect them to keep moving in that direction this year. Good value.
Jacksonville +550: There is some value here as well. The team was just awful last year, but the coaching change was a good one, the talent is there, and the addition of Leonard Fournette is massive. If they get any kind of acceptable QB play at all then they could threaten.
Betting Odds to Win AFC West
Oakland +150: In relative terms there is value here as a division winner. Their chances are, in my eyes, better than this suggests it should be. There is a whole lot to like about this team.
Denver +210: I hate that the coaching change had to happen, and I don't like the hiring decision they made at all. The confusion at QB is a concern as well. I am really not a believer.
Kansas City +250: I like that they locked Andy Reid up again, and the offseason was a pretty solid one in my eyes. I'm not throwing cash at this price, but I am pretty fine with it.
L.A. Chargers +600: A very problematic roster with a coach I don't trust, playing in a joke of a stadium as temporary residents. What could possibly go wrong?
Betting Odds to Win NFC East
Dallas +115: Cinderella rookies are now the men with all the pressure on their shoulders. It will be very interesting to see how that goes. I am a little skeptical, but I still think this team is so much better than the division that I'm not convinced it matters.
New York +250: I just don't like this team. I don't trust Manning long term, and I don't like enough of the pieces around him to get excited about anything close to this price.
Philadelphia +400: There is some value in this price. I look for a big improvement at QB - at least in terms of consistency - and I like the offseason.
Washington +400: At some point maybe I will begin to understand the attitude of this team towards Kirk Cousins. But I doubt it.
Betting Odds to Win NFC North
Green Bay -140: This is a no-brainer. The Packers come into this season in pretty good shape while everyone else in the division brings in major questions. They will really have to look long and hard into the mirror if they don't win this comfortably.
Minnesota +225: I was sucked in by the Vikings heading into last season, and it didn't pay off. I am less convinced now. They are facing some changes, and it's not going to be smooth. I don't have super high hopes.
Detroit +425: Every time it seems like the Lions could be poised to take a step or two forward, they immediately remind us that they are still the Lions. This team has too many issues.
Chicago +1200: Remember what I said about the Browns? I wouldn't have to change much to apply it to the Bears. At least Jay Cutler isn't in charge anymore.
Betting Odds to Win NFC South
Atlanta +170: I absolutely hate this price. Really awful. It is very tough for teams to play well after a Super Bowl loss in the best-case scenario, but this loss was historically soul crushing.
Carolina +250: The Panthers were really disappointing last year, and they have a lot of changes to make this year on offense. It could all work well, but at this price I can't bet it will.


New Orleans +260: I don't like this price, either. The Nick Fairley situation really perfectly explains my fears of this team. They signed him to a nice deal in March and then made him medically ineligible for the whole season in June after heart concerns arose. A bad break turned a positive into a concern. It's something we should see repeat itself.
Tampa Bay +350: I like this price, and not just by default because I don't like the other three. I like the moves forward they made last year, and I don't fear that they won't be sustainable. Solid value.
Betting Odds to Win NFC West
Seattle -350: I don't like a lot of the indications of the mental state of this team that we are getting. And I can't be too worried about it. This price is too low, but the gap between them and everyone else is very large, and they are deserving strong favorites.
Arizona +300: I want to like the Cardinals, but since they were so good a couple of years back they have not at all managed to maintain any momentum at all. Frustrating. They will be solid but not good enough.
L.A. Rams +1200: They don't have any clarity at QB, and they don't have enough talent in a lot of key positions to be a real factor.
San Francisco +1800: I like the coaching change a lot, and they are finally moving in the right direction. They have way too much work to do to be taken seriously now, but I am more optimistic about their future than I have been since the day Jim Harbaugh was fired.
Doc's Sports is offering $60 worth of member's picks absolutely free - no obligation, no sales people - you don't even have to enter credit card information. You can use this $60 credit any way you please for any handicapper and any sport on Doc's Sports list of expert sports handicappers. Click here for more details and take advantage of this free $60 picks credit today .
Read more articles by Trevor Whenham