NFL Office Pool Picks Week 15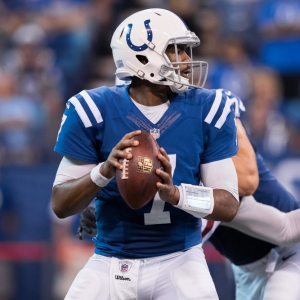 Well, that was just a weird week. The Patriots had a gimme of a game against the Dolphins on Monday night and blew it. The Vikings lost as NFC leader. Philadelphia won but lost their QB and likely their Super Bowl chances. The Chiefs awoke. The Niners keep rolling under their new QB. The Bears looked like the '86 Bears for a day. The Bills and Colts played a snow game for the ages. And on and on it went. It was not straightforward, and it wasn't easy to pick, but at least it wasn't boring. Here's hoping that this week is truer to form. Here's how I see things this week with my straight up picks:
Denver at Indianapolis: The Colts have had an ugly year and are coming off a totally demoralizing loss in a blizzard in Buffalo. The weather will obviously be better this week in the dome, but that may not be enough. Denver showed a surprising spark pitching a shutout against the Jets last week, and I am at least somewhat optimistic that they can carry some momentum. Take the Broncos.
Chicago at Detroit: I took a gamble on Chicago last week, and they rewarded my faith with an absolutely dominant win over the Bengals. I'm going to let it ride. Detroit is probably more talented, but they are deeply flawed and aren't playing as hungry as Chicago. Take the Bears.
L.A. Chargers at Kansas City: This is the game that will likely decide the AFC West. Or at least I would assume that if I actually believed that any team was going to win this sorry division. The Chiefs finally played closer to what they are capable of last week, but L.A. is hotter and more dangerous right now, and I find them easier to believe in. Take the Chargers.
Miami at Buffalo: Buffalo is coming off a gritty win in brutal conditions, and they get to enjoy home cooking again. Miami is coming off one of the more shocking wins of the year when they beat New England on Monday night. I don't trust them to carry the momentum forward, though, and the short week and the potential for lousy weather are both concerns. Take the Bills.
Baltimore at Cleveland: Cleveland came very close to blowing their chance at history with a winless season when they took Green Bay to overtime. Too close. I hope they can learn from it and fall back to earth in this one. They owe that to us. And the Ravens are decent enough. The result makes me nervous, but take the Ravens.
Cincinnati at Minnesota: It was a somewhat disappointing loss at Carolina by Minnesota, but there is not a lot of shame in that. And now they have a chance to bounce back and regain their mojo against a Cincinnati team that has clearly given up on the season. Take the Vikings.
New York Jets at New Orleans: Like the Vikings, the Saints are coming off a disappointing loss, but not one that is cause for massive amounts of panic. I expect them to bounce back strong against a Jets team that has serious QB issues, and was just shut out. Take the Saints.
Philadelphia at New York Giants: Can Nick Foles recapture some long-lost magic now that he has been thrust into a starting role that no one on the planet aside from his mother wanted to see him in? And does it really matter against a team as bad as the Giants are right now? Philadelphia will cause some real headaches in coming weeks, but not yet. Take the Eagles.
Arizona at Washington: My least favorite part of this part of the season is figuring out what to do with teams like this - totally mediocre squads with not much going on and nothing real to play for. Based solely on the fact that they are the ones coming off a win, take the Cardinals.
Green Bay at Carolina: Aaron Rodgers is probably back! But he's rusty and has no margin for error and doesn't have his most talented team around him, and he is up against a potent defense. In other words, I don't care that Rodgers is back because it won't really matter. Take the Panthers.
Houston at Jacksonville: Houston is still a total mess and could have even more QB issues this week than they already had. Jacksonville's defense is stout, and their offense is improving. Take the Jaguars.
L.A. Rams at Seattle: Seattle struggled at times against Jacksonville last week, and now they are facing a better team. They are at home, but I'm not at all convinced that that is enough. The Rams are coming off a tough loss and should be hungry to get back on track. Take the Rams.
New England at Pittsburgh: Pittsburgh narrowly won a crazy game against a big rival - their second straight emotional contest. New England lost a stunner. I am left unsure of what to think. Take the Steelers at home. I guess.
Tennessee at San Francisco: Long live Jimmy Garoppolo! It's so very early, but the trade is looking good so far. Tennessee is a mess, and Marcus Mariota would win an award for the most disappointing player in the league this year - or at least he'd be a finalist. Take the Niners.
Dallas at Oakland: I don't believe that Dallas is relevant, but they are playing their best football of the season the last couple of weeks. They should keep that rolling against an Oakland team that just can't get anything going in this disappointingly lost season. Take the Cowboys.
Atlanta at Tampa Bay: Tampa Bay is coming off yet another disappointing loss, while Atlanta got a big win over the Saints and have extra prep time since that was on Tuesday and this is on Monday. They should be ready. Take the Falcons.
New to Doc's Sports? We'd like to offer you $60 of free, no obligation picks. Try us out. See why experience matters, and why we have been around for so long while others have come and gone. Click here to sign up today . Get free NFL betting picks weekly on Doc's Sports free football picks page .
Read more articles by Trevor Whenham