NFL Playoffs Betting Advice and Handicapping: Bye Teams in the Divisional Round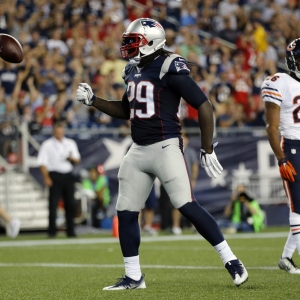 It's a familiar scene heading into the poorly-named Divisional Playoffs Round of the NFL Playoffs. All four teams who enjoyed a bye week last week are favored against teams that won their games last week. All of the wild-card teams are out of the playoffs, and now the odds suggest that only the top two teams in each division will survive this week. This is nothing new - 22 of the last 24 home teams in this week of the playoffs have been favored, including this year, and one home team that wasn't the favorite was a "pick'em". The bye is a big advantage in the eyes of the betting public and oddsmakers.
But how useful has it actually been at the betting window? Are bye teams more likely to provide profits than those that have had to play an extra game? Let's look back at the last five seasons:
2015-16
The good news is that all four bye teams won their games. The news was less rosy for bettors on those teams, though. The frustrating part is that it was very close to a brilliant betting weekend for the bye teams. Arizona beat Green Bay by six as seven-point favorites to fall just short of a cover, and Denver's seven-point beat of the Steelers was only good for a "push". The other two games went better - New England beat Kansas City by a touchdown as six-point favorites and, in the most comfortable cover of the week, Carolina beat Seattle by a touchdown while favored by just 2.5. So, while bye teams were 4-0 on the week, they were just 2-1-1 ATS. That was still profitable, though, which is better than a lot of what is to come.
2014-15
It was a good time to be a fan of the home teams unless you like Denver - the Broncos were the only bye team to lose. Denver was favored by 9.5 yet lost to Indianapolis. New England was favored by seven and beat Baltimore by four. Seattle was favored by a half point less than the two touchdowns they actually won by. Things were just as tight ATS in Green Bay, though the result was different - Green Bay won by five at home against the Cowboys, but Dallas covered as 5.5-point underdogs. So, the bottom line was that it wasn't a particularly good weekend to bet on bye teams - they were 3-1 straight up but just 1-3 ATS.
2013-14
Again, the home teams were a solid 3-1 straight up. Carolina was the only team that didn't win, but they were a pick'em at home against San Francisco, so no one was too surprised by the outcome. It was the second year in a row they had lost on this weekend. The road team covered again in Seattle, where New Orleans only lost by eight as 10-point underdogs. Again in Denver, the road Chargers lost, but the seven-point margin was enough to still let them cover the eight-point spread. The only home team to cover was New England. They were favored over the Colts by a touchdown and a half point, and they humiliated Indy by 21. So, the rested teams were again a bleak 1-3 ATS on the weekend.
2012-13
After the two years we just discussed this was one a bit of a relief. Not good, but better. Bye teams were again 3-1 straight up, but they were a better, though still not profitable, 2-2 ATS. Denver let everyone down most - they were favored at home over the Ravens by 9.5 and lost in overtime. Atlanta beat the Seahawks by two, but they were favored by 2.5 so that just narrowly wasn't good enough. On the positive side, the Patriots were 9.5-point favorites and won by 13 over the same Houston squad they are likely to humiliate this weekend, and San Francisco beat Green Bay by 14 while favored by just a field goal.
2011-12
Much like the season we just discussed, the home teams won three of four but covered only two spreads. The home teams that lost really lost - Green Bay was favored by eight but lost by 17. The Ravens were favored by 7.5, so the touchdown they won by, while comfortable, wasn't quite enough. The successful teams were headlined by the Niners. They were rare home underdogs taking 3.5 points, but they didn't need them as they won by four. New England, meanwhile, was favored by two touchdowns and won by all that plus 21 more points just in case as they just humiliated the Broncos.
The Bottom Line
Home teams have fared well, winning 16 of 20 games, including at least three of four games in each of these five seasons. That's the good news. The bad news, though, is that they have been pretty lousy at covering spreads. Last year was the only profitable year for bye teams. Overall they are 8-11-1 ATS - a long way from profitable. Flip that around, though, and that means that betting on road teams this week has generally been a sound idea. One team that stands out is New England, though - in part because they have so much experience playing at home this weekend and in part because they have fared pretty well for bettors while doing so. They have played at home each of the last five weeks as they are this week, and they are 4-1 both straight up and against the spread over that time. Against the not-so-daunting Brock Osweiler it's not too tough to imagine that success continuing.
Doc's Sports has been successfully handicapping the NFL for years - more than four decades in the business - and wants to give new clients a chance to try our service for free. Click here for the hassle-free sign up and get $60 in free NFL picks today .
Read more articles by Trevor Whenham