NFL Power Rankings Week 10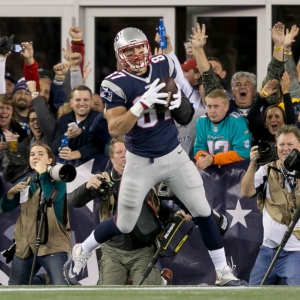 We are now at the halfway mark of the NFL season. I know we're heading into Week 10, but the overwhelming majority of teams have played eight games this year so it is basically halftime of the NFL year. Here are three random league trends that have presented themselves in the first half of the season that we will continue to track the rest of the way:
1. Scoring is definitely down league-wide. It's down a full three points per game from its peak in 2013, and this year's season is on pace to be the lowest-scoring of the decade. When you consider that the first half of the NFL season is generally higher-scoring than the second half (due to weather, injuries, and defensive adjustments) there is a real chance that this year could be the lowest scoring season since the "dead ball era" of 2005 and 2006 that prompted most of the league-wide rule changes that created our current pass-happy game.
2. After a horrible start to the season for the sportsbooks, the underdogs have ensured that Vegas is having another solid football season. Underdogs have won outright in only 36 percent of all games this year (47-83). However, they have covered the spread at a 52.7 percent clip (67-60). That, in and of itself, is not enough to earn straight underdog players a profit. However, by keeping the favorites in check the books have been able to limit a lot of exposure to windfall weekends from the players.
3. The NFC has generally been perceived as the stronger of the two conferences. And that very well may be true. But the AFC has been dominating at the window in these nonconference games. The AFC is a collective 20-13 ATS in games against NFC opponents, with the AFC East leading the way behind a solid 8-2 ATS mark. The way the NFL schedule is set up, most games in the second half of the year will be divisional contests, limiting the number of opportunities to potentially capitalize on this trend. But we have five interconference games this week, and we'll see if the AFC can keep it going.
Here is Doc's Sports NFL Power Rankings for Week 10:
1. New England Patriots (6-2) - New England has posted the third-best record in the NFL after a midseason bye week, going 12-4 straight up over the last 16 years. However, the Pats are just 3-3 in their last six games after a week off. Also, the Patriots are just 3-8 SU in their last 11 games in Denver with Tom Brady under center.
2. Philadelphia Eagles (8-1) - The Eagles have played three straight and four of their last five games at home, with all of those games against teams that are at or below .500. They will pay for it after their bye; four of Philadelphia's next five games are on the road with trips to Dallas, Seattle and the Rams included.
3. Pittsburgh Steelers (6-2) - This is the fourth year in a row that the Steelers have faced the Colts, and Pittsburgh has dominated the last three meetings, winning by 21, 35 and 17 points and easily covering all three numbers. Be wary: the Steelers are 1-5 ATS in their last six after a bye week.
4. Kansas City Chiefs (6-3) - The Chiefs haven't been able to sustain the consistency that they showed in the first five weeks of the season. They have just three offensive touchdowns over their past eight quarters, and the defense is erratic. But I'm not ready to sell on this group just yet.
5. Minnesota Vikings (6-2) - I was a little surprised that Minnesota was installed as a road favorite over Washington this week. I am not surprised to see that spread coming down and less than half of the bets in this game are coming in on the Vikings. Minnesota is 36-15 ATS in its last 51 games overall.
6. Los Angeles Rams (6-2) - What a whirlwind for the Rams. They haven't been a double-digit favorite since October of 2013, and it is going to be interesting to see if the city of Los Angeles really rallies around this group. The Rams are just 2-9 ATS in their last 11 games in L.A., and they are just 1-5 ATS against teams below .500.
7. New Orleans Saints (6-2) - The most impressive thing about New Orleans' start is that they've done it despite 12 different starters along the offensive line. The early-week sharp money is coming down against the Saints, as the line has dropped from 2.5 to 2.0 despite 70 percent of the wagers coming down on New Orleans. That could be due in part of the weather. It is supposed to be 44 degrees and windy in Buffalo on Sunday.
8. Seattle Seahawks (5-3) - Look, Blair Walsh was shot the minute he missed that playoff chip shot against Seattle in 2014. He will never get past that kick and is always just one shank away from spiraling out of control like he did for the Seahawks last Sunday. The Seahawks are 7-0 ATS in their last seven Thursday games, 8-2 ATS after a loss, and 4-0 ATS in their last four games in Arizona.
9. Carolina Panthers (6-3) - Carolina has wisely reverted back to an offense that will feature Cam Newton running the football. He is simply a below average pocket quarterback. And if he is not utilizing his greatest strength then what is the point? I still don't really like this team at all. But if you have a defense in the Top 5 in all major statistical categories then you have a chance.
10. Dallas Cowboys (5-3) - Look, I know it seems like a fluke thing. And I know the Cowboys won handily on Sunday so it is not a huge deal. But the fact that they allowed Tyreek Hill to score that stunning touchdown on the final play right before the first half was just Example 1,431 on why the Cowboys (particularly under Jason Garrett) are losers that are never to be trusted. Good teams don't do stuff like that!
11. Atlanta Falcons (4-4) - Julio Jones has got to be kidding me with that drop. And, naturally, he looked like a completely different guy - and certainly not limping around like he was for three quarters before his dropped touchdown - after that drop. This week feels like a must-win for the Falcons, who are yet to establish a home-field edge in their new stadium.
12. Detroit Lions (4-4) - It is insane that, given Detroit's struggles in short yardage and the red zone, that the Lions don't have a fullback or a power back on their roster. The Lions are just 1-5 ATS in their last six home games, and they are just 4-9 ATS in their last 13 games overall.
13. Oakland Raiders (4-5) - The Raiders have a bye after two weeks spent on the East Coast. Oakland will have to put together two good weeks of preparation, though, because their next tilt is against the Patriots down in Mexico City.
14. Washington Redskins (4-4) - I don't know if any team in the league has a more impressive road resume as Washington now has road wins over the Rams and the Seahawks. If this team could ever get healthy they would easily be in the Top 10. Washington is just 1-5 ATS in their last six home games.
15. Buffalo Bills (5-3) - This all feels like the beginning of the traditional Buffalo Bills implosion. Their offensive line can't pass block even a little bit. And when those turnovers dry up their defense looks beatable. The Bills are 4-0 ATS in their last four home games, and Orchard Park will be rocking on Sunday.
16. Tennessee Titans (5-3) - That is two more interceptions by second-year safety Kevin Byard. This kid has come out of nowhere to intercept five passes in his last two games and create eight total takeaways for a team that absolutely has to be on the right side of the giveaway/takeaway stats to win.
17. Jacksonville Jaguars (5-3) - Jacksonville is on pace for 66 sacks this season after ringing up two more last week. Also, I have to commend Blake Bortles, a guy that I have ragged on. He was called out last week by the Bengals defense and I could see the focus on Bortles face on Sunday. He played well and answered the bell. The Jaguars are favored for a third straight week for the first time since 2008.
18. Chicago Bears (3-5) - The Bears line jumped two full points based solely on Green Bay's effort on Monday Night Football. Chicago has been taking it on the chin from the Packers for decades, so I wouldn't expect this team to have any mercy on the Rodgers-less Pack. The Bears are just 1-4 ATS after a bye week.
19. Los Angeles Chargers (3-5) - This is the fourth straight season and the seventh time in eight years that the Chargers have faced the Jaguars. The Chargers have won outright and covered the spread in every one of those meetings, including a 38-14 beat down last September and road wins here in Jacksonville in 2015, 2013 and 2011.
20. Baltimore Ravens (4-5) - What happened to Baltimore's reversion to its tough, physical roots? They threw the ball 53 times on Sunday with a quarterback who probably didn't know what city he was in because of the vicious concussion he suffered the week before.
21. Denver Broncos (3-5) - I have no idea how anyone can look at Brock Osweiler and think that this guy can be an NFL quarterback. I know Denver doesn't have many other options. But what does that say about Peyton Manning that these are the quarterbacks that he has chosen for his organization?
22. Cincinnati Bengals (3-5) - I believe I pointed it out earlier this season but just want to reiterate that Joe Mixon has shown me absolutely nothing this year. He's averaging 2.9 yards per carry yet continues to complain about wanting the ball more.
23. Green Bay Packers (4-4) - It seriously looked like men against boys in the Packers-Lions game. The Packers were never in that game and these guys are trash without Aaron Rodgers. When did Clay Matthews become just another guy? And when will Dom Capers realize that everyone knows the blitz is coming?
24. Arizona Cardinals (4-4) - If you discount last year's tie game, the road team has won four straight and six of seven in the Seattle series. The underdog is 5-2 ATS in the last seven meetings as well.
25. New York Jets (4-5) - Josh McCown is absolutely dealing. The guy is somehow completing over 70 percent of his passes despite having no one to throw to. He's tapped into his 2013 Chicago Bears form and the Jets will continue to be a much tougher out than I expected.
26. Indianapolis Colts (3-6) - Weird: get T.Y. Hilton the ball and good things happen. The Colts have covered two straight now, but they are just 1-10 ATS following a win and just 3-9 ATS the week after covering the spread.
27. Miami Dolphins (4-4) - Brutal backdoor push (or loss) for anyone that took Oakland on Sunday night thanks to Jay Cutler's final touchdown and two-point conversion.
28. Houston Texans (3-6) - Tom Savage isn't a Plan B. Tom Savage is a Plan Y. This guy should not be an NFL starter. And everyone on his team knows it. You could just see it in Houston's body language that they know that their season ended the minute Deshaun Watson got injured.
29. Tampa Bay Buccaneers (2-6) - What an immature clown Jameis Winston is. I staked my claim and let my feelings about Winston be known the minute he was drafted. To this point I feel like I was right. His petty antagonism of Marshon Lattimore ended up costing his team Mike Evans for this week's game as well. I would never want Winston on my team. Ever.
30. New York Giants (1-7) - I'm know I'm repeating myself here, but Bob McAdoo is a total pud. That guy is a loser and I wouldn't trust him to run a fruit stand. I also don't know how anyone can look at Eli Manning and think that this guy can still play quarterback at an acceptable level. He is horrid.
31. San Francisco 49ers (0-9) - The 49ers are officially mailing it in. They have $60 million in cap space, found their quarterback of the future (allegedly), and will have a top draft pick. I expect things are going to get worse for this squad down the stretch after a series of competitive games early in the season.
32. Cleveland Browns (0-8) - Would you believe me if I told you that this team has the best rush defense in football? It's true. They are allowing just 2.9 yards per carry this season. Sure, that includes a bunch of teams running the Victory Formation against them. But regardless, that is at least one positive thing that I can say about this team.
Robert Ferringo nailed another 6-Unit NFL Total on Monday Night Football and has been a big play machine this year, going 20-10 (67%) for +$5,400 in profit this year with his football plays rated 5.0 or higher. Robert nailed his only 8-Unit NFL Play this season (Oakland over New York in Week 2) and he will be releasing a rare 8-Unit NFL Game of the Year this Sunday you don't want to miss. Robert has scored back-to-back 7-Unit college football GOTY wins behind Washington and South Carolina and is now looking for one of his biggest hits of the pro season. Sign up today!
Robert has been the top football handicapper in the country the past five years, earning nearly $14,000 in total football profit. He has also posted five of seven winning seasons (including a winning 2016-17) and tallied over $20,000 in football profit between 2011 and 2016, including his amazing 2013 NFL season in which he hit 62.1 percent (95-58). Robert has produced 18 of 29 winning football months and an amazing 41 of 65 winning football months over the past decade. SIGN UP HERE TODAY AND TAKE ADVANTAGE OF OUR EARLY BIRD SPECIALS !
We are offering new clients $60 in free college football picks for Robert's picks or any Advisory Board handicapper of your choosing. Get your free college football picks now !
Read more articles by Robert Ferringo
---
Most Recent NFL power rankings Articles