NFL Power Rankings Week 12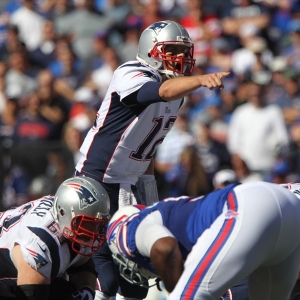 "Someday, this war's gonna end."
- Lieutenant Colonel Bill Kilgore, Apocalypse Now
It's Thanksgiving week, so this will be the rapid-fire version of Doc's Sports NFL Power Rankings. And with that in mind, let me take this time to let you know what I am thankful for:
The New England Patriots.
I know that after the Dallas Cowboys the Patriots are the most hated team in the NFL. And I am not going to make any value or moral judgments on their litany of crimes against sportsmanship over the past 20 years. Their fans are easy to hate. A lot of their players over the years have been easy to hate. Bill Belichick is eminently hateable. I understand.
But I am thankful for the Patriots because more than any team in my entire betting career they have been the most successful, most reliable, most consistent moneymaker against the spread that you can find. Betting markets are fueled by chaos. But the Patriots have been the calm eye at the center of the storm for the past 15 years.
The New England Patriots are 153-105-7 against the spread dating back to the start of the 2003 season. Think about that. Hitting 60 percent is considered the goal of every professional gambler. If you had simply done nothing but bet on the Patriots every week for the past 15 seasons you would've won 59.3 percent of your bets. That is simply astounding.
And it is not as if the Patriots are some under-the-radar team that just excels at beating numbers. The bar is set higher for this team than for any other because of their success. However, no matter how big the spreads or how high that bar has been raised over the past 15 years they have found a way to somehow surpass even the most inflated of expectations.
Don't waste time hating, fellow gamblers. Take time to be thankful. Because we may never see another team in our lifetimes come through so consistently and so spectacularly so many times over such a sustained period of time. It is truly remarkable.
Here is Doc's Sports NFL Power Rankings for Week 12:
1. New England Patriots (8-2) - A few more amazing stats: the Patriots are 80-54 ATS since 2010 (a 59.7 percent success rate) and they are an unreal 59-34 ATS (63.4 percent) against nondivisional opponents. Finally, since 2010 the Patriots are 18-7 ATS after a loss.
2. Philadelphia Eagles (9-1) - The Eagles are now a perfect 7-0 straight up against the rest of the NFC. The Eagles, despite their increasing hype, are 8-2 against the spread this year.
3. Pittsburgh Steelers (8-2) - Antonio Brown is a god. The Steelers are quietly on a 4-1 ATS run and they are 5-1 ATS in their last six home games.
4. Minnesota Vikings (8-2) - All hail one of the best bets in the NFL. The Vikings are now 38-15 ATS in their last 53 games, a 72 percent success rate. However, they are just 3-7 ATS in their last 10 road games and 2-6 ATS in their last eight divisional games.
6. New Orleans Saints (8-2) - The best game of the weekend is the Saints-Rams. And I am interested to see how New Orleans' secondary matches up. The Saints hammered the Rams 49-21 at home last year, and the home team has won four straight in this series.
7. Los Angeles Rams (7-3) - Even though I nailed my 7-Unit NFL Play last Sunday with the Vikings I will still say that I gained a lot of respect and came away even more impressed with the Rams. They don't have a lot of marquee wins. But there is nothing fluky about what they've accomplished.
8. Carolina Panthers (7-3) - Over the last three seasons NFL teams are just a combined 53-56 ATS following a bye week. However, Carolina is 3-0 ATS during that stretch following a week of rest.
5. Kansas City Chiefs (6-4) - As always, it wasn't that Alex Smith was missing throws on Sunday. He wasn't. Smith's problem was the high-reward throws that he was not willing to take.
10. Atlanta Falcons (6-4) - The Falcons are in the driver's seat for the sixth spot in the playoffs considering that they now hold tiebreakers over Seattle, Dallas, Detroit and Green Bay.
9. Seattle Seahawks (6-4) - The Seahawks are screwed without Kam Chancellor and Richard Sherman. Earl Thomas isn't 100 percent. That lock-down pass defense has been their identity this entire decade. Without that they are just another team.
12. Detroit Lions (6-4) - The Lions have won four straight on Thanksgiving, including last year's 16-13 win at home over the Vikings. The underdog is 10-3 ATS in this series.
11. Dallas Cowboys (5-5) - Since 2010 the Cowboys have been the best team in the NFL in interconference games, going 20-10 ATS in their last 30 games against the AFC.
13. Oakland Raiders (4-6) - I swear that it seems like every single team coming out of their bye week loses ATS. That angle - "extra time to prepare" - has become one of the most overrated in football.
14. Tennessee Titans (6-4) - Despite being a decent team the Titans are still the worst bet in football. They are 17-42 (29 percent) ATS in their last 59 games! The Titans are 14-36 ATS against the division and 7-21 ATS on the road.
15. Washington Redskins (4-6) - As soon as the Redskins scored to go up 31-16 with 6:03 to play I immediately texted a friend that is a big Washington fan and told him Washington would regret scoring there. Washington should've run the ball two more times and kicked the field goal. Had they done so they still would've been up two scores (11 points) but they would've been kicking it back to Drew Brees with just 4:30 to play. It amazes me every week I see coaches lack a fundamental understanding of game strategy.
16. Jacksonville Jaguars (7-3) - Jaguars backers went from the agony to the ecstasy in a matter of five minutes on Sunday. They must've been cursing the refs when they blew dead a Deshon Kizer fumble that was being returned for a spread-busting touchdown in the final minutes. However, Kizer's incompetence would not be denied; he had another fumble returned for a touchdown on his very next possession, giving the Jaguars the completely undeserved ATS win.
18. Baltimore Ravens (5-5) - Absolutely do not read too much into Baltimore's "blowout" win over Green Bay last week. That game was a lot closer than the final score suggested, and absolutely nothing that the Ravens did was confidence inspiring. The Ravens were actually outgained, and Joe Flacco is still a mess.
19. Los Angeles Chargers (4-6) - The Chargers are one of five teams in the AFC that has allowed fewer than 200 points on the season. Also, Los Angeles has been the second best ATS road team in the NFL over the last five years, going 23-14 against the number as an away team.
23. Cincinnati Bengals (4-6) - After playing three straight road games, and six away games in their last eight, the Bengals open a three-game home stand this week. In a quirk, three AFC North teams (Pittsburgh, Baltimore, and Cincinnati) won games last week while posting an offensive yards per point number of 9.5 or below.
28. Tampa Bay Buccaneers (4-6) - As I have stated, this team is so much better with Ryan Fitzpatrick at quarterback rather than (Alleged) Rapist Winston. They still aren't a very good team (they cost themselves a ridiculous amount of points and yards with stupid penalties last week). But they are certainly better.
20. Denver Broncos (3-7) - Bet against Brock Osweiler while you can. Because once he finally gets the hook in Denver I can't see another team ever starting this goof again.
17. Buffalo Bills (5-5) - "Never underestimate the predictability of stupidity." There was absolutely nothing funnier than watching The Nathan Peterman Experiment - which never should've happened in the first place! - blow up in Buffalo's faces. They have made a ton of questionable decisions over the past month. And that is why the Bills are total losers.
21. Green Bay Packers (5-5) - Brett Hundley stinks.
25. New York Jets (4-6) - The Jets had one of their best Sundays of the season last week.
22. Chicago Bears (3-7) - Robbie Gould always, always, always made those kicks. I'm just sayin'.
26. Indianapolis Colts (3-7) - The Colts had one of their best Sundays of the season last week.
24. Arizona Cardinals (4-6) - Killer penalties, dropped passes, turnovers; Bruce Arians has gone from one of my most-respected NFL coaches to one of my most questionable in the span of just two seasons. How the hell do you lose to Tom Savage?
29. Houston Texans (4-6) - The Savage Garden was in full bloom on Sunday, with Tom Terrific crediting his "mental toughness" for his improved results. Sure thing, bub. I look forward to the four turnovers Savage is penciled in for next Monday at Baltimore.
27. Miami Dolphins (4-6) - That Bucs-Dolphins game was a predictable comedy of errors. And I'm going to go ahead and call it that Adam Gase will never be a successful NFL coach. Anyone that can look at Matt Moore - who is all moxie and a solid leader - and look at Jay Cutler - who is the exact opposite - and think that Cutler is the better option has absolutely no idea what they are doing on a fundamental level.
31. New York Giants (2-8) - I think that management's decision last week to shoot down any thought of a midseason firing for Ben McAdoo has created a level of stability for this locker room. McAdoo absolutely needs to go. But after the season. And I don't expect the Giants to roll over and play dead the final month of the season.
30. San Francisco 49ers (1-9) - Unfortunately, we are likely going to have to wait until Friday to find out if Jimmy Garoppolo will start this weekend. I have no idea why the 49ers wouldn't start him this week. But then again I have no idea why Kyle Shanahan would throw the ball on third-and-one with eight minutes left and a 16-point lead in the Super Bowl, so there you go.
32. Cleveland Browns (0-10) - There are so many pathetic quarterbacks in the NFL right now that it is tough to be the worst. It's really tough. But DeShone Kizer is easily the worst quarterback in the NFL right now. And if Kizer's comical amount of turnovers wasn't enough proof, here is something else: all you have to do is look at how good Notre Dame has been without Kizer, after being such a mess with him last year, to realize that this guy is a total clown.
Robert Ferringo is in the midst of one of the best football runs you will ever see, earning a devastating +$11,000 in overall football profit since the start of the regular season. Robert has raked in +$3,830 the last two weeks alone and +$6,780 over the last five weeks. Robert has rung up seven of 10 winning football weeks and is an outstanding 24-11 (69%) for +$7,500 with his top plays this year. This week Robert will be looking for his fifth straight win on a play rated 7.0 or higher and he will continue this legendary run on the gridiron.
Robert has been the top football handicapper in the country the past five years, earning nearly $14,000 in total football profit. He has also posted five of seven winning seasons (including a winning 2016-17) and tallied over $20,000 in football profit between 2011 and 2016, including his amazing 2013 NFL season in which he hit 62.1 percent (95-58). Robert has produced 18 of 29 winning football months and an amazing 41 of 65 winning football months over the past decade. SIGN UP HERE TODAY AND TAKE ADVANTAGE OF OUR EARLY BIRD SPECIALS !
We are offering new clients $60 in free college football picks for Robert's picks or any Advisory Board handicapper of your choosing. Get your free college football picks now !
Read more articles by Robert Ferringo