NFL Power Rankings Week 13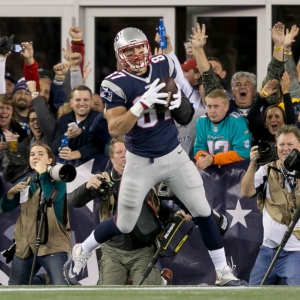 Every week I look around the NFL and laugh at some of the quarterback matchups. Blaine Gabbert? Blake Bortles? C.J. Beathard? Tom Savage? Quarterback play in the NFL has never been worse than it is right now at this moment in our history.
But last week I found a position group that may be even more pathetic than the current crap crop of signal callers: NFL coaches.
So I ask you for your opinion: what is worse in the NFL right now, quarterback play or coaching?
Let me clarify. When I say, "coaching" I am not talking about game plan and preparation. I don't pretend to be an expert in the intricacies of week-to-week game planning. I'm talking about in-game decision making and basic game strategy. And right now not a week goes by without at least a half-dozen mind-boggling, jaw-dropping coaching decisions each week.
The insanity started last Monday with Pete Carroll's head-scratching decisions in Seattle's MNF loss to Atlanta. But that was just the start. We had Ben McAdoo, Adam Gase and Dirk Koetter each make insane fourth down decisions in their respective games, each costing their teams not only a shot at potentially winning but costing their backers a load of money by leading directly to against the spread losses. Ron Rivera tried to do the same in New York, with his second half decisions to go for two-point conversions confounding both basic math and simple strategy.
Look, the NFL product is bad right now. And I don't know what the solution is. But what I do know is that I don't think it is that it is not too much to ask to expect basic competence from the 32 men at the head of these teams. It shouldn't be too much to ask to expect them to understand simple, checkers-level game strategy. And as long as that continues to not be the case I know I will continue to look at other sports to invest my money in rather than deal with this nonsense.
Here is Doc's Sports NFL Power Rankings for Week 13:
1. New England Patriots (9-2) - The road team has won five of the last six meetings between the Patriots and Bills, and the road team is 19-7 ATS in the last 26, with New England staging a 41-25 blowout in Buffalo last October. In fact, the Patriots are a dominating 11-2 ATS in their last 13 meetings in Orchard Park.
2. Philadelphia Eagles (10-1) - The Eagles' offensive yards per point this season is an eye-popping 12.0. That is actually better than Atlanta's 12.2 OYPP last year, though not quite as good as Carolina's 11.8 OYPP in 2015. The great news for the Eagles is that those two teams both went on to win the NFC that season. The bad news is that both lost in the Super Bowl.
3. Pittsburgh Steelers (9-2) - Since Joe Haden broke his leg, the Steelers have allowed an average of 255 passing yards and two touchdowns over their last three games, and five of the six touchdown passes were 50 or more yards. Those numbers have come against Jacoby Brissett, Marcus Mariota and Brett Hundley.
4. Minnesota Vikings (9-2) - With all due respect to Philly-Seattle, the best game of the week features Minnesota heading down to Atlanta. The Vikings have won seven straight and are 6-1 ATS. They have outgained everyone they have faced this season, except Pittsburgh in Week 2.
5. New Orleans Saints (8-3) - This week's tilt with the Panthers could determine both the NFC South race. Especially if the Saints win and gain the tiebreaker over the Panthers. New Orleans is 4-0 ATS in its last four divisional games and is an astonishing 40-18 ATS in their last 38 games against a team with a winning record.
6. Los Angeles Rams (8-3) - I think this is definitely a potential trap game for the Rams this week. Arizona has revenge for a 33-0 bludgeoning in London, and the Rams are coming off back-to-back emotional games. The Rams are 4-0 ATS as a favorite, but over 80 percent of the action in this one is down on L.A. Beware.
7. Carolina Panthers (8-3) - The Panthers have really dominated their Superdome, going 12-4 ATS in their last 16 games in New Orleans. In fact, the road team is 23-9 ATS in the last 32 meetings and the underdog is 6-0 ATS in the last six meetings.
8. Atlanta Falcons (7-4) - Offensive efficiency has been the engine behind Atlanta's resurgence. Matt Ryan has regained his MVP form, and the Falcons have gone 27-for-41 on third down and 7-for-10 in the red zone the last three games. That 70 percent red zone effort will be tested against Minnesota's No. 2 red zone defense.
9. Seattle Seahawks (7-4) - As good as the Seahawks have been in their own building - and make no mistake, they have THE best home-field advantage in football - Seattle is still taking just 25 percent of the bets this week as a home underdog to the Eagles. Seattle is the biggest home underdog in the Rusty Wilson era. They have been favored in 41 of 45 home games and are 36-9 SU, never losing by more than a touchdown.
10. Detroit Lions (6-5) - This is really where the power rankings start to get murky. But who am I supposed to put at No. 10? The Titans? The sinking Chiefs? The punchless Ravens? At this point teams 10-20 on this list are pretty much interchangeable.
11. Kansas City Chiefs (6-5) - Earlier this season the Chiefs set an NFL record with a touchdown of 50 yards or more in nine straight games (including the end of 2016) and they scored a TD of 50 yards or more in six of their first seven games. However, the big plays have dried up. They have just one long touchdown in their last four games and they are 1-3 in those contests.
12. Oakland Raiders (5-6) - Michael Crabtree is suspended for the next two games, and I will be stunned if Amari Cooper, who left last game with a concussion and ankle injury, can play this week.
13. Tennessee Titans (7-4) - The Titans should definitely want revenge for a 57-14 ass kicking that they took in Houston on Oct. 1. The Titans are just 2-6 SU and 1-7 ATS in their last eight against the Texans, but the home team is 6-2 SU, and we'll find out if the Titans have any nasty to them this week if they can kick the Texans while they are down.
14. Washington Redskins (5-6) - The road team has been the play in this series, going 7-1 SU in the last eight meetings and 7-0 ATS in the last seven meetings overall. Washington is 7-0 ATS in its last seven games in Big D and the underdog is an amazing 29-10 ATS the last 39 times these rivals have gotten together.
15. Jacksonville Jaguars (7-4) - Over the past four weeks the Jaguars offense has scored a total of five touchdowns. Their defense and special teams have managed four in that same span.
16. Los Angeles Chargers (5-6) - The Chargers are actually the last team to lose to the Browns, falling 20-17 in Cleveland last December. San Diego is the only team to lose to the Browns in Cleveland's last 27 games. The Chargers dropped that one when a 32-yard field goal was blocked late in the game, and San Diego generally outplayed Cleveland in that one. Will they have revenge on their minds?
17. Dallas Cowboys (5-6) - Cowboys have scored just 22 total points in their past three games without Ezekiel Elliot after averaging 28.3 points per game in their first eight contests. But it's not just about Elliot. Dallas has faced two Top 10 total defenses (Atlanta and Philadelphia) as well as a Chargers defense that is No. 7 in pass defense and No. 6 in points allowed. Prior to that Dallas has played four straight defenses ranked No. 20 or worse.
18. Baltimore Ravens (6-5) - Don't get suckered into believing in the Ravens. That was another thoroughly unimpressive offensive effort on Monday against an overmatched Texans team. They are No. 31 in total yards, No. 32 in passing and are just 3-6 ATS in their last nine games overall.
19. Cincinnati Bengals (5-6) - Back-to-back wins have gotten people believing in the Bengals again. But look who the wins have come against this year: Cleveland (twice), Buffalo, Indy and Denver. Those four teams have a combined 12-32 record this season.
20. Buffalo Bills (6-5) - The Bills are just 12-24 ATS over the last 18 years against the Patriots. The underdog has gone 5-1 ATS in the last six meetings, and the Bills are 4-1 ATS at home. Their last five losses to the Patriots have been by an average of 12 points per game, and the last eight losses were by an average of 11.5 points.
21. Green Bay Packers (5-6) - Chris Collinsworth spent a lot of time Sunday night trying to explain to me why Brett Hundley doesn't suck but is, in fact, really good. I'm not buying it, Chris.
22. New York Jets (4-7) - I don't know what the Jets are going to do with Josh McCown next year - he will be 39 years old at the start of training camp - but I really have to give the guy credit for how he has played this year. He's made a lot of plays despite having a weak crop of skill players.
23. Arizona Cardinals (5-6) - Let's slow down on Blaine Gabbert bandwagon. He has a career record of 10-32 and a career completion percentage of just 56.2. He has 10 touchdowns to nine interceptions in his last seven starts and is still erratic on short passes and timing routes.
24. Tampa Bay Buccaneers (4-7) - This defense absolutely cannot stop anyone. Somehow they have only gone 'over' in two of their last five games. But they are No. 32 in total defense and No. 32 against the pass, and any time they get a stop I'm surprised.
25. Denver Broncos (3-8) - The Broncos are going back to Trevor Siemian, and their offense is all the better for it. Paxton Lynch looked completely out of place under center last week. Denver is 0-7 ATS in its last seven road games, but I get the feeling this team is going to snap its losing streak sooner rather than later.
26. Chicago Bears (3-8) - I will never let the Bears forget that they drafted Mitch Trubisky over DeShaun Watson. Trubisky, who I am still not convinced will ever be a legit NFL starter, was horrific last Sunday and he's completing just 52.6 percent of his passes this year.
27. Indianapolis Colts (3-8) - Last Sunday was the eighth time that the Colts led a game at halftime this year, tied for second in the league. It was also the sixth time that they lost that lead, leaving them two blown leads away from tying the NFL record for a single season.
28. Houston Texans (5-6) - I know he's gotten a lot of love this year from analysts across the country, but I really can't say enough good things about DeAndre Hopkins. He is absolutely right there in that top group of unstoppable, game-changing wide receivers along with guys like Antonio Brown, A.J. Green, Julio Jones and the like.
29. Miami Dolphins (4-7) - It is pretty impressive just how bad the Dolphins are at covering opposing tight ends. They have allowed opposing TEs to catch 66 passes for eight touchdowns so far this year.
30. New York Giants (2-9) - Eli Manning's consecutive starts streak will end at 210 this week. I can understand Ben McAdoo sitting Eli - the season is over - to see what the backups can do. But Geno Smith? Really? We already know what he can (and can't) do! Also, I hope all those Giants fans regret all the bad things that they said about Kevin Gilbride, because Mike Sullivan is one of the worst offensive coordinators I've ever seen.
31. San Francisco 49ers (1-10) - Again: I have no idea what the hell Kyle Shanahan is doing with Jimmy Garoppolo. The only thing I can think of is that Shanahan knows that this team is such a dumpster fire that he doesn't want to dash Garoppolo's confidence. But if Garoppolo is that fragile then do you even want him as your "franchise" quarterback?
32. Cleveland Browns (0-11) - I would put the over/under on Josh Gordon catches this week at 2.5 and his total yards somewhere around 26.5. Don't believe any of the hype around his return kick-starting this offense.
Robert Ferringo has posted over +$9,000 in overall football profit since the start of the regular season and +$4,600 for his clients over the last six weeks. Robert is a rock solid 24-14 (63%) with his top football plays this year and this week he will have a 7-Unit NFL Total and a 6-Unit NFL Total. Robert has gone an elite 48-28 (63%) this year with his NFL totals and these will be two of his largest of the season. Robert has gone 4-1 with his last five football plays rated 7.0 or higher and you do not want to miss this solid NFL card.
Robert has been the top football handicapper in the country the past five years, earning nearly $14,000 in total football profit. He has also posted five of seven winning seasons (including a winning 2016-17) and tallied over $20,000 in football profit between 2011 and 2016, including his amazing 2013 NFL season in which he hit 62.1 percent (95-58). Robert has produced 18 of 29 winning football months and an amazing 41 of 65 winning football months over the past decade. SIGN UP HERE TODAY AND TAKE ADVANTAGE OF OUR EARLY BIRD SPECIALS !
We are offering new clients $60 in free college football picks for Robert's picks or any Advisory Board handicapper of your choosing. Get your free college football picks now !
Read more articles by Robert Ferringo